Commentary
Page 2's random LSU-Bama comparison
Originally Published:
November 3, 2011
By
DJ Gallo
| Page 2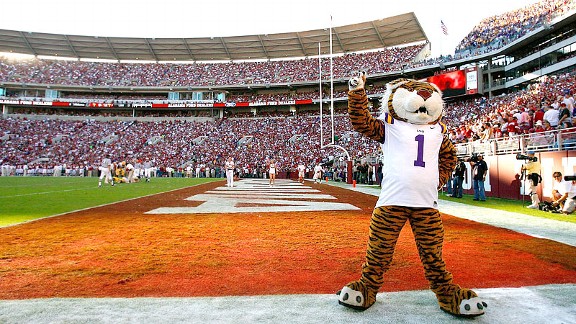 Kevin C. Cox/Getty Images
This week, you can find countless previews breaking down the game between No. 1 LSU and No. 2 Alabama. Offense vs. defense. Home vs. road. Coach vs. coach. It's all the same. But this is the only game preview with the guts to compare the teams across 10 random and completely irrelevant categories.
Most Humiliating Item Sold by Official Team Store
LSU: LSU Tigers Purple Scented Shower Gel
Alabama: Alabama Crimson Tide Women's Perfume
Best Current Player Names
Alabama: Phelon Jones, Ha Ha Clinton-Dix
LSU: T-Bob Hebert, Ego Ferguson
Best Coach Name All Time
Alabama: Bear Bryant -- head coach, 1958-82
LSU: Pop Strange -- recruiting coordinator, 1959-72
Less-Than-Motivational Lines from Team Fight Song
LSU: "You got the know-how, you're doing fine / Hang onto the ball"
Alabama: "And if a man starts to weaken / That's a shame!"
Official Mascot Origin Story
Alabama: Legend has it the 1930 team's offensive linemen were so large they made the ground tremble like stampeding elephants.
LSU: So in 1934, the LSU athletic director, a law student and a swimming pool manager suddenly decided to buy a tiger.

Example of Their Head Coach's Sense of Humor
LSU: Les Miles
Alabama: Nick Saban

Best Team Major
LSU: Jarrett Lee and Jordan Jefferson -- Sport Administration
Alabama: Most players' majors not listed

Biggest Threat to Your Property
LSU: Les Miles eating your grass
Alabama: A deranged fan poisoning your trees

Most Famous Fictional Player
Alabama: Forrest Gump
LSU: None. Perhaps Gump didn't meet LSU's academic standards.

Campus Statue That Looks Like It Might Kill You
LSU: This one.
Alabama: This one.



All games are Saturday.


Game of the Week
No. 1 LSU at No. 2 Alabama: 8 p.m. ET, CBS
This is the 25th regular-season meeting between the No. 1- and No. 2-ranked teams in the country. One of those games -- Army-Notre Dame in 1946 -- finished in a 0-0 tie. So while we all want to see the vaunted LSU and Alabama defenses on display Saturday, please don't overdo it, gentlemen. Thanks.


Another Game of the Week
No. 14 Kansas State at No. 3 Oklahoma State: 8 p.m. ET, ABC/ESPN2
While LSU-Alabama gets all the attention, Oklahoma State stands to benefit nicely and move up to No. 2 in the BCS standings if it can beat Kansas State. That is, unless 0-0 happens in Tuscaloosa. Playing to a tie on purpose in hopes of keeping the top two spots in the rankings does seem like an SEC thing to do.

Cupcake of the Week
New Mexico State
The Aggies are a 3-5 WAC team, have one of the worst defenses in the country and are going to Georgia to take on the No. 18 Bulldogs (12:30 p.m. ET on ESPN3), who are favored by more than 30 points. But as far as scheduling cupcakes goes, credit Georgia for at least playing a real opponent. They could have scheduled a bad FCS team. Or, even worse, New Mexico.


Rivalry Game of the Week
Army at Air Force: 3:30 p.m. ET, CBS
Let's hope some players are mic'd up for this game. We could hear some great jokes about the Navy.

Heisman Candidate in the Crosshairs
Trent Richardson, RB, Alabama
A big game against the Tigers would be huge for Richardson's candidacy, as Alabama-LSU will be the most-watched game of the regular season. And the regular season is all that matters when it comes to winning the Heisman. Just ask Jason White and Troy Smith.

Mascot Fact of the Week
The last time Cincinnati played Pitt, the Bearcat mascot was arrested for throwing snowballs. Fortunately, there is no snow in the forecast for this week's game (7 p.m. ET, ESPNU). But the Big East might ask the Bearcat to toss some conference invites to passersby.
Tailgate Tip of the Week
Get a Sippin' Seat! For only $32.95, you can store three cups of your favorite beverage inside a cushioned stadium seat cushion. And Papa Berts, manufacturer of the Sippin' Seat, claims the cushion can "withstand the weight of an adult sitting on it." The weight of an American college football fan? The kind who would use a seat cushion? And a seat cushion with beer hidden inside of it? I'm skeptical. But, hey, for $32.95, what do you have to lose? Maybe you'll get a great story out of it about the time you literally crushed a beer.

Quote of the Week
"Cheer and Birds can't go to WVU because it's not a safe enough environment due to fans. West Virginia should be embarrassed."
-- Louisville cheerleader Lindsey Sitzlar, via Twitter
Yes, it's the first cheerleader quote in Varsity Tailgate history. And, no, I don't follow college cheerleaders on Twitter. But I do want to thank the reader who brought this quote to my attention, you big creep.

Greatest Conference Ever of the Week
Big East
College basketball season starts next week. YAY!

Worst Conference Ever of the Week
Big East
Apparently no one cares about college basketball anymore. Sorry, Big East.

Stat of the Week
15
Houston quarterback Case Keenum has 15 touchdown passes in his past two games. This week, the Cougars play at UAB, which ranks No. 108 in the nation in pass defense. And the Blazers have 10 offensive touchdowns -- passing and rushing combined -- all season.

Coach on the Hot Seat
Joker Phillips, Kentucky
Phillips has been on the job for only a season and a half, but he is 9-12 overall and SEC schools tend not to be too patient. This week, Kentucky welcomes Mississippi and another coach on the hot seat, Houston Nutt (3:30 p.m. ET, ESPNU). Kentucky probably hoped Phillips was a Joker in the mold of Heath Ledger or Jack Nicholson. Instead, they got one in the mold of this guy.

Player Name of the Week
Gelo Orange, DE, Wake Forest
Orange is a Wake Forest senior. He was recruited out of high school by Wake, Colorado, Florida International and Indiana. Big whiff by Syracuse.
(Thanks to reader Jeff for submitting. If you have a player/coach name submission, or a funny tailgate photo to share, send it to VarsityTailgate@gmail.com.)

Coach Name of the Week
Brick Haley, defensive line coach, LSU
I don't know if "Brick" is Haley's given name. Would you like to ask him? No, I thought not.

Stone Cold Lock of the Week
West Virginia will run all its plays this week away from the two Big East logos on its field.
DJ Gallo is the founder of SportsPickle.com. His first book, "The View from the Upper Deck," is available from only the finest bargain-book retailers. His next book project will be released soon. You can follow him on Twitter at @DJGalloESPN.