Commentary
A respite from the Penn State scandal
Originally Published:
November 10, 2011
By
DJ Gallo
| Page 2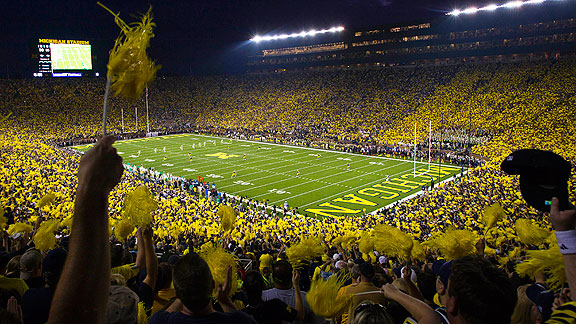 AP Photo/Tony DingAfter a week dominated by scandal, Page 2 remembers the things that make us college football fans.
After another week of off-the-field news dominating the college football landscape -- the Penn State scandal being the worst by far -- let's try to briefly cleanse the palate and remember what we all like about college football.
Your school's fight song is the best. While your biggest rival is stuck with the worst song ever.
Your school's mascot is awesome. And even if it's not, it's still kind of awesome.
Your head coach is incredibly entertaining because he gives the best news conferences. Or maybe your coach is entertaining because he purposely gives the worst news conferences.
Your team's uniforms are the best because they push the envelope. Or they're the best because they're more boring than an envelope.
Most of your players are great guys who are in some of your classes. And some of them are terrible guys -- which are exactly the kind of people you want on your side!
Unlike the squad of your rivals, your cheerleaders are slim and attractive, yet classy.
Best of all, you have the greatest fans in America. That's an undeniable fact. If it wasn't true, your coach, players, administration and alumni wouldn't say so.
All games are Saturday unless otherwise noted.


Game of the Week
No. 7 Oregon at No. 4 Stanford: 8 p.m. ET on ABC
If you didn't find last week's LSU-Alabama defensive battle to be entertaining, this game might be more to your liking. If you did find last week's LSU-Alabama battle to your liking, you probably skipped ahead in the column already to find a mention of the SEC.


Another Game of the Week
No. 19 Nebraska at No. 12 Penn State: noon ET on ESPN
Next ...

Cupcake of the Week
Western Kentucky
The Hilltoppers of the Sun Belt Conference play at No. 1 LSU this week (7 p.m. ET on ESPNU). Western Kentucky started the season 0-4, which put it at 2-34 over its past 36 games. However, since then the team has won five in a row. It's tough to know what to make of this cupcake. Just as it's tough to know what to make of this.


Rivalry Game of the Week
TCU at No. 5 Boise State: 3:30 p.m. ET on Versus
They're often the two non-BCS teams screwed by the BCS system. That kind of makes them rivals, right? Plus, it's hard to keep track of these things, but weren't they both the two best teams in the Big East for a split second?

Heisman Candidate in the Crosshairs
Kellen Moore, QB, Boise State
Boise State doesn't have many high-profile opponents, so a nationally televised game against unranked TCU might be Moore's last, best shot to make his case to Heisman voters. Although the Broncos do close the regular season on Dec. 3 against 0-9 New Mexico. Moore's 17 touchdown passes in that game will likely make the news.

Mascot Fact of the Week
There is an Italian television mascot named Gabibbo that looks almost exactly like Western Kentucky's Big Red. Based on this clip, Gabibbo appears to be Big Red, if Big Red only went to sorority parties.
Tailgate Tip of the Week
Get yourself some Magnetic Coozies: For just $39.95 for a set of five, you can go hands-free at your tailgate by sticking your beverage of choice to your car or truck. Just make sure to remove it when the game is over.
"Have you been drinking, sir?"
"No, officer. Why do you ask?"
"Well, primarily because there are five beers stuck to your door."

Quote of the Week
"I hate people from Texas. I give people on our team from Texas a hard time because they're from Texas. I hate Texas. I just do. I hate Texas. Any other overrated state in football I pretty much hate. That's how I feel about it. ... Overrated. Overrated. Overrated. It's blown out of proportion. It really is. I played against their best recruits ... wasn't impressed. At all. Wasn't impressed."
-- Missouri defensive end Sheldon Richardson, whose team plays No. 16 Texas on Saturday (noon ET on FX).
As noted by the Dallas Morning News, Richardson has 35 teammates from Texas. No wonder Missouri is only 4-5.

Greatest Conference Ever of the Week
SEC
The SEC had three nonconference games last week and won them all by a combined score of 142-33. Take THAT, New Mexico State, Middle Tennessee and Tennessee-Martin!

Worst Conference Ever of the Week
ACC
Wake Forest was the only other BCS team to play out of conference last week, and the Demon Deacons lost to Notre Dame, 24-17. That will teach them to schedule games against teams people have heard of.

Stat of the Week
328
No. 21 Georgia Tech averages 328 rushing yards per game, which ranks No. 2 in the nation. No. 10 Virginia Tech has the nation's fifth-ranked rushing defense. Thursday night's game (8 p.m. ET on ESPN) will be strength vs. strength. Or, to more accurately capture Georgia Tech's offense: We throw the ball only 12 times a game vs. strength.

Coach on the Hot Seat
Mike Riley, Oregon State
The Beavers are 3-11 in their last 14 games. But amazingly, Riley's tenure in Corvallis outlasted Joe Paterno's in State College. It's doubtful anyone predicted that.

Player Name of the Week
Munchie Legeaux, QB, Cincinnati
Munchie is Cincinnati's backup quarterback, but he has a first-string name. Granted, his given name isn't "Munchie." He was born Benton Shannon Legeaux but earned the nickname "Munchie" when he was 2 years old because of how he chewed his food.
"At one time, nobody knew his first name was Benton," his high school coach, Jabbar Juluke, told the Times-Picayune newspaper of New Orleans in 2009. Yes, Munchie Legeaux was coached by Jabbar Juluke. New Orleans is an awesome town.
(Thanks to reader Karen J. for nominating Legeaux. If you have a player/coach name submission, or a funny tailgate photo to share, send it to VarsityTailgate@gmail.com.)

Coach Name of the Week
Rusty Burns, wide receivers coach, TCU
Not only does TCU have Rusty Burns on its staff, but a man named Dick Bumpas is the team's defensive coordinator. With names like these, it's amazing the Horned Frogs never got an SEC invite.

Stone Cold Lock of the Week
Central Florida won't be the only program that takes the Penn State mushroom cloud as an opportunity to report negative news. What's that? You hadn't heard the Central Florida news? Exactly.
DJ Gallo is the founder of SportsPickle.com. His first book, "The View from the Upper Deck," is available from only the finest bargain-book retailers. His next book project will be released soon. You can follow him on Twitter at @DJGalloESPN.