Commentary
LSU-Bama rematch is realistic scenario
Originally Published:
November 10, 2011
By
Sarah Phillips
| Special to Page 2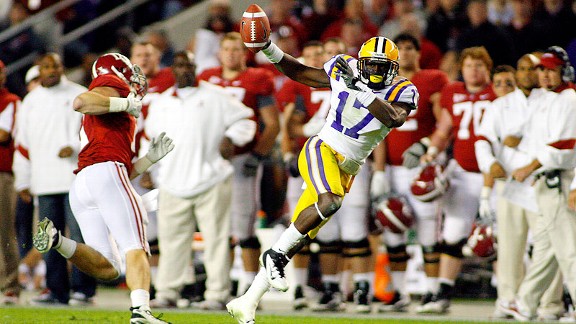 John David Mercer/US PresswireIf Stanford and Oklahoma State stumble, we could see an LSU-Alabama rematch for the BCS title.
Oddsmakers believe it's distinctly possible that fans will be treated to an LSU-Alabama encore for the BCS national championship.
Although LSU won the first matchup -- and despite the fact that the game will be played in New Orleans -- the Crimson Tide would likely be a two-point favorite over LSU.
Sure, 9-6 overtime win by LSU in last week's Game of the Century was a bit of a letdown -- even Kyle Brotzman had to cringe at Alabama's kicking failures. But the outcome didn't alter the perception that these are still the nation's elite teams.
"We still have LSU and Alabama power rated as the top two teams in the nation," said Las Vegas Hilton Race and Sports assistant manager Jeff Sherman.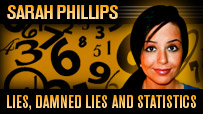 Said Todd Fuhrman, senior race and sports book analyst for Caesar's Entertainment: "The Crimson Tide looked like the superior team with their ability to consistently move the ball on LSU's defense. It's cliché to say this, but the game really could have gone either way."
Most oddsmakers still have Alabama ranked No. 1 overall. Since the goal of the BCS is to have the two best teams on the field competing for all the marbles, then it would only be fitting to have LSU face Alabama again.
While LSU has a clear path to the championship game, Alabama will need help to punch its ticket. The Crimson Tide not only need to win their final three games, but they also need Stanford and Oklahoma State to stumble.
The Cardinal face their biggest remaining obstacle this weekend when Oregon travels to Palo Alto. Oklahoma State faces its toughest test when it meets rival Oklahoma on Dec. 3. Most oddsmakers view Oregon as a better team than Stanford and Oklahoma as a better team than Oklahoma State. With very similar rosters last season, Oregon defeated Stanford, 52-31, and Oklahoma beat Oklahoma State, 47-41.
Both Oklahoma State and Stanford would be more than a touchdown underdog against LSU, which would represent one of the largest spreads in a BCS championship, according to Covers Sports analyst David Purdum. Translation: You might be watching "WWE Monday Night RAW" by halftime if LSU plays a team other than Alabama.
Let's all hope the BCS works, the oddsmakers are correct, and the top two teams meet on Jan. 9. Because that's our best opportunity to truly enjoy a Game of the Century.
This week's college picks
All games are Saturday unless otherwise noted.


No. 7 Oregon at No. 4 Stanford, 8 p.m. ET, ABC
Oregon coach Chip Kelly knows what he's up against on Saturday. When asked how his defense could surprise Cardinal quarterback Andrew Luck, Kelly replied, "Maybe put 12 or 13 players on the field." Then, when asked if he preferred Luck in the pocket or out in space, Kelly responded, "I would like him to be in outer space if we could get that taken care of. Put him in a rocket and send him to the moon for the weekend." That's respect. In reality, Kelly knows there's no stopping Luck. The only way to beat Stanford is to outscore them in a shootout. Fortunately for Oregon, they have experience doing that, having beaten Stanford 52-31 last season.
Pick: Oregon (+3½)


No. 10 Virginia Tech at No. 21 Georgia Tech, Thursday, 8 p.m. ET, ESPN
Unfortunately, the ACC champion is going to receive a BCS berth. Virginia Tech, Georgia Tech, Wake Forest and Clemson are all in the mix to set up an awful Orange Bowl against the Big East champion. Nothing says BCS like Wake Forest vs. Louisville. After waffling on the road against Virginia and Miami, Georgia Tech could take control of the ACC's Coastal Division with a win over Virginia Tech. At 8-1, the Hokies are having a great year. However, Virginia Tech is 2-7 against the spread. I'll take the Yellow Jackets in this Tech battle.
Pick: Georgia Tech (+1½)


No. 20 Auburn at No. 15 Georgia, 3:30 p.m. ET, CBS
If you're rooting for BCS armageddon, then jump on the Georgia bandwagon. What if Stanford loses to Oregon and Oklahoma State loses to Oklahoma? Then, what if Georgia upsets LSU in the SEC Championship Game? There could be a slew of one-loss teams and an undefeated Boise State team that already beat Georgia. How's that for chaos? But, first things first: Georgia needs to get past Auburn. The home team is 4-0 against the spread in the past four meetings in this series.
Pick: Georgia (-12½)


TCU at No. 5 Boise State, 3:30 p.m. ET, Versus
The Broncos need a ton of BCS chaos in order to sneak into the national championship, and they also need to beat TCU ... by about 50 points. Boise State is 1-4 against the spread in its past five games when favored by 10½ points or more at home. But are you going to bet against a desperate Broncos team potentially running up the score to secure coveted style points?
Pick: Boise State (-15)
This week's NFL picks
All games are Sunday.


Patriots at Jets, 8:20 p.m. ET, NBC
If New England loses to the Jets this weekend, it might be a sign of the apocalypse. The Patriots haven't suffered a three-game losing streak in nine years. Due to New England's consecutive losses to the Steelers and Giants, the Jets are a two-point favorite against the Pats. But New England is unbeaten against the spread in its past four games as a road underdog.
Pick: Patriots (+2)


Giants at 49ers, 4:15 p.m. ET, Fox
What does a conversation between Jim and John Harbaugh sound like? They probably trade quick pleasantries and then immerse themselves in a discussion about running the football and stopping the run. Jim's 49ers defense hasn't allowed a rushing touchdown this season. That stingy defense, coupled with a potent rushing attack led by Frank Gore, has San Francisco looking a lot like John's Baltimore Ravens. It must be in the Harbaugh DNA. San Francisco is unbeaten against the spread this season. The 49ers are back.
Pick: 49ers (-3)


Steelers at Bengals, 1 p.m. ET, CBS
It's baffling that there were NFL general managers who felt Andy Dalton wouldn't succeed in the NFL because there hasn't been an elite pro quarterback with red hair. Similarly, his Bengals don't get any respect, either. Oddsmakers set the line on Cincinnati's season win total at six this past offseason. The Bengals are currently 6-2. But if Cincinnati expects to beat Pittsburgh, it needs to keep the scoring to a premium. The under is 8-3 in the Bengals' past 11 AFC North games.
Pick: Under 42


Saints at Falcons, 1 p.m. ET, Fox
Last year, the Saints posed for pictures on the Falcons' midfield logo at the Georgia Dome after winning in Atlanta. The Falcons swore they'd get revenge in expletive-laden postgame interviews. Fast forward to this week, when Falcons linebacker Sean Weatherspoon told Atlanta media, "I'm not too familiar with that. I heard about it. But at the same time, I don't forget a lot of stuff." Not exactly the same picture of anger. Apparently, the Falcons' inconsistency even applies to their emotions. But the Saints recently lost to the Rams, meaning both teams are consistently inconsistent ... and bad on defense.
Pick: Over 49½
Last week's picks: 4-2
Season record: 46-33-2 (58.2 percent)
You can follow Sarah Phillips on Twitter @SarahPhilli.