Commentary
Houston looks like a lock for BCS bowl
Originally Published:
November 17, 2011
By
Sarah Phillips
| Special to Page 2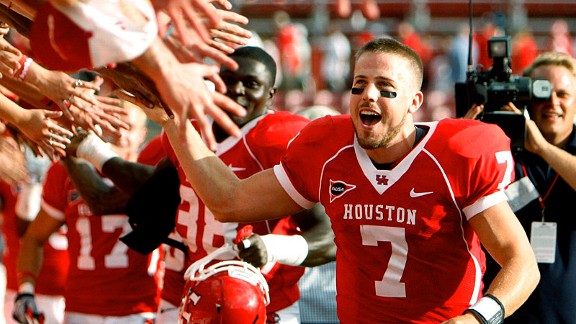 Thomas Campbell/US PresswireCase Keenum and the undefeated Cougars are well positioned to earn their first berth in a BCS bowl.
As the old saying goes, every action has a consequence.
Power conference supporters have adamantly opposed Boise State playing for the BCS title. After the Broncos' win over Georgia, I wrote that Boise State would not receive a championship berth -- even if it went 12-0. There was no need to fear the Broncos as a title threat and root for them to lose.
Still, when Kyle Brotzman Dan Goodale missed a potential winning field goal attempt against TCU, the Boise State haters plundered on Twitter.
One fan suggested, "Best day of my life! Boise State just lost!"
Another tweeted, "TCU exposes BSU! Go Sooners! POWER SIX POWER!"
But in the rubble of the celebration, one fan asked a significant question, "Boise lost, so uh ... what happens to the BCS?"
Houston, we have a problem.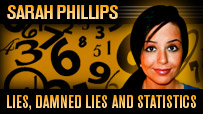 The Conference USA championship game, likely to match Houston and Southern Mississippi, is shaping up to become a play-in game for a BCS berth -- probably in the Sugar Bowl. That's right, a non-automatic, automatic qualifier. According to BCS selection procedures, the non-AQ automatic qualifier takes effect in two scenarios:
The champion of Conference USA, the MAC, the Mountain West, the Sun Belt or the WAC is ranked in the top 12 of the final BCS standings, or ...
Such a team is ranked in the top 16 of the final BCS standings and is ranked higher than one of the BCS conference champions.
TCU also has an outside shot at a BCS bowl berth if things really get crazy in Conference USA. But that's unlikely -- Houston and Southern Miss will be significant favorites in their remaining games leading up to the C-USA championship on Dec. 3.
So, with Houston or Southern Miss in line for a BCS berth, do oddsmakers expect either team to present a riveting matchup? In the esteemed words of Balki Bartokomous, "Well, of course not, don't be ridiculous!"
Oddsmakers estimate Houston would be a 14-point underdog to Alabama and a 12½-point underdog to Oklahoma State.
Southern Mississippi would face even longer odds. The Golden Eagles would be a 21½-point underdog to Alabama and a 17½-point underdog to Oklahoma State.
Sure, the argument can be made that Houston or Southern Miss might match up against an overconfident opponent -- perhaps one that's horribly disappointed about being left out of the national championship game. But do we really need a team to be disengaged just to make this game competitive?
Instead of thinking of the 2009 Sugar Bowl (Utah 31, Alabama 17), expect a repeat of the 2008 Sugar Bowl (Georgia 41, Hawaii 10). In that game, the Bulldogs showed the Warriors what turning the video game setting from junior varsity to Heisman looks like in real life. To wit, Houston quarterback Case Keenum tossed nine touchdown passes on Oct. 27. Impressive, until you consider that the opponent was Rice, which is ranked 111th in the nation in points allowed. Alabama, on the other hand, has allowed seven touchdowns all season. In abstract terms, it would take Keenum 771 minutes of game time against Alabama to accomplish what he did in 60 minutes against Rice.
The consequence of watching Houston or Southern Miss in a BCS bowl game is a reality because of Boise State's loss to TCU. Was celebrating the end of the Broncos' dream season really worth it?
Next time, be careful what you wish for.
[Editor's note: After Southern Mississippi's 34-31 loss to UAB on Thursday -- as a prohibitive favorite -- our humble correspondent has added the following addendum to Thursday's column:]
On Thursday night, Southern Mississippi's BCS hopes died. Time of death: Nov. 17, 2011. 11:17 p.m. ET.
The Golden Eagles were grounded as a 24-point favorite against UAB. While the loss destroyed the de facto BCS play-in scenario between USM and Houston in the Conference USA championship game, the loss in no way impacts Houston's control of its own BCS destiny. If the Cougars win out, they're in.
The biggest beneficiary of the Golden Eagles' loss is TCU. The Horned Frogs are now waiting in the wings for a shot at a BCS bowl berth if Houston stumbles in one of its three remaining games.
This week's college picks
All games are Saturday.


No. 5 Oklahoma at No. 22 Baylor, 8 p.m. ET, ABC
The Sooners are 20-0 all-time against the Bears, including 10-0 in Waco. Oklahoma is also 7-1 against the spread in its past eight meetings at Baylor. The only way the Sooners fail to cover against Baylor is if they're looking ahead to their eventual win over Oklahoma State on Dec. 3. Yeah, I said it.
Pick: Oklahoma (-15)


No. 13 Kansas State at No. 23 Texas, 8 p.m. ET, FX
After losing to Oklahoma by 41 points at home, Kansas State has acquitted itself nicely the past couple weeks. The Wildcats pushed Oklahoma State to the brink of national championship elimination and then beat Texas A&M in four overtimes. A win over an SEC opponent is always impressive. Kansas State is undefeated against the spread in its past four meetings with Texas. Don't expect that to change.
Pick: Kansas State (+8;)


No. 16 Nebraska at No. 18 Michigan, noon ET, ESPN
Brady Hoke has it made in Michigan. Fans are praising him for getting the Wolverines to play disciplined football ... and anything that goes wrong can simply be blamed on Rich Rodriguez for instilling poor fundamentals. Win-win! Nebraska comes to town off an emotionally draining win at Penn State last week. Cornhuskers quarterback Taylor Martinez still can't throw the ball, but as Tim Tebow showed us last week, the forward pass is so 2010. Nebraska is 5-1 against the spread in its past six games as an underdog.
Pick: Nebraska (+3½)
This week's NFL picks
All games are Sunday unless otherwise noted.


Jets at Broncos, Thursday, 8:20 p.m. ET, NFL Network
Tim Tebow doubters have been quick to find reasons to deride the Broncos quarterback. From his perceived lack of passing ability to his Tebowing celebration, Tebow can't win. Unless we're strictly talking about winning football games -- because that's all he does. Tebow is 3-1 this year as a starter. If Denver expects to beat the Jets, the Broncos will need to utilize their running game and defense to keep scoring to a minimum. If Mark Sanchez keeps doing "the stupidest thing in football history," that will help keep the score down, too. The under is 4-1 in the last five meetings between these teams.
Pick: Under 40


Chargers at Bears, 4:15 p.m. ET, CBS
During the Bears' current four-game winning streak, Matt Forte has been on a tear. "Pay the man" signs are so prevalent in Chicago that an outsider might think Forte is homeless. There is no such outpouring of support for Norv Turner in San Diego. The Chargers are 1-4-1 against the spread in their past six road games, 2-5-1 in their past eight games and are currently riding a four-game losing skid. There's absolutely no rational reason the Chargers should win. Which is why they'll probably win.
Pick: Chargers (+3½)


Eagles at Giants, 8:20 p.m. ET, NBC
Through nine games, pundits have been forced to weigh what the Eagles should be against what they really are. Philadelphia should be riding a high-flying offense and opportunistic secondary safely into playoff position. What the Eagles really are is a mediocre big-play team with issues on the offensive line and defensive front seven and very slim playoff hopes. If missing a team meeting last week was enough reason to bench DeSean Jackson, then the entire team should be benched this week for being MIA all season.
Pick: Giants (-3½)
Last week's picks: 5-3
Season record: 51-36-1 (58.6 percent)
You can follow Sarah Phillips on Twitter @SarahPhilli.