Commentary
NFL should consider penalty box
Updated:
November 20, 2011, 1:29 PM ET
By
Jerry Greene
| Special to Page 2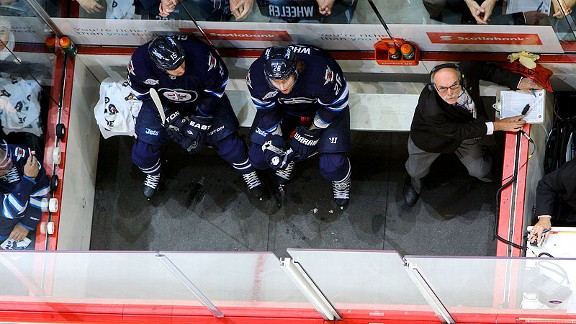 Jonathan Kozub/Getty ImagesThe NFL should really consider a penalty box for its troublemakers.
Are you listening, NFL commissioner Roger Goodell? Have we got an idea for you.
We all know that the NFL is rolling in success like happy pigs in slop. But it does have one ongoing problem -- violent hits. They can't really get rid of violent hits without turning their game into cricket, so they compensate with large fines and even ejections of players. Nobody likes this solution.
But another sport has a much better answer that could work for the NFL.
The penalty box.
Think about it. A star cornerback clocks a "defenseless" wide receiver. His team loses 15 yards, he might get ejected and is sure to get a bill from the league a couple of days later. Instead of all that, why not five minutes of game time in the penalty box? How cool would it be to see your defensive star fretting in the box and then, when the red light turns green, bursting onto the field just in time to clock another wide receiver?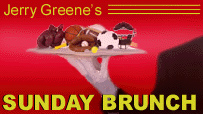 Of course he wouldn't hurt a fly after penalty time. As any hockey fan can tell you, the penalty box is a great method of rehabilitation. Rarely does a goon return to the penalty box for a second offense. (What? That's not true? Well, it sounded good and maybe the Commish never watches hockey.)
However, a couple of changes from hockey are needed ('cause there's no way the haughty NFL would ever admit that the NHL got it completely right first):
• One penalty box for players from both teams. We want to see Baltimore's Ray Lewis and Pittsburgh's Troy Polamalu in there at the same time.
• Make it a big penalty box -- and sell tickets. How much would you pay for a seat on the sideline next to a fuming Ray Lewis and a shampooing Troy Polamalu?
Of course, you just might have to sign a waiver. But you'll probably be safe because any player that took you out would get five more minutes in the box. That would show them.
Now, as our Thanksgiving Brunch chefs prepare the sumptuous main dishes, here are a few appetizers to whet your literary taste buds:
• A new soccer cleat from adidas records your performance. Word on the street is that they're considering another model for senior players that comes with a laugh track.
• Tweet Joke of the Week from BCS Executive Director Bill Hancock: "The BCS was never intended to be a divisive event." Yeah, Bill, and the Titanic was never intended to sink.
• Don't you know that somewhere in the NBA at least one player said: "Hey, if we're locked out of team headquarters, where do we go to get our pay check?"
• Twitter Joke of the Week from Colts Owner Jim Irsay: "No change in ticket prices" [for 2012 season]. Hah hah. Good one, Jim. You and Mr. Hancock must have the same joke writers.
• Hey, Big East, make a move or get off the pot.
• From Jay Leno: "The NBA players said no to a deal and the season could be over. Imagine the season being over for your team in mid-November. Philadelphia Eagle fans are going, 'Tell me about it.'"
• How can baseball reach a new labor agreement without us seeing anyone storm out of a single meeting? Got a comment, NBA?
Ding-ding. It's turkey time! Actually, the turkey is still waiting for a call from the president but we've got a plateful of tasty stories to give thanks about:
• Whether you like the penalty box or not, Rick Morrissey of the Chicago Sun-Times pleads with the NFL to not legislate aggression out of the Bears' defensive arsenal. Check it out here.
• You probably noticed last week that Duke basketball coach Mike Krzyzewski got his historic 903rd win. One of his most famous victories revolved around a shot by Christian Laettner, who explains to Bucky Gleason of the Buffalo News why Coach K deserves all the fame and more. Find out about it here.
• Meanwhile, back in the NFL, there is a quarterback accomplishing things that nobody thought he could do. His leadership may be his strongest suit as his team believes in him more each week. No, silly, we're not talking about him. Jerry McDonald of The Oakland Tribune (there's a clue) tells us who here
• Remember those enormous playbooks that NFL players lug around? Not anymore -- at least in Baltimore (and Tampa) -- as they have gone to iPad 2 technology. Sam Farmer of the Los Angeles Times explains and has a great "angry birds" line at the end. Look for it here.
• A word of warning for all fantasy football fans. Robert Patrick of the St. Louis Post-Dispatch reports on a gigantic fantasy game that may be a pyramid scheme that has robbed players out of hundreds of thousands of dollars. Hopefully you're not among the scammed. Find out here.
• Finally, on a much smaller scale, I've got the winners of Sunday's games (but pay no attention to my pick of the Jets on Thursday). Also, if Chris Johnson is on your fantasy team, find out who you should thank for his short TD last week. No, not him. See for yourself here.
Thursday is Thanksgiving. But allow me to be the first to tell you that we're thankful for your presence right now. Tebow.
Jerry Greene is a regular contributor to ESPN.com and can be reached at osogreene@aol.com