Commentary
Thanksgiving football with 'Friends'
Originally Published:
November 21, 2011
By
Kalani Simpson
| Special to Page 2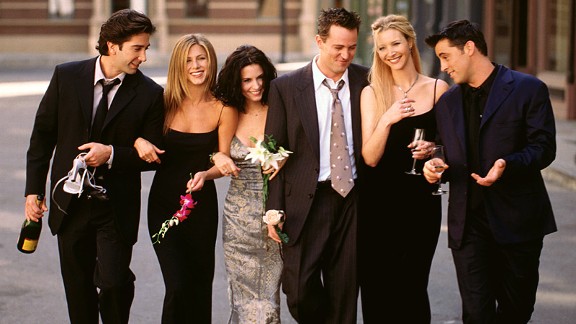 Getty Images/Warner Bros. TelevisionOne of the most memorable episodes of "Friends" was the football game on Thanksgiving.
This might shock you. The greatest Thanksgiving Day football game ever played did not involve the Detroit Lions.
OK, that did not shock you.
And the most coveted Thanksgiving Day football trophy did not involve a "turducken" or an iron or anything like it. No, this trophy meant something. This trophy meant everything. This trophy was a taped-up troll doll. This trophy was called the Geller Cup.
The players on the teams involved were legends about to hit their primes. Their names are etched in history now. But back then we weren't yet sure who they were going to be.
It was Rachel, Phoebe, Monica (the Tinker, Evers and Chance of the sitcom set) versus Joey, Chandler and Ross (the Huey, Dewey and Louie of the sitcom set).
This game went down to the wire, a controversial ending. It's still talked about.
Yes, of course I'm talking about the Thanksgiving Day football game from the TV show "Friends."
THE TELECAST'S PREGAME PSYCH-UP MUSIC/INTRO
Fox has robots, ESPN has sick graphics, CBS a blaring score, NBC a leggy, stomping Faith Hill. Brent Musburger has "looking live."
This one seemed to involve dancing in a fountain.
THE BACKSTORY
This was worse than Alabama-Auburn. This was worse than anything, really. How bad?
"Monica and I aren't supposed to play football," Ross said.
Well, it seemed that in years past the rivalry got competitive, then out of hand.
"She threw her big fat grandma-arm elbow in my face!" Ross said.
She broke his nose.
Officials (their parents) stepped in. The trophy was thrown in a lake. The series was suspended. The game would no longer be played.
This went on for 12 long years. Until that fateful day. That day they decided to unleash the madness. Nov. 21, 1996.
THE KICKOFF
The field is a leaf-covered patch of grass surrounded by a 20-foot-high chain-link fence.
They would play the trash can to the lamp post. The first half would consist of the 28 minutes before it was time to baste.
Joey, the first-round draft choice, is back to receive. Chandler kicks off, hurting himself and Ross.
The big highlight of the first half is when the ball rolls to the feet of a mysterious, beautiful woman with an exotic accent.
"I'm Dutch," she says.
"I'm Joey," Joey says.
IN-GAME TRASH TALK
The first call of "Cheater, cheater, compulsive eater" is heard.
Monica kicks Ross in the leg.
HALFTIME
The Geller Cup exists! Apparently, 12 years before, Crazy Person No. 1 swam into the lake to get it while Crazy Person No. 2 was at the hospital getting his broken nose fixed.
Or as they call it at my house, "Every Thanksgiving ever."
But it's on now.
LET'S GET READY TO RUMMMBBBLLLLLLLLLLLE!
That's right, Michael Buffer.
There are many highlights, much celebratory dancing and at least two incidents of pants-pulling. Chandler is brutalized by a Phoebe clothesline. It appears he did his own stunts.
But this is when the game really starts. Joey is traded. Guys versus Girls.
MORE HIGHLIGHTS SET TO A MUSICAL SCORE
Then, down to the game's final seconds, it all comes down to this.
"Oh," Phoebe says wistfully. "This is our last huddle."
(I have it on good authority that this is also what Roger Staubach said before the original "Hail Mary.")
Then, the last play. Ross rushes. Rachel jiggles. Monica, hit as she throws, tumbles with Ross to the ground. We follow the ball in slow motion. Rachel jiggles more than the entire cast of "Charlie's Angels" (including Bosley) circa 1976.
She caught it! She caught it! She caught it!
Oh, wait. She spiked the ball 5 feet short.
A wild scramble for the fumble, and Ross and Monica are at the bottom of the pile. Neither is willing to give in, even after the rest of the gang goes to Thanksgiving dinner. They stay out there, wrestling for that ball.
But then, in a game like this, it's not important who wins or loses. It's Thanksgiving.
The important thing is …
"The Dutch girl picked me!" Chandler says.
Thank you, Amsterdam. Good night.