Commentary
Arizona's big Twitter announcement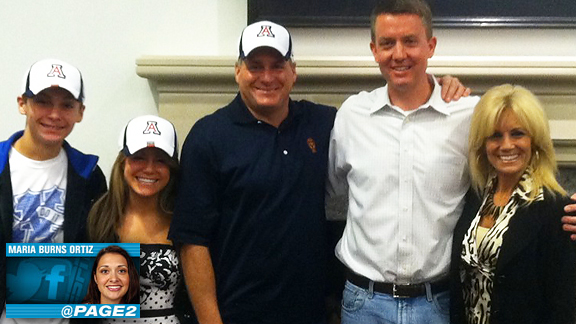 Greg Byrne
Rich Rodriguez was officially introduced as the University of Arizona football coach Tuesday afternoon. By then, the sports world and the Twitterverse were already well aware of the news.
Knowing an announcement before it's made is nothing new in the world of college athletics, but it doesn't usually come via a photo tweeted by a university's athletic director. That's exactly what happened on Monday evening as Greg Byrne sent out a tweet from his personal account that simply read, "And the new Arizona football coach and his family is......." and included a link to an iPhone photo of the athletic director, Rodriguez and his family.
"It was innovative, said Jeff Weiner, who works as a social media coach and strategist for a number of NFL players. "It got them some buzz, probably more so than if they'd just made the announcement via a traditional press conference."
The tweet resulted in a surge on the Web and sent "Rich Rodriguez" trending on social media. In less than 24 hours, the photo generated more than 63,000 views. By contrast, Byrne has barely more than 8,300 Twitter followers.
But announcements are about more than just generating buzz. They can have a longer-term impact.
"The University of Arizona, and more specifically @Greg_Byrne, did this the right way by delivering value to fans when, where and how they wanted to receive it," explained Digital Royalty founder Amy Jo Martin, who has worked with athletes and leagues to develop digital integration and social media strategies. "The value was in the form of exclusive news shared instantly and directly with loyalists such as the students, faculty, boosters, parents and alum who were most invested in the situation. Greg proved there's a reason to follow him on Twitter."
Providing a reason for fans to follow and engage with a team or university is a key to social media success.
Making the announcement via his own personal feed was a unique choice for Byrne, but was effective considering the second-year athletic director has a larger and more engaged audience than the University of Arizona athletics' Twitter feed.
"When stakeholders hear this type of news directly from the source and they have the ability to provide instant feedback, they become more invested," Martin said. "Being more invested typically leads to investing more. This was Greg's nod to stakeholders that they matter. He and Rich are two influential humans behind the University of Arizona brand, and they now have a new, powerful way to channel their influence."
Byrne's nontraditional announcement might have caught some off guard, but sports fans and Twitter followers might soon find it to be the norm.
"We live in a social world now, and there's no denying the power that Twitter has yielded across all verticals," Martin said. "Sports is a perfect fit because fans are highly emotionally charged and things happen quick. … News like that shared about Rich Rodriguez will become a social media standard because fans demand this dialogue versus monologue.
"There are many benefits to a sports entity breaking news directly to their recipients, the entity has full control over the message and how it is shared versus previously relying on a media outlets to translate or distribute as they choose," Martin continued. "Also, there's no quicker place for valuable information to spread than Twitter."
Echoed Weiner, "This is just the tip of the iceberg. It seems like institutions, college athletics in particular, have not been as quick to warm up to social media compared to players, but I think that institutions are probably starting to realize the benefits. It won't necessarily be a headline that Arizona hired Rich Rodriguez and announced it via Twitter, that will just be part of what always happens."
@TheBillWalton gets shut down
Sports parody account @TheBillWalton was recognized by many followers as one of the better fake accounts in the Twitterverse. The account even won humor magazine National Lampoon's award for "Best Fake Feed." But apparently, the folks at Twitter didn't see the humor.
Twitter suspended the account last week after a back-and-forth exchange with R&B singer Chris Brown, who seemed to think that he was dealing with the actual Hall of Famer.
"We were completely blindsided by the suspension," the @TheBillWalton authors said in an email. "Nothing had changed in our approach to the parody over the months. We believe we have firmly shown we are a comedy feed. … We built up well over 60K followers since February, so losing that suddenly and without warning has been quite a shock for us."
The real Bill Walton's wife, Lori, had even tweeted that her and Bill thought the account was funny.
Elsewhere in the social mediasphere
Every vote counts. Having failed to crack the top five NFC punters in Pro Bowl voting, the Saints' Thomas Morstead has taken to social media to lobby for a roster spot in Hawaii, launching a campaign on Twitter and YouTube.
Social media news site Mashable unveiled the finalists for its annual awards. The finalists for "Must-Follow Athlete on Social Media" include tennis player Rafael Nadal, figure skaters Yuna Kim and Johnny Weir, race car driver Shannon McIntosh and a trio of WWE wrestlers in John Cena, Zack Ryder and CM Punk.
Got a story we should feature? Have a site we should check out? Who's on your must-follow list? Tweet me at @BurnsOrtiz. If your idea gets mentioned in this column, so will you. Follow Page 2 on Twitter at @Page2.