Commentary
Page 2's football weekend guide
Originally Published:
November 23, 2011
By
Jerry Greene
| Special to Page 2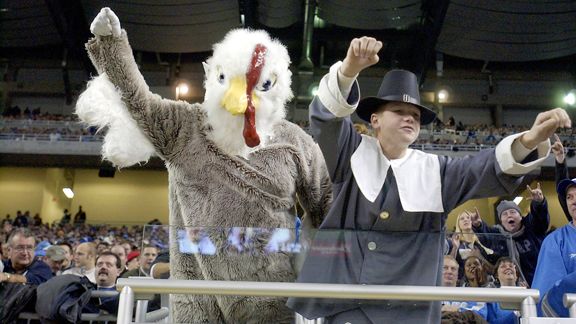 Al Messerschmidt/Getty ImagesLions-Packers and a great college rivalry means this could be a great Thanksgiving for football.
Will the Detroit Lions put us to sleep once again with their traditional Thanksgiving Day ineptitude? They don't think so. They believe that if we take a nap this Thursday, it will be caused by the turkey's tryptophan. They also think we should stay awake to watch them ending the 16-game unbeaten streak of the defending NFL champion Green Bay Packers that dates back to the last two regular-season and four postseason games in 2010.
Hey, there's precedent.
As has been much-discussed, the game this Thanksgiving is much like the game on Nov. 22, 1962 when the invading Cheeseheads were 10-0 and the upstart Lions were 9-2 (compared to the current 7-3 Lions). That Lions team won 26-14, as is being mentioned constantly in Detroit this week.
(Granted, it was the only loss for the '62 Packers, who went on to win the championship, but don't bother us with details.)
The Lions (and perhaps all of Detroit) desperately need a great showing against the Packers on Fox at 12:30 p.m. ET Thanksgiving Day. And, yes, a "moral victory" would be acceptable after becoming an annual Thanksgiving Day joke. If you have not been keeping score for the last 71 years, the Lions are 33-35-2 but 1-9 for the last decade on Turkey Day.
The Lions want to roar instead of gobble.
On a scale of four turkey legs, the Thanksgiving opener gets all four legs.
This may be the best NFL Thanksgiving in years as the other two games provide promise, too.
THANKSGIVING DAY
National Football League
4:15 p.m. -- Miami (3-7) at Dallas (6-4) -- CBS: Break up the Dolphins. Seriously, after losing their first seven, the Dolphins have won their last three by outscoring their shocked foes 86-20, and their defense has not given up a TD during that run. Meanwhile, the Cowboys remain a maddening club that teases its fans more than delighting them. A month ago this one looked like the perfect time for the Thanksgiving nap but it may be worth watching after all. -- 3 turkey legs out of four (Yes, we have some really strange turkeys.)
8:20 p.m. -- San Francisco (9-1) at Baltimore (7-3) -- NFL Network: It's the Harbaugh Bowl as Coach Jim leads the amazing 49ers into Baltimore to face his brother, Coach John, and his hard-hitting Ravens. And dare we say it, yes, it could be a Super Bowl preview. By the way, who do you like best: The Niners' Alex Smith or the Ravens' Joe Flacco? OK, how about San Fran's Frank Gore or the Birds' Ray Rice? We may find the answers -- if we can possibly stay awake. -- 4 legs.
College Football
8 p.m. -- Texas (6-4) at Texas A&M (6-5) -- ESPN: We have come to expect this game to mean more than it does this year when either team could creep into the bowl season at 6-6. Still, if you want the feel of a major collegiate rivalry, this is tough to top regardless of their mediocre records. Back in July, Texas coach Mack Brown was asked what he would do if he had not established a starting quarterback by November. "I'll probably be a truck driver," he answered. No word if FedEx is hiring in Austin, but Case McCoy probably will start instead of David Ash. And Brown now says, "I don't think I could drive a truck anyway." -- 2 legs.
BLACK FRIDAY
College Football
11 a.m. -- Louisville (6-5, 4-2) at South Florida (5-5, 1-4) -- ESPN2: It's this simple for Louisville -- beat South Florida and get a BCS berth. Seriously. Perhaps more amusing is that South Florida still hopes to become bowl eligible despite last week's 6-3 loss and shoulder injury to QB B.J. Daniels. Go shopping. -- 1 leg unless you are the Big East Commissioner.
noon -- Houston (11-0, 7-0) at Tulsa (8-3, 7-0) -- FSN: OK, maybe you care less about Conference USA than the Big Least but this game has a lot going for it. Houston gets a BCS berth and a perfect season with a victory here and in the conference title game, while QB Case Keenum gets to make another statement for Heisman consideration after a pedestrian 325-yard passing effort last week in a 73-17 embarrassment of Tulane. Meanwhile, Tulsa is the C-USA's forgotten team because of No. 8 Houston. The Golden Hurricane lost to Oklahoma State, Oklahoma and Boise State, so no shame there. They can score but can they slow down the Cougars? -- 3 legs and, if you love pinball scoring, make it 4.
noon -- Iowa (7-4, 4-3) at Nebraska (8-3, 4-3) -- ABC: You know, not a bad game as both are jockeying for the best bowl possible. Nebraska still has a shot at the CapOne, which is nice. And that's what this game is -- nice. Not thrilling. Just nice. -- 2 ½ legs.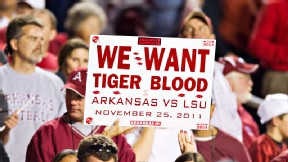 Wesley Hitt/Getty ImagesWord on the street is that the Arkansas fans are eager for their shot at LSU.
2:30 p.m. -- Arkansas (10-1, 6-1) at LSU (11-0, 7-0) -- CBS: OK, it's not No. 1 vs. No. 2 again but "just" No. 3 vs. No. 1. Hey, even the SEC can't be perfect. The game is almost a philosophical battle, as perfectionists have got to love undefeated LSU while lovers of BCS chaos have got to pull for Arkansas -- which knows it can probably steal a berth in the national title game with the upset. The Razorbacks probably can score on LSU but can they withstand the onslaught of its offensive line? You want to watch. -- 4 legs.
3:30 p.m. -- Boston College (3-8, 2-5) at Miami (6-5, 3-4) -- ABC: Let's see, Arkansas vs. LSU or this ACC turkey. Miami is bowl eligible but said it would stay home. America grieves. -- 1 leg.
3:30 p.m. -- Colorado (2-10, 1-7) at Utah (7-4, 4-4) -- FSN: This makes Boston College at Miami look good. -- ½ leg.
7 p.m. -- Pittsburgh (5-5, 3-2) at West Virginia (7-3, 3-2) -- ESPN: Pitt needs one victory between this match and a home game with Syracuse to make a modest bowl such as the Beef O'Brady's St. Petersburg showdown. Meanwhile, West Virginia still dreams of the Big East title and dubious spot in the Orange Bowl if Louisville loses. Otherwise it's a drop to something like the Belk Bowl. Really. Look it up. -- 2 legs.
7 p.m. -- UTEP (5-6, 2-5) at UCF (4-7, 2-5) -- CBSSN: The Miners (that's UTEP) are trying to dig their way to Hawaii, while the Golden Knights (that's UCF) are just trying to dig a hole and hide in it. -- 1 leg.
10:15 p.m. -- California (6-5, 3-5) at Arizona State (6-5, 4-4) -- ESPN: This is part of a headache scenario. Let's see, if Arizona State beats California and UCLA loses to USC and Utah beats Colorado, then Arizona State represents the Pacific-12 South in the conference title game. Got that? Good. Let's move on. -- 2 ½ legs.
LEFTOVER SATURDAY
noon -- Georgia (9-2) at Georgia Tech (8-3) -- ESPN: Always fun when we have a late-season in-state rivalry that spans two conferences. Georgia has its spot in the SEC title game but would be crushed by a loss here first. Georgia Tech has given up 68 points in last two so it may not be capable of chaining the Bulldogs. -- 3 legs.
noon -- Iowa State (6-4, 3-4) at Oklahoma (8-2, 5-2) -- FX: Before last week Iowa State was 0-56-2 against teams ranked No. 6 or higher. Then the Cyclones blew No. 2 Oklahoma State out of the national title hunt. Now they have a shot at embarrassing the rest of the state by beating Oklahoma, which is already in denial about losing to Baylor. A lot of drama out West. -- 2 ½ legs.
noon -- Ohio State (6-5, 3-4) at Michigan (9-2, 5-2) -- ABC: Doesn't the Ohio State scandal seem like a thousand years ago in a gentler, softer age? And how about a moment of sympathy for Buckeyes interim (and we do mean "interim") coach Luke Fickell, who has to be wondering why Urban Meyer still doesn't want more time with his family. Michigan, meanwhile, has a shot at a BCS bid and the prospect of facing an undefeated Houston in the Sugar Bowl. Sweet. -- 3 legs -- meaning a lot of channel switching between these 3 games.
noon -- Rice (4-7, 3-4) at SMU (6-5, 4-3) -- FSN: Right. -- ½ leg.
noon -- Rutgers (8-3, 4-2) at Connecticut (4-6, 2-3) -- ESPN2: Well, it beats the crap out of Rice at SMU. -- 1 ½ legs.
2:30 p.m. -- Grambling (6-4, 5-3) vs. Southern (4-6, 4-4) -- NBC: It's the annual Bayou Classic in the Louisiana Superdome so it's hard to miss. How much does New Orleans like it being there? The estimate is that it brings $200 million into the city. -- 3 legs.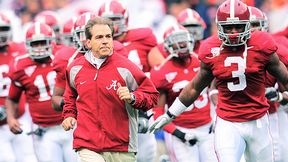 Marvin Gentry/US PresswireNick Saban and Alabama must survive the Iron Bowl to stay in the BCS title hunt.
3:30 p.m. -- Alabama (10-1, 6-1) at Auburn (7-4, 4-3) -- CBS: What do you need to know? Alabama can get into the national title game no matter if we want it or not, while all Auburn cares about is ruining those dreams. Is it the greatest collegiate rivalry? Who knows, but it has to be in everybody's top 5. -- 4 legs.
3:30 p.m. -- Duke (3-8, 1-6) at North Carolina (6-5, 2-5) -- FSN: Wow! This just might be the men's basketball game of the year! What? Oh, it's football? Never mind. -- 1 leg.
3:30 p.m. -- East Carolina (5-5, 4-3) at Marshall (5-6, 4-3) -- CBSSN: This wouldn't even be good basketball. -- ½ leg.
3:30 p.m. -- Kansas (2-9, 0-8) vs. Missouri (6-5, 4-4) -- FSN: Here are some of the losing scores by Kansas this season: 66-24, 45-24, 70-28, 47-17, 59-21 and, last week, 61-7 at Texas A&M. Tune in long enough to wave goodbye to Jayhawks coach Turner Gill. -- 2 legs out of morbid curiosity.
3:30 p.m. -- Oregon State (3-8, 3-5) at Oregon (9-2, 7-1) -- ABC/ESPN2: Oregon must hate initials with its two losses at the hands of LSU and USC. But it can still take our its revenge on its weak state rival, win the conference championship and make it to the Rose Bowl. -- 3 legs.
3:30 p.m. -- Penn State (9-2, 6-1) at Wisconsin (9-2, 5-2) -- ESPN: The question is if you are ready to watch Penn State and focus on the significance of the outcome of the football game. The Big 10 has four 9-2 teams. Winner of this game plays Michigan State for the conference title. And note that the Nittany Lions are probably happy that they are playing on the road. As for the Badgers, watch RB Montee Ball, who ran for 228 yards on 38 carries last week. He doesn't get tired. -- 4 legs.
3:30 p.m. -- Virginia Tech (10-1, 6-1) at Virginia (8-3, 5-2) -- ABC/ESPN2: Virginia Tech is having one of the quietest 10-win seasons ever, while Virginia got out of Tallahassee with an upset victory over FSU that had more endings than the final "Lord of the Rings." Now the in-state rivals are playing for a conference title berth against Clemson, the only team to beat Tech this season. -- 3 ½ legs.
7 p.m. -- Baylor (7-3, 4-3) vs. Texas Tech (5-6, 2-6) -- FSN: Yeah, right. Anybody want to say something about this turkey? "Hey, wise guy, it's in Arlington." Thank you, sir, that's all we need to know. Let's move on. Nothing to see here. -- 1 leg.
7 p.m. -- Florida State (7-4) at Florida (6-5) -- ESPN2: In the Sunshine State there's nothing but football gloom. It's the year of the Big D -- not "Defense" but "Disappointment." The Seminoles, however, can still finish 9-4 with closing victories over the Gators and, apparently, Notre Dame in the Champs Sports Bowl, so that's not bad. As for the Gators, there's still the chance to play themselves into the Gator Bowl and try to pretend it's not just another home game. Yippie. -- 2 ½ legs.
7:30 p.m. -- Washington State (4-7, 2-6) at Washington (6-5, 4-4) -- Versus: OK, quick quiz. Is the state of Washington above or below Oregon? Above? Are you sure? I didn't think so. If you can't find the state on a map, how can you care about this game? (Of course, we could have asked you a similar question about Virginia.) -- 1 leg.
7:45 p.m. -- Clemson (9-2) at South Carolina (8-2) -- ESPN: In losing two of their last three, Clemson is playing exactly like a team that wrapped up its berth in the ACC title game too soon and too easily. Meanwhile, back in the SEC East, South Carolina had a spot in that championship game locked away until a loss at Arkansas opened the door for Georgia. Somebody leaves this rivalry really feeling bad about themselves. -- 3 legs.
8 p.m. -- Notre Dame (8-3) at Stanford (10-1) -- ABC: Strange year for the Irish, opening with two unexpected losses, then cruising along except for one high-profile bump at home against USC. Supposedly they will end up facing FSU in Orlando, which may or may not be considered a reward. As for Stanford, QB Andrew Luck probably is playing his last regular-season collegiate game. You know the Indianapolis Colts will be watching. -- 3 ½ legs.
10 p.m. -- UCLA (6-5, 5-3) at USC (9-2, 6-2) -- FSN: How young and how good is USC? It looks like a lock for the preseason Top 10 in 2012 -- and that's if QB Matt Barkley goes to the NFL. If he pulls a Luck and stays, they may be preseason No. 1. UCLA? Oh, they're OK, too. -- 2 ½ legs.
TURKEY SOUP SUNDAY
Featured NFL Games
1 p.m. -- Buffalo (5-5) at New York Jets (5-5) -- CBS: Call it "the Elimination Bowl." With six AFC teams already with six or more victories, the loser here can just about shut it down. Neither team has anything going for it but here's a good reason why the Jets will be a TD favorite: Both teams are 4-1 at home and 1-4 on the road. The Bills don't travel well. -- 2 legs.
4:05 p.m. -- Chicago (7-3) at Oakland (6-4) -- FOX: The Bears lost their QB, Jay Cutler, to a broken thumb last week, while the Raiders already lost and replaced their signal-caller. For stats freaks, the Raiders lead the league in penalties with 103 and can break the record of 158 set by the Kansas City Chiefs in 1998. I'm sure they're thrilled about that. -- 2 ½ legs.
4:15 p.m. -- New England (7-3) at Philadelphia (4-6) -- CBS: The Patriots don't look great but nobody in the AFC does. The Eagles, of course, are the dream team that's turned into a nightmare. The frightening thing is that they may become a bad dream for whom they play whether they reach the playoffs or not. Misery loves company -- especially in Philly. -- 3 legs.
8:20 p.m. -- Pittsburgh (7-3) at Kansas City (4-6) -- NBC: The Chiefs get plastered Monday night at New England and now face Pittsburgh in another prime-time game? Doesn't seem fair. -- 2 legs.
There you have it: Thirty-six televised games across four days. Don't you dare say you've got nothing to watch! So happy Thanksgiving -- enjoy the turkey, the tryptophan and the TV.
Jerry Greene is a regular contributor to ESPN.com and can be reached at osogreene@aol.com