Commentary
Varsity Tailgate girds for rivalry week!
Originally Published:
November 23, 2011
By
DJ Gallo
| Page 2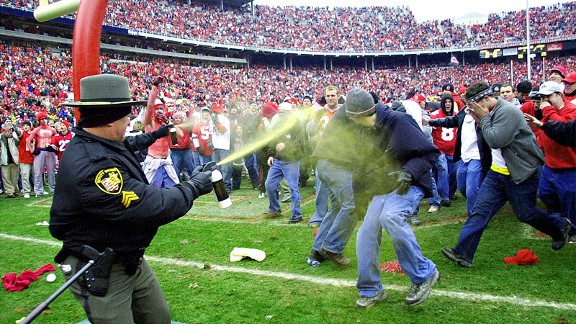 AP Photo/Mark HallMichigan at Ohio State, 2002: Nothing says "storied rivalry" quite like a face full of pepper spray.
Ohio State-Michigan. Auburn-Alabama. Texas-Texas A&M. Pitt-West Virginia. Some of the biggest rivalries in college football are played on Thanksgiving weekend.
It's easy to believe that every college football rivalry is unique, with its own special history, singular traditions and distinctive origin.
But almost every rivalry in college football fits into one of six categories.
State versus state
Examples: Ohio State versus Michigan, Oklahoma versus Texas, Florida versus Georgia.
Rivalry: "Our state is superior" versus "No, our state is superior."
Region of the state versus region of the state
Examples: Alabama versus Auburn, Florida versus Florida State, Oregon versus Oregon State, Ole Miss versus Mississippi State.
Rivalry: "While our state is superior to all of our neighboring states, your area of the state is a real dump" versus "Oh, please. Us? You're talking about us? If it wasn't for your crap section of the state, the neighboring states wouldn't have any reason to think they are superior."
City versus country
Examples: Pitt versus West Virginia, Texas versus Texas A&M, Washington versus Washington State.
Rivalry: "You unrefined farmer/mountain people really need to get with the 21st Century. But first, we're going to bludgeon you to death on the football field" versus "We're sick of you fancy-talkin', city folks lookin' down on us. Here's a newsflash for you: It doesn't matter how many snazzy cell phone gadgets or super-special museums you have, because from the dirt you came and to the dirt you will return. And it might just be on this day."



Private school versus state school
Examples: Stanford versus Cal, Duke versus North Carolina.
Rivalry: "We're superior to you in every way and you know it" versus "You think you're superior to us in every way and couldn't be more wrong."
Religious school versus nonreligious school
Examples: BYU versus Utah, Notre Dame versus USC, Notre Dame versus Michigan
Rivalry: "You're probably going to hell" versus "I'm going to take you there with me."
Same side versus same side
Examples: Army versus Navy, Harvard versus Yale.
Rivalry: "When the world goes to hell, we military men/elitist nerds will be on the same side, but for now I want to kill you" versus "I agree with what you said for the first time in my life. Don't think I don't hate myself for it."


Game of the Week
No. 3 Arkansas at No. 1 LSU: Friday, 2:30 p.m. ET, CBS
If LSU-Alabama was the Game of the Century, this is at least the Game of the Decade. Does that make sense? No. But a 9-6 overtime game as Game of the Century doesn't make sense, either.
LSU-Arkansas should be just as close and might also go to overtime. Perhaps even by design. The SEC is really enjoying this 1-2-3 thing and might do everything in its power to keep it in place for another week.


Another Game of the Week
No. 2 Alabama at No. 24 Auburn: Saturday, 3:30 p.m. ET, CBS
Tens of thousands of Alabama fans will converge on Auburn for this game. Hide your kids. Hide your wife. Hide your plants.

Cupcake of the Week
Tulane
The 2-10 Green Wave are traveling 4,000 miles to take on Hawaii, which can become bowl eligible with a win (Saturday, 11 p.m. ET on ESPN3). Tulane officials will likely spend some time thinking about their next head coach on the long flight. They had hoped to hire former Tulane assistant Rich Rodriguez, but now their focus might be on former Pitt head coach Mike Haywood. Can't go wrong with those candidates.
Rivalry Game of the Week
All of them. Any of them. You can't go wrong this week. Just pick one. But know that my rivalry game of choice is better than your rivalry game of choice.

Heisman Candidate in the Crosshairs
Trent Richardson, RB, Alabama
Andrew Luck slipped up two weeks ago, and Brandon Weeden's candidacy probably ended last week. So now Richardson might be the Heisman favorite. But he's a weak favorite. There's a pretty good chance this year's winner will be announced at the Heisman ceremony as follows: "And the 2011 Heisman Trophy is awarded to … whoever can run up here and grab it first."

Mascot Fact of the Week
Arkansas has had a live razorback pig mascot since the 1960s. While most schools keep their live mascots under tight control so they don't get loose and hurt anyone, Arkansas is actually quite proud of the damage their mascots have done over the years.
From ArkansasRazorbacks.com: "Big Red III escaped from an exhibit near Eureka Springs in the summer of 1977 and ravaged the countryside before being gunned down by an irate farmer. Another live mascot, Ragnar, was a wild hog captured in south Arkansas by Leola farmer Bill Robinson. Before Ragnar's spree was done, the mighty animal had killed a coyote, a 450-pound domestic pig and seven rattlesnakes."
Yay, Arkansas!
Tailgate Tip of the Week
Get a cherry box of wine accessories engraved with your team logo: It's difficult to look football tough at your tailgate while sipping a glass of chardonnay. But now you can bring some refinement to the party while still supporting the home team. For $137.95, you get a rabbit level style wine opener, foil cutter, drip stop ring, and plenty of other things that make opening and pouring a bottle of wine last longer than it takes your friend to drink an entire six-pack of Keystone Light.

Quote of the Week
"I will not just coach University of Arizona football. I am going to live it. My family will live it. Everybody on my staff will live it, and the players will live it."
-- Rich Rodriguez, at the news conference introducing him as the new Arizona head coach
You're going to live football? Get a life.

Greatest Conference Ever of the Week
Big East
Five teams still have a shot at the conference title and a spot in a BCS bowl. The SEC has only three teams in the running for the BCS title game. How pathetic.

Worst Conference Ever of the Week
Big 12
Oklahoma State and Oklahoma ended the conference's BCS championship hopes in a span of 24 hours. On the other hand, Iowa State and Baylor proved they can beat highly ranked teams. Hmm. Let's give the conference a solid C.

Stat of the Week
130
That's how many Twitter characters you will have left to tweet about Mississippi State after using 10 to write "#HAILSTATE" -- a Twitter hashtag which the Bulldogs have painted in their end zone for the Egg Bowl (Saturday, 7 p.m. ET, ESPNU).
Mississippi State is obviously hoping their fans will tweet throughout the game together using #HAILSTATE. But making it so visible will only invite Ole Miss fans and others to mock them with the hashtag. If you don't believe that, you've never been on Twitter.
@mstateFB #HAILSTATE might be a #BadIdea

Coach on the Hot Seat
Ron Zook, Illinois
After a 6-0 start, the Fighting Illini have lost five in a row. But they're favored to win their regular-season finale at 2-9 Minnesota. Remember: Someone has to be favored, because there are no ties in college football.

Player Name of the Week
Quinta Funderburk, WR, Arkansas
Without "Funderburk," you can't spell "That's a fun name to say … derburk."
(Submitted by reader Eric H. If you have a player/coach name submission or a funny tailgate photo to share, send it to VarsityTailgate@gmail.com.)

Coach Name of the Week
Tanous Farhat, Assistant Director of Football Operations, Arizona
Rodriguez will want to bring in his own staff to Arizona. But I encourage him to retain Tanous Farhat. Or at least let Farhat make a case for keeping his job.
Rodriguez: "Tell me why I should keep you."
Farhat: "My name is Tanous Farhat."
Rodriguez: "You're hired. No, you're hired AND promoted."

Stone Cold Lock of the Week
The Big East will offer a conference invite to Thanksgiving leftovers.
DJ Gallo is the founder of SportsPickle.com. His first book, "The View from the Upper Deck," is available from only the finest bargain-book retailers. His next book project will be released soon. You can follow him on Twitter at @DJGalloESPN.