Commentary
Pro basketball is back! D-League, that is
Originally Published:
November 25, 2011
By
Tyler Maas
| Special to Page 2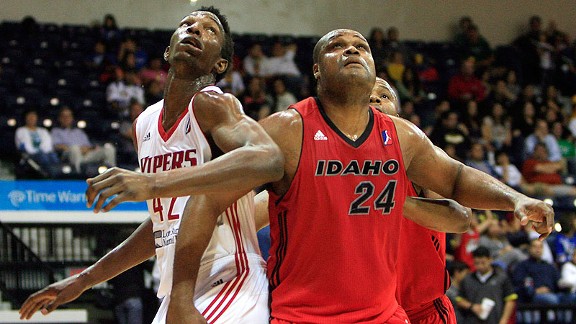 Gabe Hernandez/NBAE via Getty ImagesBecause of legal issues, Antoine Walker will miss the first four games of the season.
With the fate of the NBA season still hanging in the balance and the prospect of a season looking less likely, players are keeping busy doing things such as negotiating an end to the lockout and playing overseas. But while a beginning to the next NBA season (whichever calendar year that may occur) remains unknown, Friday marks the start of at least a semblance of professional basketball.
Yes, the NBA D-League's 11th season will begin when the Springfield Armor and Maine Red Claws tip off Friday. From there, 16 teams geographically spread from Bakerfield, Calif., to Portland, Maine (and for some reason Sioux Falls, S.D.) will embark on 50-game schedules that run through April.
Because the teams are treated as minor-league affiliates of NBA organizations, players are compensated accordingly, pulling in a maximum of $25,500 per season, with an obvious pay raise in the case they are promoted to a parent club. With the lockout-related uncertainties making call-ups seem unlikely, many would-be D-Leaguers have decided to play overseas instead. Apparently, players prefer making more money while playing in Italy or Spain to getting by in Rio Grande Valley.
Still, a select few NBA-caliber notables dot D-League rosters. Here are a few of (what could quite possibly be) the best professional basketball players taking the court during the 2011-12 season.
FIRST TEAM
Antoine Walker (F, Idaho Stampede): It's so great of Antoine Walker to lend his name, his three-time All-Star reputation and a year of his blissful retirement to help legitimize a developing league. Oh wait, he just gambled away all his money and needs a job so his wages can be garnished. The 35-year-old Celtics and Heat star will miss Idaho's first four games while he's tending to legal matters and party hosting duties.
Jamaal Tinsley (G, Los Angeles Defenders): Aside from Walker, Tinsley has the most NBA experience of any D-Leaguer. The former first-round pick spent a combined 436 games with the Pacers and Grizzlies. With Kobe Bryant and Blake Griffin locked out indefinitely, Tinsley may be the biggest name balling in L.A this winter -- a scary thought.
Brian Butch (C, Bakersfield Jam): After establishing himself as an All-Big Ten talent with a Wisconsin Badgers and a capable frozen pizza spokesman, Butch spent some time playing in Germany and Greece before becoming a D-League star in Bakersfield in 2009-10. He was promoted to the Denver Nuggets in 2010, but injured his knee. After undergoing surgery, "The Polar Bear" is, again, on the hunt for another shot in the NBA -- or at least another commercial.
[+] Enlarge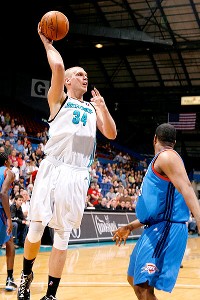 Dick Carlson/Getty ImagesSioux Falls Greg Stiemsma is back for another season in the D-League.
Greg Stiemsma (C, Sioux Falls Skyforce): Like his partner in the Badgers frontcourt, Stiemsma logged some overseas minutes (Turkey) before settling into a role as one of the development league's premier big men, winning NBAD Defensive Player of the Year honors in 2009-10. After a season spent on the end of the Timberwolves' and Cavaliers' benches, the center is back in his old haunts. Compared to playing Minnesota and Cleveland, returning to the Skyforce could be considered a lateral move.
Brady Morningstar (G, Tulsa 66ers): Though it appears Morningstar already has played his most meaningful games while at Kansas, the member of the Jaywaks 2007-08 title team still has something to prove on the pro level. Factoring in the lockout and his questionable skill set, the semi-pro level will have to do for now.
SECOND TEAM
Anthony Mason Jr. (F, Sioux Falls Skyforce): At some point, an unsuspecting South Dakotan will mistakenly attend a Skyforce game, thinking they're paying to see Mason's colorful NBA vet father with the same name. If they decide to stay, they'll still get to see a promising young forward who average 15.1 points for the Skyforce before tearing his labrum 15 games into last season.
Eniel Polynice (G, Los Angeles Defenders): Keeping with the nepotism theme, Eniel Polynice -- son of longtime NBAer Olden -- will join Jamaal Tinsley in L.A.'s backcourt. Polynice's last name carries the promise of an NBA-level player, but his 3.8 ppg with Seaton Hall last season might have people longing for the Olden days.
Keith McLeod (G, Canton Charge): They say you can never come home. Unlike Canton, Ohio, native Keith McLeod, those people probably never ran out of money years after a four-year drought of NBA employment. The short-tenured T-Wolves, Jazz, Warriors and Pacers guard is one of the oldest and most decorated D-Leaguers.
Charles Okwandu (C, Rio Grande Valley Vipers): At UConn last season, the 7-foot Okwandu was among the least productive players on the Huskies' NCAA championship-winning team. The distinction of being one of the worst players on the best NCAA team still makes the recent Vipers draft pick one of the best incoming D-Leaguers.
Jamal Sampson (C, Texas Legends): Like McLeod, Jamal Sampson brings limited NBA experience with him. The ex-Bucks, Lakers, Bobcats, Kings and Nuggets forward was drafted just 12 picks after Carlos Boozer in 2002. At this point, Boozer has 9,680 more points and two more All-Star selections. Sampson, however, will be playing basketball this weekend.