Commentary
Rugby, NBA, Iron Bowl highlight 'Brunch'
Updated:
November 27, 2011, 4:03 PM ET
By
Jerry Greene
| Page 2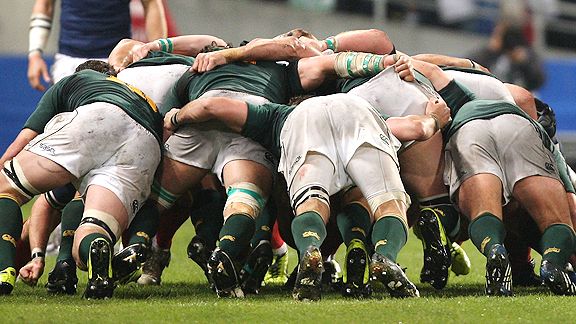 Warren Little/Getty Images In Samoa, they have some unusual stipulations when you lose in rugby.
Talk about boorish behavior.
One of those stories that got lost in the slop last week involved the firing of Tuala Mathew Vaea, the manager of the Samoan rugby team after it finished 2-2 in World Cup play. Besides losing his job for bad (you'll get the "boorish" pun in just a moment) behavior, he was fined 100 pigs by his village, called Leauva'a, for hurting its reputation.
Unfortunately, he got off with an apology and a check for $2,000 but got to keep his pigs (if he really has pigs). The village actually was on to a system that makes a lot of sense. All our major professional leagues should start taking away something other than money because these players have all got money.
Consider the following possible fines and decide for whom they would be appropriate:
• 100 dogs.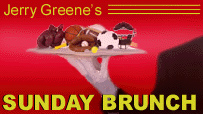 • 100 shoes.
• 100 hypodermic needles.
• 100 pages from his little black book.
And if I'm ever fined in this manner, hopefully they'll hit me for 100 pounds.
Granted, we're all still stuffed from Thanksgiving but our literary chefs are whipping up some top-grade stories that are guaranteed not to be leftovers. As they apply the finishing touches, here are a few more appetizers:
• Speaking of over-eating, nearly forgotten Takeru Kobayashi set the world record for turkey consumption by eating 7.5 pounds in 10 minutes. But I'm protesting because no dressing was involved. There are rules.
• The Charlotte Hounds played a lacrosse game that lasted 13 hours and 14 minutes -- and ended in a 140-140 tie. It lasted long enough to sell $25,000 worth of merchandise and season tickets. Bud Selig reacted: "Wow, how did they do that?"
• NBA players' assessment of the lockout ending in time for Christmas: "Let's see, we're losing about 20 percent of this year's salaries and our cut is dropping from 57 to 50/51 percent. Yep, sounds like a victory to us!"
• Tweet of the Week from The Hockey News' Adam Proteau: "For his next trick, Sidney Crosby will negotiate a labor deal for the NBA, end the federal deficit, and take away Nickelback's instruments." -- Well, one out of three ain't bad.
• The Philadelphia 76ers really announced that their mascot, the rabbit Hip Hop, has fallen in love, is getting married and retiring to raise a family. The club isn't commenting on this but word on the street is that Hip Hop plans on being responsible and won't have more than 176 kids.
Ding-ding. Hoping you have digested the turkey and have room for our menu of outstanding sports writing prepared by some of today's best. Our entrées range from the football fields to Broadway. Enjoy:
• You don't want to miss this sobering, first-person narration of his NFL career by former defensive lineman Kris Jenkins as told to Greg Bishop for The New York Times. Jenkins has paid a heavy price for making football the focus of much of his life, but he blames no one else for his decisions. Read it here.
• It doesn't seem fair that baseball's new collective bargaining agreement received almost no publicity because nobody took any shots at anyone else. Thomas Boswell of The Washington Post calls the agreement "monumentally symbolic." See if you agree here.
• Yes, Alabama didn't just beat Auburn but cut the Tigers into pieces 42-14. Does that mean we are headed for an LSU-Alabama rematch? If so, Mike Herndon of the Mobile Press-Register believes it will destroy the "BCS enhances the regular season" argument of the few BCS lovers out there. Find out here if you buy what he's selling so you can use it in your next BCS argument.
• We weren't kidding about Broadway. The same folks who brought us "Lombardi" are now casting for "Magic/Bird." We presume you know who the play is about. In case you think you'd be a natural as one of the leads, find more information here.
• Great thing about three NFL games on Thanksgiving is I can't get more than 13 games wrong for the rest of Week 12. If you're looking for a chuckle, check out my picks here. (Wait a second, did I say that right?)
Anyone for turkey soup? Turkey salad? Turkey on a stick?
Jerry Greene is a regular contributor to ESPN.com and can be reached at osogreene@aol.com