Commentary
Inner tube water polo splashes in NYC
Originally Published:
November 29, 2011
By
Ken Derry
| Special to Page 2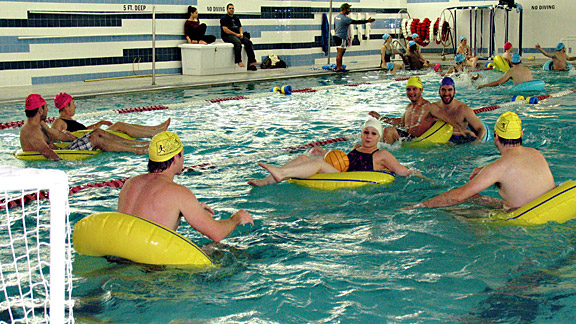 Ken Derry for ESPN.com Page 2 documents the budding sport of inner tube water polo from a poolside seat in New York.
NEW YORK -- On a recent night in the steamy basement pool of the Chinatown YMCA, the spirit of competition was splashed in the face, flipped on its head and dunked under water.
Men and women in their 20s, 30s and 40s gathered in this subterranean space off the Bowery. They were teachers and students, forensic specialists and bankers, but they shed their skin along with their clothing in favor of Speedos, board shorts, one-pieces and bikinis.
Despite their differences in style and background, they were unified by two unmistakable pieces: swim caps and inner tubes. After all, nothing captures the expression of a determined seafarer like a hot pink swim cap. But there is strength in numbers, so awkwardness went the way of the rippling tide once the first athlete jackknifed into the pool and undertook the graceless act of climbing into a floating inner tube.
It was the Inner Tube Water Polo Championships, the marquee event for a popular recreational league contested under the umbrella of the Manhattan-based NYC Social Sports Club.
The club organizes a variety of sports, including kickball, ultimate Frisbee and volleyball. But other leagues such as inner tube water polo have developed a following.
NYC Social Sports Club was founded in 2004 by Amy Short, who began recruiting members by circulating flyers outside movie theaters playing "Dodgeball: A True Underdog Story."
By 2011, the club was offering 11 sports intended to bring people together, rather than showcase the athletic prowess of competitors.
"People aren't joining our leagues to win national championships," said Aaron Bauhs, 29, a membership manager for NYC Social Sports. "They're joining to win friends."
When Bauhs was hired two years ago, he was reluctant to jump into the pool.
Isn't there a rule about going shirtless in front of one's colleagues?
"I was really nervous about it," he said. "But it turned out to be no problem. It's about the shared experiences and the bonding."
[+] Enlarge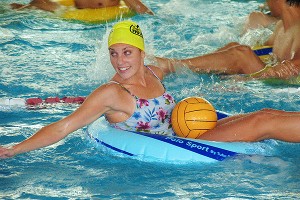 Ken Derry for ESPN.comJessica Van Binsbergen paddles in pursuit of a goal.
There was no such issue for Jessica Van Binsbergen, 27. Her suit came on loan from friend, colleague and teammate Kristin Lester, 32. The two are veterinarians in Hoboken, N.J. They agreed it wasn't that weird.
Evie Langteau, 29, gave the sport some pause before joining, not because of mixing work with bikinis, but because she heard stories about bathing suits popping off. She bought a one-piece, and that was that.
"I've heard the guys are a little more sensitive about being in a pool," she said. "The girls are like, 'Whatever. I'm going out there, and I'm going to be fierce.'"
As the games of the semifinal round of the playoffs approached, Bauhs doffed his shirt once again and stretched a swim cap around his head while his Ceiling Fans & Porcupines teammates prepared to do battle against Dara & the Explorers.
In another lane, Tube Socks played Flip You in the other semifinal.
The pool in this competition was 25 yards long, with six lanes converted to four. Rosters included 10 to 12 players on each team, but in the action, it was five on five.
Both matches went into overtime.
For all the shared experiences and developing bonds, this was not a lazy river. Teams wanted to win badly. After a few rounds of overtime, Dara & the Explorers and Tube Socks emerged victorious. They would face each other in the championship round, with Flip You and Ceiling Fans & Porcupines set to square off for third place.
But first, it was the consolation round.
This was a different level of competition. No one wore inflatable arm floaties, but there was an abundance of sunglasses and style.
Competitors in the semifinals shouted things such as, "Mark your man!" In the consolation round it was, "Hey, no tickling!"
[+] Enlarge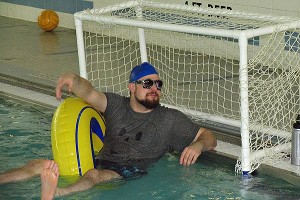 Ken Derry for ESPN.com Daniel Patrick Scully treks from Philadelphia
to Manhattan to play goalie and socialize.
Daniel Patrick Scully, 26, who is studying for a Masters of Science in television management at Drexel University in Philadelphia, mined the goal and cracked jokes.
"Fortunately, I don't have Monday classes this semester," he said. "I don't care about the exercise. I just love to splash around in the pool and hang out afterwards."
For Jordan Brown, 23, who swam two years at Wesleyan University in Middletown, Conn., this was his ideal mix of playful competition. He played in the semifinal round and watched the consolation games.
"I felt like I was getting stuck in a rut," Brown said. "Meeting people in a bar is one thing. But there is quick bonding here."
When it was time for the championship to be decided, things turned tense again, in as much as things can be tense in inner tube water polo.
Josh Levkov, a 39-year-old rookie who became known across the league as The Beast, led the charge for Tube Socks.
"I would not want to take one on the nose from me," Levkov said. "It's very friendly, but in the more competitive games, everyone picks it up."
Levkov and the Tube Socks won the match and received first-place medals. Dara & the Explorers came in second, and Ceiling Fans & Porcupines won third place.
As teams left the pool and ventured down the street to a neighborhood bar, Scully summed up why he and many others participate. "It's not whether you win or lose. It's that you can still share a drink with the other team," he said.
Ken Derry is a New York-based writer.