Commentary
Rules to live by at the winter meetings
Originally Published:
November 30, 2011
By
Jim Caple
| Page 2
As I've mentioned before, the winter meetings can be a little like Black Friday.
General managers will appear perfectly calm and sane next week as they wait outside the lobby of their Dallas hotel. But once the doors open, the intense competition, unrelenting media focus and the fan pressure to come home with something always take their inevitable toll. And pretty soon Mariners general manager Jack Zduriencik is pepper-spraying the Rays' Andrew Friedman and Arizona's Kevin Towers to sign Nick Punto to a three-year $18 million deal.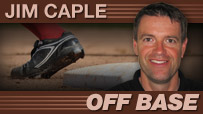 The best approach to avoid overspending at the winter meetings is the same way you and I can avoid overspending in the holiday season: Leave the credit card at home and pay only in cash. But that still leaves the possibility of making costly trades that will haunt the team for years and occasionally lead to a general manager's dismissal.
How can general managers avoid such trade blunders in the coming days? I'm glad you asked.
Rule 1: Never ever, ever, ever, ever deal with the Yankees.
This was a lesson painfully learned by the Red Sox in the winter of 1919 when they sold Babe Ruth to the Yankees in exchange for $25,000 in Confederate bonds, the deed to the Brooklyn Bridge, some shiny colored baubles and stock options in Pets.com. The lesson was repeatedly taught to the Kansas City Athletics in the late '50s and, unfortunately, they were very slow learners. Acting as the Yankees' personal farm team, the Athletics enacted No Prospect Left Around, with 59 players exchanged between the two teams in a five-year span. Of the many terrible deals, the worst was Kansas City trading Roger Maris to New York in 1959 -- just before he won two consecutive MVP awards.
Other teams have learned the same lesson in recent years, trading the Yankees valuable veterans for prospects who never panned out (Drew Henson, anyone?).
Look, the Yankees are the richest, strongest team in baseball. The New York media constantly overhype their prospects, driving up fans' expectations and the Yankees' asking price. Even the rare trade that actually works for a team (the three-way deal with Arizona, Detroit and New York) also winds up strengthening the Yankees (Curtis Granderson), who will just make your life miserable and send your championship drive into a ditch.
The Yankees are already good. Don't make them better.
Rule 2: Trade with the Mariners or Royals.
Why have the Mariners never been to the World Series? Here are a few reasons: Tino Martinez and Jeff Nelson for Sterling Hitchcock and Russ Davis (see Rule No. 1). Jason Varitek and Derek Lowe to Boston for Heathcliff Slocumb. Rafael Soriano to Atlanta for Horacio Ramirez. Asdrubal Cabrera to Cleveland for Eduardo Perez. Shin-Soo Choo to Cleveland for Ben Broussard. Bill Swift and Mike Jackson to San Francisco for Kevin Mitchell. Adam Jones and George Sherrill to Baltimore for Erik Bedard. David Ortiz to Minnesota for Dave Hollins. Matt Thornton to Chicago for Joe Borchard. Omar Vizquel to Cleveland for Felix Fermin, Mike Hampton to Houston for … awww, just shoot me now and put me out of my misery.
Meanwhile, just since 2001, the Royals have traded away Jose Bautista, Johnny Damon, Mark Ellis, Carlos Beltran, Jermaine Dye and Zack Greinke. Hmmmm. Kansas City's team is still developing a lot of good players for other teams.
Rule 3: Do not trade within your division.
Trading within your division is like asking your sister to set you up on a blind date. It rarely ends happily.
Two summers ago, the Mariners traded Cliff Lee to the Rangers for Justin Smoak and two other prospects. The jury is still out on Smoak but not on how the deal helped the Rangers. Thanks to Lee's presence in the postseason, the Rangers reached the World Series for the first time in club history, an event that completely transformed the franchise and turned it into such a league power that some Texas fans occasionally wear American League champion T-shirts underneath their Tony Romo replica jerseys. Lee is gone, but the Rangers are a bigger obstacle blocking Seattle in the AL West than ever.
(And, as Rule 2 shows, there already were enough obstacles.)
I know what you're saying. Given that this trade so clearly worked for the Rangers, why is this not a reason for teams to deal within their division? The answer is very simple. As all fans know, the majority of trades almost always work against your team, just as instant replay always goes against you. I'm not sure how this is even possible, but, then again, how is it possible for Adam Sandler to earn so much money making such bad movies? Just accept that it's true.
Rule 4: Do not trade a star just because he'll be a free agent.
This rule replaces the old rule that said you should trade a player approaching free agency. That old rule made sense up until a couple of years ago, but no longer. Potential free agents now bring so little in return that to receive anything of value you pretty much have to trade the player so many years in advance that his salary still consists of a postgame snow cone.
This is a horrible trend. Teams are now being pressured to deal players two and even three years or more ahead of free agency (Felix Hernandez). What's the point? Why not just hold on to the star, let him help you as much as possible, give your fans something to cheer and possibly gain a draft pick if he goes elsewhere?
I mean, it's not as if the players you'll get in return will ever pan out.
Which brings up a pretty good reason for the final rule for general managers:
Rule 5: Avoid all trades -- period.
If you're a general manager, trades are a no-win situation. First, as I explain in Rule 3, trades usually backfire. Second, even if it's a good trade, no one will give the GM any credit because we never remember the good trades, only the bad ones.
I mean, Woody Woodward traded for Jamie Moyer in 1996, but nobody remembers that deal. Perhaps it's because we're brain-damaged from banging our heads against the walls over the Slocumb-for-Varitek-and-Lowe trade the very next year.
[+] Enlarge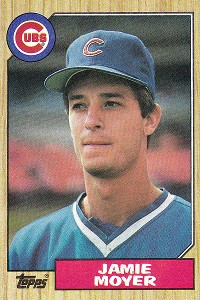 Topps Jamie Moyer, already looking like a seasoned veteran.
BASEBALL CARD OF THE WEEK:
This is Jamie Moyer's rookie card (1987 Topps, No. 227), when he was 24 years old. The thing is, he doesn't look all that young even all those many years ago. He looks, well, experienced. You can almost see him eyeing the scouts behind the backstop and muttering to himself, "I hate radar guns. They just measure velocity, not movement, or control, or savvy or heart. I'll show them.''
A quarter century and 267 victories later, and a year removed from Tommy John surgery, Moyer is ready for a comeback at age 49. His arm feels good; he has thrown for a couple of teams; and he wants to pitch next season (he'll turn 50 in November 2012). He deserves a shot. He was 9-9 with a 1.10 WHIP and a 4.84 ERA when he got hurt in 2010, and, let's face it, he didn't have much velocity to lose.
I hope a team is smart enough to sign him. Moyer and I were born in the same year, and I think the guideline for colonoscopies is that you don't have to undergo an exam as long as there is a major leaguer who is just as old as you are.
CSI: BOX SCORE
You know the rules. You get a fragment from an old box score and the challenge of determining what game it is from and why it is significant. I give this one a difficulty rating of 8.0.

Kurt Snibbe/ESPN.com
YEAH, WELL, THAT'S JUST LIKE YOUR OPINION, MAN
The Over/Under Is June 2013: Congratulations to the always-entertaining Bobby Valentine, who reportedly will take over as manager of the Red Sox. Tim Kurkjian has a great piece on Bobby V, whom some find arrogant and opinionated. I just find him endlessly interesting. I remember chatting with him in Japan when he was manager there, listening to him explain how he learned Japanese. He saw a book in my hand about professional video gamers, and he asked to borrow it. The only other manager who ever asked to borrow a book is Joe Maddon. Bobby has done just about everything in baseball, I think he can succeed in Boston, and I wish him the best. But I also wonder how long it will be before he gets swallowed by the insanity that is Red Sox Nation. …
The Girl With the Better Taste in Crime Fiction: I'm jazzed about the upcoming "Girl With the Dragon Tattoo" movie (that first teaser/trailer might have been the best in cinema history ) but for my money a much better example of Swedish crime noir is Henning Mankell's Kurt Wallander series. When it comes to crime fiction, Mankell is to Stieg Larsson as Greg Maddux was to Mike Maddux. …
CSI: BOX SCORE ANSWER
There were two big clues as well as a minor one for you in this fragment. The minor clue was is the presence of Babe Ruth in the lineup, which indicates the era in which the game was played. The big ones are the names Chapman and Mays, plus the fact that Chapman is replaced midgame. Yes, this is the box score from the August 1920 game when New York's Carl Mays hit Cleveland's Ray Chapman in the head with a pitch, fracturing his skull. Chapman was taken from the field and died later in the hospital.
Amazingly, another 50 years would pass before baseball made batting helmets mandatory. Ballplayers resistant to the latest batting helmets because they think they look ridiculous wearing them are just being stubborn and silly. It's about protection, guys, not fashion.
Jim Caple is a senior writer for ESPN.com. You can follow him on Twitter at jimcaple.