Commentary
Seven reasons to watch FCS playoffs
Originally Published:
December 1, 2011
By
DJ Gallo
| Page 2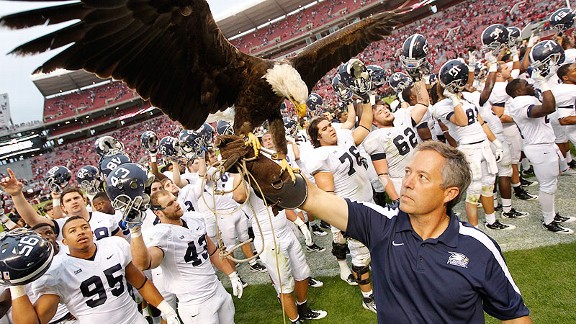 AP Photo/Dave MartinFreedom the eagle and Georgia Southern are primed for their playoff matchup against Old Dominion.
It's conference championship weekend in college football.
Usually, the previous sentence would end with an exclamation point. But this year, the BCS title game matchup is already all but decided, so this weekend's games are a bit of a letdown.
Luckily, we have meaningful Division I football to watch. It's just of the Football Championship Series variety. Here are seven reasons to watch the FCS playoffs, which are shown exclusively on ESPN3.
Offense
Of the 16 teams left in the FCS tournament, all but three -- Northern Iowa, James Madison and Maine -- average more than 30 points per game. FCS football is like watching a video game. When you get your fill of offense, don't worry. That LSU-Alabama rematch will be waiting for you on Jan. 9.
FCS Tournament bracket madness!
It's not too late to start an FCS tournament office pool at work. All you've missed so far were play-in games. And unlike your NCAA tournament basketball pool, which is always won by some idiot who knows nothing about college basketball, you'll have a good shot to win this pool. Why? Because you'll be the idiot who knows nothing about FCS football.
Small-school NFL draft prospects
A few hours of watching FCS football will pay off come April when you're watching the NFL draft with your friends. You'll learn the names of top FCS prospects, such as Appalachian State wide receiver Brian Quick, allowing you to drop their names throughout the draft. Example: "You know who would be a good value pick for the Rams here? Brian Quick from Appalachian State." Everyone will think you're really smart. They'll also think you're really annoying, but as far as you know they might think that already. The smart part will be new.
FBS quality
Many of these teams could be competitive playing FBS schedules. No. 2 seed North Dakota State beat Minnesota. No. 5 seed Northern Iowa lost 20-19 to bowl-bound Iowa State. No. 3 seed Georgia Southern was competitive with Alabama for three quarters. No. 1 seed Sam Houston State slipped past New Mexico by three in overtime. Although a three-point overtime win over the Lobos might be more embarrassing for the FCS than a source of pride. Maybe the Bearkats had a bad game.
The CAA
The SEC of the FCS. Of the 16 teams in the FCS bracket, five of them are from the Colonial Athletic Association: James Madison, Old Dominion, Maine, New Hampshire and league champion Towson. C-A-A! C-A-A! C-A-A!
Super geniuses
As we all know, one of the reasons the BCS conference commissioners say a playoff can't work at their level is because players would miss too much class time. Yet FCS players make it through an entire playoff schedule, and the vast majority of them don't fail out of school because of it. Amazing. Either our BCS friends are being disingenuous or FCS players are practically geniuses. It must be the latter. They're like muscular Einsteins. Buckle those chinstraps tight, boys! We don't want you to hurt your super computer brains.
Playoff football
The BCS gives FBS football a regular season that matters. A playoff format gives the FCS a postseason that matters. Also, the FCS regular season also matters because there are a limited number of playoff spots. Hmmm. They might be onto something down there. Must be the big brains.
All games Saturday unless otherwise noted.


Game of the Week
No. 14 Georgia vs. No. 1 LSU: 4 p.m. ET, CBS
If Georgia can pull off a big upset in the SEC championship game, it will throw the BCS into chaos. Would Alabama then be No. 1 and LSU No. 2? Or would LSU still be No. 1 and Alabama No. 2? Chaos!


Another Game of the Week
No. 15 Wisconsin vs. No. 13 Michigan State: 8:15 p.m. ET, Fox
The Badgers and Spartans face off in the first-ever Big Ten championship game. It's also apparently the last-ever Big Ten championship game that won't feature Ohio State as a heavy favorite, at least according to the mood in Columbus this week. No 6-6 team has ever been a bigger lock for national dominance!


Rivalry Game of the Week
No. 10 Oklahoma at No. 3 Oklahoma State: 8 p.m. ET on ABC
There's no official Big 12 championship game this season, but the winner of this game earns the conference's BCS spot. The Cowboys haven't won the Bedlam game since 2002, meaning Mike Gundy is winless as a coach against Oklahoma. This year might be his best shot to win the game before he becomes a middle-aged man.

Heisman Candidate in the Crosshairs
Robert Griffin III, QB, Baylor
The No. 17 Bears take on No. 22 Texas in Waco (3:30 p.m. ET on ABC), giving Griffin a chance to impress the voters with Trent Richardson and Andrew Luck on the sidelines. RG3 is back at practice after being knocked out of last week's game with concussion-like symptoms. Junior quarterback Nick Florence finished Baylor's 66-42 win over Texas Tech, throwing for two touchdowns and running for another. This season, that makes Florence a Heisman candidate, too.

Mascot Fact of the Week
UCLA had a live bear mascot that lived in the Rally Committee chair's backyard as late as the mid-1960s. But when it grew too big for the yard -- which was probably day one from the viewpoint of the Rally Committee chair's neighbors -- UCLA sent the bear to San Diego Zoo and went with costumed mascots: Joe Bruin and Josephine Bruin. Like many female celebrities in Los Angeles, Josephine Bruin has some embarrassing photos on the Internet. This one looks like a Facebook profile picture that probably embarrassed her parents. And here's a Britney Spears-style up-skirt shot. Expect to see Josephine on a reality show one day.
Tailgate Tip of the Week
Dress for conference championship weekend: There are five conference championship games featuring matchups of ranked teams this weekend, so you'll want to dress the part. Consider purchasing a garish, $25 "Wisconsin: Leaders Division Champions" hat. It's great for Wisconsin fans or non-Wisconsin fans who want a tailgate conversation starter. The conversation will start with this: "They seriously make Big Ten division championship hats?" And the conversation will end with mocking laughter. You can fill in the middle part as you like.

Quote of the Week
"I have to admit that the stupidity on this board always brings me back to the point that I know I'm not the dumbest [expletive] out there."
-- "UtayAG" aka Jeff O'Toole, Texas A&M athletics CFO
Yes, a Texas A&M athletics official posted that note on a fan message board -- and also called A&M president R. Bowen Loftin a "putz" and a "hopelessly underqualified puppet" -- forgetting that he had once identified himself on the board as the athletics CFO. Whoops.
"That slipped my mind," Toole later said, off the Internet and as himself. Dumbest [expletive] out there? Possibly. Putz? Definitely.

Greatest Conference Ever of the Week
Big 12
It's actually the SEC, of course. But Oklahoma State is the only team in the country other than LSU and Alabama that has a (slim, very slim) shot at the BCS title game. So let's give them a nice pat on the head.

Worst Conference Ever of the Week
Pac-12
With apologies to Jeff Foxworthy: "If a team in your conference championship game has a .500 record and is firing its coach, you might be the worst conference ever."
Stat of the Week
5
Five teams can become bowl eligible this week with a win: South Florida, Syracuse, Pitt, UConn and Hawaii. (Note to Big East: Ask Hawaii to join your conference.) There are already 70 bowl-eligible teams and just 35 bowls. Obviously, we need more bowls. I'm sure we can all agree that even with this year's conference championships, we can never have enough completely inconsequential football.

Coach on the Hot Seat
Rick Neuheisel, UCLA
Neuheisel is already gone, but pretty much all of our other hot-seat coaches of the year were fired this week. Neuheisel gets one last game. At his last practice on Wednesday, UCLA's players carried him off the field. Best of all, they didn't hand him over to an angry, torch-and-pitchfork-wielding mob of UCLA boosters.

Player Name of the Week
Jestin Love, DB, Central Arkansas
The Bears are on the road this week in the second round of the FCS playoffs to take on Montana (2 p.m. ET on ESPN3), which has a linebacker named Taylor Tuliaupupu. You'll note Tuliaupupu did not receive Player Name of the Week honors because I am way too mature to find that name funny. Nope. Didn't giggle even once.

Coach Name of the Week
Shawn Griswold, Director of Strength and Conditioning, Pitt
In this holiday season, why not honor a Griswold? Here's a fitting "Christmas Vacation" clip of how Pitt's supposedly high-powered offense did the Panthers in.
Stone Cold Lock of the Week
"The fact that none of the conference championship games really have any impact on the BCS title game proves how important the regular season is!" -- something you'll hear your neighborhood BCS supporter say this week.
DJ Gallo is the founder of SportsPickle.com. His first book, "The View from the Upper Deck," is available from only the finest bargain-book retailers. His next book project will be released soon. You can follow him on Twitter at @DJGalloESPN.