Commentary
Marshawn Lynch, Chip Kelly are smart
Updated:
December 4, 2011, 8:42 AM ET
By
Jerry Greene
| Page 2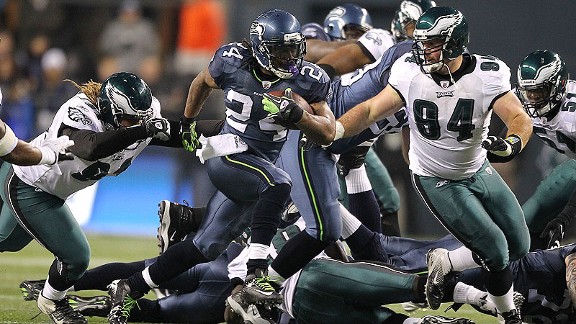 Otto Greule Jr/Getty ImagesMarshawn Lynch's fourth 100-yard game in his past five further helped his case for a new contract.
"Product placement" has hit the NFL and college football.
On national TV Thursday, Seattle running back Marshawn Lynch scored on an amazing run and then was caught on the sidelines scoffing down his reward of a handful of Skittles. Seahawk fans have known about his Skittle-love for sometime as it's a habit that began when his mother gave him the rainbow-connected candy as a reward.
Darren Rovell of CNBC reported Friday that Skittles is giving Lynch a 24-month supply of the candy and a dispenser to put in his locker, but come on, is that all?
Shouldn't he -- wait for it, wait for it -- demand they sweeten the deal?
Meanwhile, after an easy victory over UCLA for the Pac-12 title, Oregon coach Chip Kelly ended his postgame televised interview with a plug for game sponsors Dr Pepper and UPS. It's a good guess he won't have to pay for a soft drink or for sending a package any time soon.
Somewhere, NASCAR is nodding and thinking: "Welcome to our world."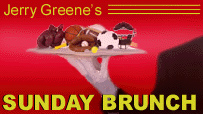 And while our literary chefs prepare the main dishes for the first Sunday Brunch of December, here are a few nougats to chew on:
• Memo to San Diego Charger kicker Nick Novak: Don't forget to "do your business" this time before going on the field, OK?
• You can hate the BCS. You can hate LSU. But if you don't marvel at watching Tyrann Mathieu return a kick, football is not your game.
• From Jay Leno: "The economy is so bad, it's wobbling like a Tim Tebow pass." Now the question, class, is did Mr. Leno insult Tim Tebow or the economy?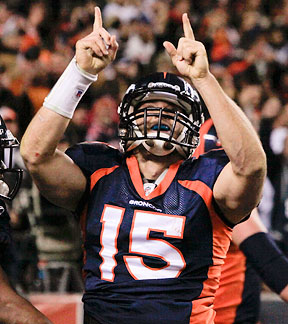 AP Photo/Barry Gutierrez"Time will tell when our body of work is done, but I think Tim has done a terrific job," Denver coach John Fox said of Broncos quarterback Tebow.
• Horse meat can be legally sold in this country again. Insert your Indianapolis Colts joke here.
• If you haven't seen the new "Muppets" flick, they have aged remarkably well.
Ding ding. Tebow. And with that benediction, it's time for the main courses in today's Brunch.
• We began with Marshawn Lynch, now let's make him the opening course. Jerry Brewer of The Seattle Times explains why he's known as "Beast Mode" and why the team should pay him a whole lot -- and we don't mean Skittles. Learn more here.
• When a prospective new owner for the Jacksonville Jags was announced, the odds are even-money that you heard at least one radio sports jock use William Shatner screaming "Khan!" from "The Wrath of Khan." Now learn something worthwhile about Shahid R. Khan from a report in The New York Times by Richard Sandomir. Check it out here.
• Silly, you really thought we weren't going to feature Tim Tebow? Hey, maybe you'll be buying a Sunday Brunch T-shirt if we do it enough. But get ready for controversy because Jason Gay of The Wall Street Journal has a long list of things Tebow can't do. Face the reality here.
• It has been a while since we visited with The Miami Herald's Greg Cote and his Random Evidence of a Cluttered Blog. The current edition leads with a tribute to departing Florida Atlantic Coach Howard Schnellenberger who Cote considers No. 2 only to Don Shula for South Florida's all-time greatest. Read about Howard and more here.
• We're going to finish with an oddity: Some year-end statistical results provided by the PGA Tour staff at pgatour.com -- including the boggling note that Tour golfers averaged 290 yards on their tee shots for the first time. And a special salute to Brian Gay, who had the shortest average at 269.8. You can join our foursome anytime, Brian.
There you go. You've finished the Brunch and maybe there's still some time to shop before the games begin. I wear a XX Large (on my good days).
Jerry Greene is a regular contributor to ESPN.com and can be reached at osogreene@aol.com