Commentary
Gary Blair wins title, learns 'The Wobble'
Originally Published:
December 7, 2011
By
Dave Wilson
| Page 2
Gary Blair became the oldest coach to win an NCAA title in women's basketball last season, leading Texas A&M to the championship at age 65.
But Blair, who brought his team to Bristol, Conn., this week prior to Tuesday night's matchup with UConn in the Jimmy V Classic (ESPN2 and ESPN3, 7 p.m. ET), says his job keeps him going.
[+] Enlarge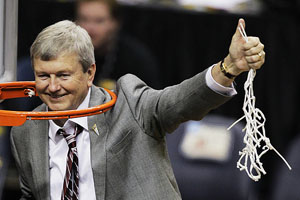 AP Photo/Amy SancettaGary Blair's national title was Texas A&M's first NCAA basketball championship for men or women.
"Each year, I get a year older, and I work with 18- [to] 22-year-olds every year. They keep me young and they keep me challenged," Blair said. "I love to hear there's drama in their lives a lot more than mine. My version of drama is a little bit different because I'm trying to figure out a way to refinance my jumbo loan right now. They've got that cell phone and the text messages going, and they're thinking about what their relationships are. And their lives are different. I cannot think of ever retiring and doing nothing."
While Blair blames his players for his eternal youth, they too say they've had a little to do with it.
"We keep him really young," senior guard Sydney Carter said. "When he needs to know what's hip, like nowadays, he comes to me. I help him out with his personality. We keep him pretty up to date on what's hot."
Like what?
"The Wobble," Blair said.
"Yeah, we just taught him some dances," Carter said. "Last year, he did The Dougie, and this year was The Wobble. He asked me to teach him the South Dallas Swag, which is another dance that's out, and I just don't think he has the rhythm to do it. I'm trying to let him get warmed up before I teach him that."
The South Dallas Swag also could apply to Blair's first job in coaching, in which he went 239-18 at South Oak Cliff High School in Dallas. A Dallas native, Blair took a teaching job at the school, then volunteered to coach the golf team, a first at the nearly all-black school. He happened upon coaching basketball by taking a volunteer coaching gig for an intramural team, because some neighborhood kids asked him to. The next year, a full-time job opened up, and Blair took it and went 18-3.
"The principal said, 'All right, we need to go hire a woman now,'" Blair said. But he had the support of others at the school who convinced the principal to let him keep the job.
"I was the only male coaching [girls' hoops] in Dallas that first year. I learned basketball through trial and error. I played in high school and sat on the bench through my junior year. But I was an all-city baseball player," Blair said, adding that he took the job only to wait for an opening with baseball.
But then plans changed.
"We won state in '77," he said. "They offered me the head baseball job. I thought about it for about 60 seconds, turned it down and stayed with the women, and it was the best decision I've ever made."
It all culminated with a national title last season, a far cry from the lowly Texas A&M program he inherited, which had seven straight losing seasons.
Blair set out to build support by marketing the team himself.
"I started going door to door, passing out tickets around a lot of different neighborhoods," he said. "I went to Walmart and passed them out. A lot of people always thought I'd be a Walmart greeter when this job ended anyway. So I got my firsthand experience, but I was inside passing out tickets."
One other exercise, in which he called a radio show to offer tickets, landed him in hot water.
"I'm coming home from practice. I gave my address out and said, 'If you'll just meet me at my house, I'll give tickets away.' I shouldn't have done that, but I didn't know any better. My wife said, 'If you ever do that again ...'"
With Tuesday's powerhouse matchup against UConn, which has a 90-game home winning streak, Blair can reflect, but he says he's nowhere close to finished selling his program.
"I'm still doing it," Blair said. "But I'm not having to go door to door now."
Dave Wilson is an editor for Page 2.