Commentary
Chris Kluwe stuck with No. 4 for now
Originally Published:
December 7, 2011
By
Matt Lindner
| Special to Page 2
Before he was released by the Vikings on Dec.1, Donovan McNabb bought punter Chris Kluwe an ice cream cone and made a $5,000 donation to Kick for the Cure. But Donovan took Kluwe's No. 5 and an unfulfilled promise with him when he left.
Before the season, McNabb made a deal with Kluwe to get the No. 5 jersey. The contract, which Donovan partially lived up to, also included five non-consecutive mentions of Kluwe's band Tripping Icarus.
"He only mentioned it twice," Kluwe said, chuckling.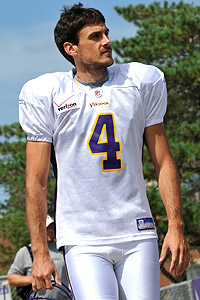 AP Photo/Jim MoneVikings punter Chris Kluwe traded his No. 5 to Donovan McNabb this season.
Kluwe says he and his teammates were aware of how many times McNabb had mentioned the band's name over the course of the season, even if they rarely talked about it in the locker room.
"I figured it probably was not a good time to bring it up with the way the season was going," Kluwe said. "Better to just let it lie."
But just because the pair never spoke about the deal and McNabb is no longer his teammate doesn't mean that McNabb has forgotten about the deal.
Through his spokesman, Rich Burg, McNabb acknowledged that he still needs to complete the deal and will "definitely get in touch with Chris directly to make it right," although he didn't specify how exactly.
And now, Kluwe is stuck with No. 4 until at least the 2013 season due to league rules. He says the league implemented that policy to keep players from switching numbers and leaving retailers stuck with outdated jerseys.
But maybe the league will make an exception?
"I'm going to try to appeal it because they don't sell my jersey in stores anyways, so I don't think they'll have any problem with extra merchandise," he said.
Of course, if Brett Favre were to make yet another return to the Vikings, Kluwe now has something he might want -- the No. 4.
Don't think that possibility has escaped Kluwe's imagination, and it's one that doesn't end well for him.
"It's funny, me, (Vikings kicker Ryan) Longwell and (equipment manager) Dennis Ryan were all talking about that and the conclusion we reached was that since I can't change my number, the Vikings (would have) to just have to cut me," he quipped.
While Kluwe would've preferred McNabb hold up his end of the deal, he's not holding a grudge.
Kluwe says Tripping Icarus, which recently released the album "Perfect Citizen," has gotten a lot of publicity as a result of the deal, as has Kick for the Cure.
But if he's going to make another deal to give up his number, he'd tweak the details.
"I think next time I may actually make the person wear a Tripping Icarus hat or T-shirt," Kluwe said. "And I'll probably make them get me some Pad Thai."
Matthew Lindner is a freelance writer for Sports Media Exchange, a national freelance writing network.