Commentary
Look at Cowboys through prism of art
Originally Published:
December 12, 2011
By
DJ Gallo
| Page 2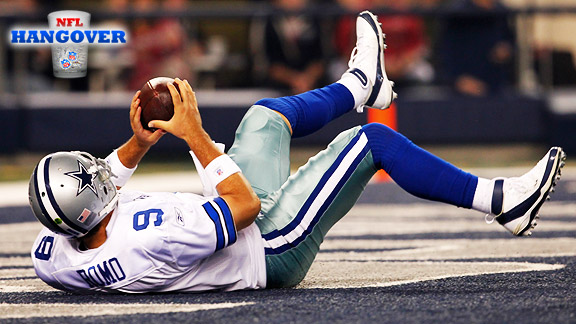 Getty ImagesTony Romo and the Cowboys were upended by the Giants, but we see it through the prism of art.
During the Sunday night telecast of the Giants-Cowboys game, broadcaster Al Michaels said that Jerry Jones' wife, Gene, is into "conceptual art" and has placed such art throughout Cowboys Stadium.
Art can tell us many things about its creator, about its owner and about the world -- and Mrs. Jones' preferred style of art is especially interpretive. So I researched "conceptual art" in depth to see what this form of expression might teach us about the Cowboys.
Here we see a work that captures how the Cowboys often try to bring in outside players who are awkward fits for their roster.
This piece depicts Jerry Jones watching the final moments of pretty much every Cowboys game.

Here we see the state of the Cowboys' bandwagon late in a season.

This is a possible portrait of Jerry Jones.

Here we see ornate chair backs sticking out of a plain log, creating something that is ultimately useless. Is this a metaphor for Tony Romo's career? Sure. Conceptual art is whatever you want it to be.

This captures the Cowboys in December.

Here is edible cutlery, something Rob Ryan likely dreams about, while this is likely the home of his nightmares.

And finally, this might be Dallas linemen getting knocked over while trying to block on a field goal attempt.

To art!



---
Quote of the Week
"We don't get no calls around here, man. You guys have been covering us for a long time. Y'all see what goes on out there. We blow our breath on one of the doggone guys over there and it's a penalty."
-- Redskins wide receiver Santana Moss
Whoa. Whoa, whoa, whoa. Is Moss referring to London Fletcher's penalty for hitting Tom Brady in the head? Because you can't hit Tom Brady in the head, even when you clearly just hit him in the midsection. That's not allowed. As years of NFL officiating has proven, all of Tom Brady's body is considered his head. That's why it took him so long to recover from his 2008 knee injury. ACL reconstruction of the face is a very delicate procedure.
Stat of the Week: 152
T.J. Yates was the 152nd player selected in the 2011 NFL draft, at the 21st spot of the fifth round -- a spot previously held by the Redskins. So pencil Yates in for a Hall of Fame career. It feels like something that would happen to the Redskins.
This Week's Horrible Fantasy Team That Could've Won a Playoff Game
John Skelton, QB, Cardinals -- 19-for-28, 282 yards, 3 TD, 2 INT, 25 rushing yards
Ryan Grant, RB, Packers -- 98 total yards, 2 TD
Marion Barber, RB, Bears -- 140 total yards, TD, fumble
Julio Jones, WR, Falcons -- 3 catches, 104 yards, 2 TD
Jabar Gaffney, WR, Redskins -- 6 catches, 92 yards, TD
Kevin Boss, TE, Raiders -- 5 catches, 43 yards, TD
Pictures of the Week
"Does it feel better or worse than how you look?"
"This kind of seems like a stadium design flaw."
"Four catches today. Whoooooo. I'm about to get paid!"
MORE GALLO PHOTO CAPTIONS!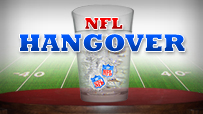 Page 2 has just the thing to cure your hopelessly bad case of the Mondays.
DJ Gallo's NFL Hangover photo gallery

"Oh, yeah? Don't think I won't punch you just because you look like a woman."
"Guys like us were cursed with skill and talent and fundamentals. It's tough. But maybe intangibles will come one day."
"I'm still on some pain medication. Am I really seeing that hair-sunglasses-turtleneck-collar combination there, guy?"
"I'm getting it! I'm looking just like Peyton!"
"Should I try to do something about this? Nah."
"You know, I think it's pretty disrespectful how much better you guys have been without me."
"Whatever, bro. I've made it with Kristin Cavallari."
News Conference Questions Someone Should Have Asked
To Cowboys coach Jason Garrett: "How much do you respect Rob Ryan for not blaming his failures on his late-term pregnancy?"
To Packers coach Mike McCarthy: "Do you plan to rest any starters next week against Kansas City out of fear they may get injured doing touchdown celebrations?"
To Texans coach Gary Kubiak: "Is the Texans' bandwagon constructed so that it can handle the crush of former Cowboys fans who will be trying to board it?"
Five Things I Think They Think We Think
1. Another week, another miraculous comeback by Tim and the Tebows. "If you believe, then unbelievable things can sometimes be possible," Tebow said after the game. "Can"? "Sometimes"? "Possible"? I want a little more certainty from an icon. Don't forget the strong language in the verses on your old eye black, Tim. Philippians 4:13 doesn't read: "You know, I can possibly do some things sometimes through Christ, if I'm lucky." And John 3:16 doesn't read: "For God so loved the world that he gave his only son, that whoever believeth in him might just get a few advantages over those who don't, but we can't promise anything, OK?" Step it up, Tim!
2. It was encouraging to watch the Army-Navy game Saturday and see that both quarterbacks combined to go only 5-for-9 for 90 yards. Our military is full of Tebows, and Tebow never loses. That has to strike fear into the hearts of our enemies more than a million nuclear warheads ever could.
3. Since New England's bye week, Rob Gronkowski has averaged more than one additional reception per game and he has 10 touchdowns in the Patriots' seven games since the break, as opposed to only five touchdowns in the six games before the break. Clearly, porn star Bibi Jones is a football genius. Results don't lie. She should be on the short list of coaching candidates for next season.
4. All season, we have been wondering why Cincinnati is struggling to sell tickets. "You have a young, exciting, winning team!" we said. Still, week after week, thousands of tickets went unsold. Now, after a fourth loss in five games, it's time to apologize to the people of Cincinnati. Your unyielding negativity in the face of brief hope, knowing that a few wins could not change the course of history, is an inspiration to us all. We were but rubes.
5. All of these gentlemen threw passes in an NFL game Sunday: J.P. Losman, Rex Grossman, Josh Johnson, Blaine Gabbert, Tyler Palko, Joe Webb, Christian Ponder, T.J. Yates, Dan Orlovsky, Caleb Hanie, Tyler Thigpen and John Skelton. So yes, Robert Griffin III will be declaring for the NFL draft.
DJ Gallo is the founder of SportsPickle.com. His first book, "The View from the Upper Deck," is available from only the finest bargain-book retailers. His next book project will be released soon. You can follow him on Twitter at @DJGalloESPN.