Commentary
Baldwin, Braun's excellent adventure
Originally Published:
December 14, 2011
By
Jim Caple
| Page 2
And you think you had a stressful last week? Turns out Matthew Hiltzik is the spokesman for both Ryan Braun, the NL MVP who had a positive test for PEDs revealed, and actor Alec Baldwin, who was kicked off an American Airlines flight for refusing to shut off his cell phone. I can only imagine the stress in instructing them how to spin their cases …
PLANES, BUSES AND PEDs
[The back rows of a Greyhound bus leaving Milwaukee on its way to Los Angeles. ALEC BALDWIN is sitting by a window, concentrating on his cell phone. RYAN BRAUN makes his way down the aisle, stuffs his suitcase in the overhead and takes the seat next to him. The two nod, then sit solemnly for a couple of minutes until BALDWIN glances at the name on BRAUN's ticket.]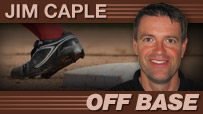 BALDWIN: Vladimir Hungus? Seriously?
BRAUN: It's the gentleman's name Nyjer Morgan gave me. I'll let you imagine why. Besides, what are you doing on a bus?
BALDWIN: Given the way airlines treat passengers these days, is there really any difference? Plus, I never have to turn off my cell phone on a bus, so I get to play "Words With Friends'' the entire ride.
BRAUN: Plus American Airlines had the TSA put you on the Do Not Fly list after your little incident.
BALDWIN: Yeah, well, that too. And what about you? Why is the National League MVP riding a bus? Miss your minor leagues days?
BRAUN: I'm flying under the radar, so to speak. Hiltzik recommended that I keep things low-key for the next couple of weeks until I'm vindicated by my appeal.
BALDWIN: Oh, yeah, Matthew told me about the whole positive test and all that. Tough break. I suppose they're going to take the MVP away from you now.
BRAUN: I don't think so. I mean, it's too late, isn't it? They already gave me the award.
BALDWIN: I thought they just announced you were the MVP. I didn't know they gave you the actual award yet.
BRAUN: They haven't. I get it at the annual baseball writers dinner in January. But why does that make any difference?
BALDWIN: Well, it's like Best Buy selling someone a big-screen TV then finding out he used a fraudulent credit card before he leaves the store. Under those circumstances, Best Buy sure as hell wouldn't let the guy go into the parking lot and drive off with the TV.
BRAUN: So you're saying they should give the award to Matt Kemp instead?
BALDWIN: Yes, unless of course, you win your [wink, wink] appeal. I have no problem with rescinding awards in the case of obvious cheating or correcting a gross injustice. Take the 1996 Oscar for Best Picture. I'm not saying "The English Patient'' is a bad movie, but "Fargo'' clearly should have won instead that year. If you're sitting at home and "The English Patient'' is on one channel and "Fargo'' is on the other, which are you going to watch?
BRAUN: Are you kidding? "Fargo'' every time. It's not even close. [Imitating William H. Macy's character, Jerry Lundegaard.] "Well, my boss, he's never done this before. But seeing as it's special circumstances and all, he says I can knock a hundred dollars off that Trucoat."
BALDWIN: See what I mean? We could quote lines from "Fargo'' from now until we arrive in Hollywood. Or "Jerry Maguire,'' which also was up for Best Picture that year. "Show me the money.'' "You had me at hello.'' "Did you know the human head weighs eight pounds?'' Those lines are part of Americana. But you can't repeat a single line from "The English Patient.'' Please. After further review, that Oscar needs to be called back.
BRAUN: I get what you're saying. Correct past misjudgments. Like Rafael Palmeiro's 1999 gold glove.
BALDWIN: And the 1996 MVP to Juan Gonzalez instead of Alex Rodriguez.
BRAUN: Bowie Kuhn's election to the Hall of Fame.
BALDWIN: Time magazine's 1999 Man of the Year to Jeff Bezos.
BRAUN: People magazine's 2002 Sexiest Man Alive to Ben Affleck.
BALDWIN: The 1994 Nobel Peace Prize to Yasser Arafat!
BRAUN: The 1998 Best Supporting Actress award to Kim Basinger!
[BALDWIN glares at him. For a moment it looks like he will lunge across the seat and attack BRAUN. Fortunately, the outfielder suddenly recalls that BASINGER and BALDWIN had an ugly and very contentious divorce.]
BRAUN: Oh, man. Sorry about that.
[There is a long, uncomfortable pause.]
BRAUN: Why did you ever get mixed up with her anyway? She messes up careers. Didn't you learn anything from "The Natural'?' Look what she did to Roy Hobbs.
BALDWIN: You're telling me? I was the first Jack Ryan in "The Hunt for Red October.'' Then I met her and suddenly Harrison Ford takes over the character and I'm left playing "The Shadow.'' Took me a decade to recover from that.
BRAUN: What I don't get is how Roy Hobbs has such a wholesome image. He knocked up his girlfriend and deserted her. He was ready to cheat on her the very next day until that woman in black shot him. Then he's a rookie with the Knights and he starts sleeping with Bump Bailey's ex-fiance while his body is still warm, hangs out with gamblers, walks out on a team meeting, yells back at the manager and is rude to reporters. But he's a hero and I'm a villain.
BALDWIN: It's like Matthew always tells me. Never underestimate the value of a good PR spokesman.
CSI: BOX SCORE
You know the rules. You get a fragment from an old box score and the challenge of determining what game it is from and why it is significant. I give this one a difficulty rating of 9.5.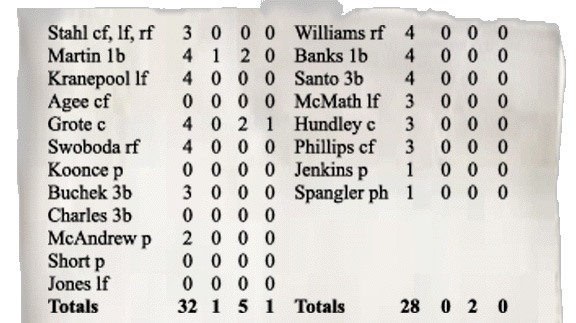 Kurt Snibbe/ESPN.com
YEAH, WELL, THAT'S JUST LIKE YOUR OPINION, MAN
Clicking My Heels: I was on vacation last week, so let me belatedly express my appreciation to the veterans committee that finally voted another player into Cooperstown. A nine-time All-Star, five-time Gold Glove and slugger of 342 home runs (with 1,331 RBIs) during an era dominated by pitchers, Ron Santo was one of the best third basemen to play the game. The Hall might also be breathing a sigh of relief -- with Barry Larkin likely needing to gain about 70 votes, Santo could be the only inductee next summer. I only wish Santo could have enjoyed the honor while he still was alive.
Empty Press Boxes: Major League Baseball is instituting a dress code for reporters next season. Seriously. No more flip-flops, torn jeans, shirts that bear a major league team logo, visible underwear or inappropriately short skirts. The short skirts haven't really been much of an issue but there have been way too many revealing tops due to faded, old shirts that no longer stretch over the writer's ample stomach. Fortunately, the ban doesn't extend to clothes stained with mustard and ketchup, shirts or coats with the logo of the golf tournament that gave it away free, or any piece of apparel that hasn't been in style since Jamie Moyer was in Little League. Had it, there would have been absolutely no sportswriter left to cover the games.
Or Maybe It's Just a Testament to Tom Hicks' Stupidity: Albert Pujols' 10-year, $254 million contract is a testament not only to his great career but also to the contract Scott Boras got for Alex Rodriguez in 2001 as well. Despite coming a full decade earlier, A-Rod's deal was still just $2 million less than what Pujols received.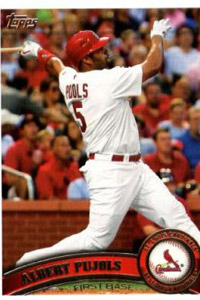 Courtesy of Topps
BASEBALL CARD OF THE WEEK:
Former Cardinals first baseman Albert Pujols (2011 Topps, No. 100): Going … going … gone.
CSI: BOX SCORE ANSWER
This was a very difficult one. The first clue was the most important: The presence of the names Williams, Banks, Santo and Jenkins -- a quartet of Hall of Famers in the Cubs' lineup. But there were many games those four all played in with Chicago, so why is this one significant? Because of the second clue: the zero runs scored by the Cubs and the one scored by the opponent (in this case, the Mets). This was the last of five games Ferguson Jenkins lost by a 1-0 score in 1968. It wasn't easy being a Cub in those days. (By the way, the attendance for that Sept. 11, 1968, game at Wrigley was just 3,552.)
As notable as the Cubs' four Hall of Famers are, a more impressive group from a non-World Series team would be the 1990s era Mariners, who had three first-ballot-caliber players (Randy Johnson, Ken Griffey Jr. and Alex Rodriguez), plus possible Hall of Famer Edgar Martinez (as well as 267-game winner Jamie Moyer for a few of those seasons), yet never reached the autumn classic, either.
Jim Caple is a senior writer for ESPN.com. You can follow him on Twitter at jimcaple.