Commentary
Todd Graham can't ruin our bowl season
Originally Published:
December 15, 2011
By
DJ Gallo
| Page 2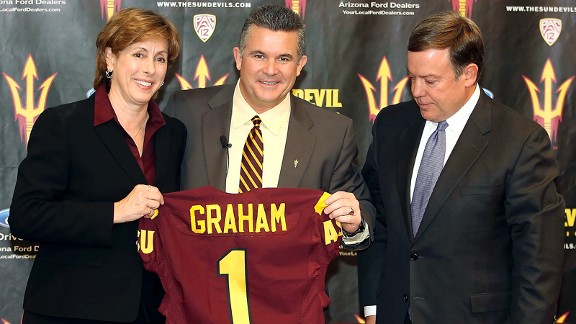 Christian Petersen/Getty ImagesTodd Graham appears to be happy as a clam at Arizona State, mere hours after bailing on Pittsburgh.
The college football offseason was ugly and full of scandal. The regular season was even worse. Now the bowl season has its own layer of filth thanks to Todd Graham. Congratulations, bowl season! You're officially part of 2011 now.
The former Pitt coach managed to set a new low for a coach leaving a program by having a farewell text message forwarded to his players while he was in the air, flying to his next job at Arizona State. High-octane classiness!
As coaches such as Graham like to point out when behaving this way, Division I college football is a high-stakes, cutthroat, competitive "business." Therefore, any and all actions are justified. Because it's so competitive, the next coach who pulls a Graham will want to outdo his in-flight text message. Here are a few ideas that might win this race to the bottom.
Departure live-tweet
Twitter is the preferred social media tool of college athletes. A great way for a coach to communicate his decision -- and boost his number of Twitter followers -- would be to live-tweet his decision to dump his current program for a new one.
"Being approached about the Arizona State job."
"Breaking all of my promises to my current players without even a moment of hesitation. LOL."

"Reputation in tatters. BUT GETTIN PAID!!!"

"H8rs gon h8. Suck it, old employer!"

"Making promises to new school. They're believing everything I say, just like at last program. SMDH."



Departure note/Scavenger hunt
The previous low before Graham was probably when Bobby Petrino left the Atlanta Falcons for Arkansas during the season and informed his players he was leaving via a note that was placed in each locker. Classy stuff.
But the coaching profession has devolved greatly in the four years since Petrino did that. Leaving a note would probably be seen as delightfully old-fashioned now. Today's coaches can do much worse. Why not start with a note in each player's locker but have that note lead them on a scavenger hunt all around campus? The final clue, after hours of searching, would lead them into their stadium, where up on the Jumbotron would be the live news conference of you accepting your new job. All in all, a cruel waste of time. It's perfect.
Skywriting plane
It could be a plane toting a banner that reads: "Took a new job. Later, losers. -- Coach." Or go the extra mile and hire a pilot who can write that message over campus in smoke -- which, symbolically, will last almost as long as your tenure. Either way, make sure you pay for the plane out of your old program's expense account before officially resigning. Planes are expensive.
Brick through the window
Text or Twitter not personal enough? Type up a notes to your team, tie them to bricks and throw them through a window of each player's dorm, apartment or car. For bonus points, have your new quarterback do the throwing to show off his strong, accurate arm.
The no-show
Too cowardly to tell your players that you're leaving even by forwarded text message? Not a problem! Who says you have to tell them at all? There's no law. Just take your new job and carry on with your life. Your old team will eventually figure out you're gone when they see you on TV coaching another team the next season.


Gildan New Mexico Bowl
Temple vs. Wyoming: Saturday, 2 p.m. ET, ESPN
Temple, 8-4, has won eight or more games for three consecutive seasons, a school record. It's no longer the laughingstock of college football. In fact, it's easy to make the case that the Owls are currently the most stable college football program in the commonwealth of Pennsylvania. Temple isn't facing hundreds of millions of dollars in lawsuits or is it looking for its fourth head coach in one year. Impressive stuff!


Famous Idaho Potato Bowl
Ohio vs. Utah State: Saturday, 5:30 p.m. ET, ESPN
The Bobcats and Aggies are a combined 1-11 all time in bowl games. Utah State owns the only victory, beating Ball State 18 years ago in the Las Vegas Bowl. Ohio will try to get its first bowl win behind quarterback Tyler Tettleton, son of former major league catcher Mickey Tettleton. Tyler Tettleton's game is characterized by pinpoint accuracy and the fact that he doesn't always have a massive wad of tobacco in his cheek.


R+L Carriers New Orleans Bowl
San Diego State vs. Louisiana-Lafayette: Saturday, 9 p.m. ET, ESPN
San Diego State has to travel 1,800 miles to play in a football game with zero significance. So it's exactly like all of its future games in the Big East, except 1,000 miles shorter.


Beef O'Brady's Bowl St. Petersburg
Florida International vs. Marshall: Tuesday, 8 p.m. ET, ESPN
The city of St. Petersburg was recently named the saddest city in America by Men's Health magazine. Ridiculous. There's no way a city in which you can watch a 6-6 team from Conference USA play an 8-4 team from the Sun Belt Conference on a Tuesday night in December in a bowl game with meat in the title could possibly be depressing. It sounds like paradise.


San Diego County Credit Union Poinsettia Bowl
No. 18 TCU vs. Louisiana Tech: Wednesday, 8 p.m. ET, ESPN
TCU just missed out on the huge payout that comes from a BCS bowl. However, participants in the San Diego County Credit Union Poinsettia Bowl receive a Best Buy gift card, a Tourneau watch, a hooded sweatshirt and a FlexFit cap. If that Best Buy card has $10 million on it, TCU totally got a better deal.


Maaco Bowl Las Vegas
Arizona State vs. No. 7 Boise State: Thursday, Dec. 22, 8 p.m. ET, ESPN
New Arizona State coach Todd Graham will not coach the Sun Devils in the Las Vegas Bowl. We're lucky. Graham and Las Vegas together might be too much classiness for America to handle.


Sheraton Hawaii Bowl
Nevada vs. No. 21 Southern Miss: Saturday, Dec. 24, 8 p.m. ET, ESPN
This game kicks off at 8 p.m., so it will end very late on Christmas Eve -- right around the time when the Ghost of Christmas Future is showing Ebenezer Scrooge and the rest of the BCS conference commissioners the grave of college football, which died having never embraced the magic of a playoff system.


AdvoCare V100 Independence Bowl
Missouri vs. North Carolina: Monday, Dec. 26, 5 p.m. ET, ESPN
I am looking forward to watching this game more than any of the other early bowls, simply because I want to see if Missouri fans have the gall to chant "S-E-C!" I think they will. In fact, I'm counting on it.


Little Caesars Bowl
Western Michigan vs. Purdue: Tuesday, Dec. 27, 4:30 p.m. ET, ESPN
Many bowl games struggle to sell tickets, but you can get bargain tickets to the Little Caesars Bowl through Groupon. Yes, Groupon, the special-offer website that got you to eat at that hibachi restaurant in the strip mall by the airport, can now get you a seat at a bowl game featuring teams with a combined record of 13-11. Groupon: making you do things you'd otherwise never do.


Belk Bowl
Louisville vs. North Carolina State: Tuesday, Dec. 27, 8 p.m. ET, ESPN
NC State is a three-point favorite, but I like Louisville in this game. The Belk Bowl's swag is a Fossil watch and a $400 shopping spree to Belk's flagship store in Charlotte, N.C. Check out Belk.com. They don't sell video games. Louisville's attention will be on this game 100 percent.


Military Bowl Presented by Northrop Grumman
Toledo vs. Air Force: Wednesday, Dec. 28, 4:30 p.m. ET, ESPN
Toledo will be playing with offensive coordinator Matt Campbell running the team. Former coach Tim Beckman left to take the head job at Illinois. When Beckman left Toledo, he actually told his players. Amateur. You have to wonder if this guy has what it takes to make it in this business.


Bridgepoint Education Holiday Bowl
Cal vs. No. 24 Texas: Wednesday, Dec. 28, 8 p.m. ET, ESPN
Cal enters the Holiday Bowl having won three of four down the stretch, while Texas comes into the game having lost three of four. But both teams are 7-5, proving there is more than one way to really struggle to skin a cat.
Check back Dec. 29 for Part 2 of the Varsity Tailgate bowl preview.
DJ Gallo is the founder of SportsPickle.com. His first book, "The View from the Upper Deck," is available from only the finest bargain-book retailers. His next book project will be released soon. You can follow him on Twitter @DJGalloESPN.