Commentary
Lance Briggs has passion for comics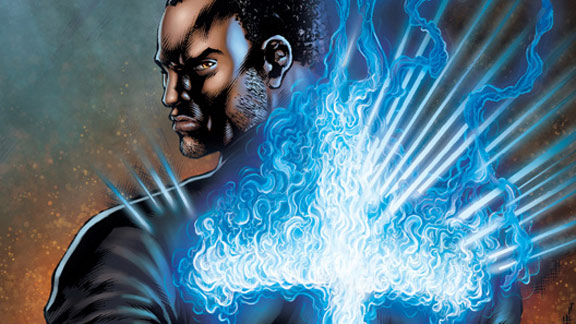 Top Cow ProductionsLance Briggs loves working on comic books as much as he does playing for the Chicago Bears.
When the NFL lockout ended, Lance Briggs couldn't wait. Was ready for football. Even relished training camp -- which rarely happens with veterans.
But something else drove the longtime Chicago Bears linebacker on those August days in Bourbonnais, Ill.
Emails. About a comic book.
"I was as excited to get new emails … as I was to go out to practice," Briggs said. "Comics, it's not a hobby for me. It's a passion. It's something that I just love doing."
That's right. Doing. Not just reading. Because this summer the lifelong comic fan made the jump -- a superhero-type leap, really -- into the world of comic-book writing.
Now it's done. The first issue is out there, in front of audiences. It's a dark, intense character study -- about an almost-otherwordly man named DeSean Murray -- called "Seraph." It has a chance to become a full series.
And this is no vanity project. He didn't draw it, no, and he needed some help with the details. But deep down, it's all Lance Briggs.
Said Filip Sablik, publisher of Top Cow Productions, Inc., which produced "Seraph": "I would say 99 percent of the ideas that we get pitched [from celebrities] are really, really bad. … Lance is the real deal."
And "Seraph" co-author and renowned comic writer Phil Hester: "It's kind of trendy to be a geek now, so there are a lot of celebrity comics popping up. … But Lance's book is completely and 100 percent Lance's concept."
CONCEPTION
How did it start?
With comic love, for one. Briggs grew up a fan of the medium, snatching up the books from his childhood days -- "X-Men," "Spawn," and all sorts of things.
[+] Enlarge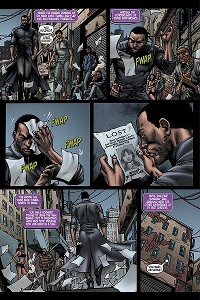 Top Cow ProductionsHere's what one of the pages looks like in his comic book.
He never really thought being an author was realistic, although a young Briggs did let his mind wander into various worlds -- and create a certain character, among others.
"Any comic book reader has a great imagination," Briggs said. "I imagined writing things back when I was a kid in high school, in college."
Of course, the whole football thing took precedent.
But Briggs never lost his love for reading, holding comic book drives in Chicago and starting the social networking site Lance's Comic World to connect with fellow geeks. And as time went by, he started reaching out to writers. He hosted a panel at the 2010 Chicago Comic and Entertainment Expo -- where he met Hester, who wrote for another of Briggs' favorites: "The Darkness." And that was after he appeared on a special "Darkness" cover, which allowed him to visit Top Cow, meet Sablik and "Darkness" creator Marc Silvestri, and pitch an idea …
EXPLORATION
… about a conflicted hero, a wayward young man who commits suicide. And that's just the beginning of DeSean Murray's journey, which sees his soul intercepted by a rogue angel and restored -- provided he uses the good inside him to fight the forces of evil.
It's a heavy concept, one that shows the battle of heaven and hell play out on Earth, all while Murray grapples with good versus evil (he is strengthened by righteous actions, weakened by wrongdoing).
In creating a hero/anti-hero, Briggs didn't want an athlete, nor someone who closely resembled him -- although people still ask.
"I have to answer over and over and over: It's not me and it's not something that happened in my life -- it's a pure creation," Briggs said. "He's a character that is very conflicted, and I think he has a lot of issues that a lot of people [deal with] every day."
Sablik was impressed. Briggs got the go-ahead.
Of course, the character and concept themselves weren't enough to fill one issue, let alone a whole series. So Briggs started building on it.
A lot.
"It got to the point where I was laying papers on the floor to show connections to DeSean," Briggs said. "It ended up [being] something like 38, 40 characters."
Said Hester: "He's got this huge, complex world-building thing behind it that is certainly impressive."
Now to build that world …
EXECUTION
At camp, he'd rush to the computer in the morning. Same thing at night. That's usually how Briggs and Hester communicated during the writing process.
There were phone conversations, too, some of which included Sablik.
"We'd have to call him at Bourbonnais and hope he wasn't at one of his two-a-days," Hester said.
Ultimately the ideas and storylines formed a screenplay-like script, which Hester wrote and turned over to main artist Jose Luis.
And again, Briggs didn't want DeSean to resemble him -- nor "the typical black hero with big muscles," in Briggs' words.
"He has a younger look to him," Briggs said. "[Luis] did a great job of … making it as I imagined."
By October, the book was done. Printed. Ready to go.
But where?
CONTINUATION
The single issue has been released, as part of a Top Cow promotion called "Pilot Season." This, much like TV, allows several entities to release single issues, with fans voting online to see which one gets picked up for a full "season."
Voting for the first round is underway, with the top four (out of eight) moving on into the semifinals, then the top two to the finals.
Naturally, like his Bears on the football field, Briggs wants "Seraph" to win the fan vote.
"I'm really excited about the chance [to] get to tell the whole complete story," he said.
And it could happen even if the story fails to win; Sablik likened the competition to "American Idol," where the victor is guaranteed a deal but the others might succeed as well.
But even if it doesn't continue, Briggs isn't finished with comics. Not reading; he even geeks out with a couple of fellow football players (including Bears teammate Israel Idonije). And certainly not writing.
"Of course I have some more ideas," Briggs said. "I want to make sure that I have a good concept for all of those, and we're going to feel for what works.
"I really hope that comic books is an avenue that I'll be able to be a part of for the rest of my life."
Patrick Dorsey is an editor at ESPN.com and can be reached at pdorsey1984@gmail.com
ESPN Editor
General Editor
Joined ESPN in 2011
Arizona native, LA resident, Northwestern graduate