Commentary
Mercury Morris opines about perfection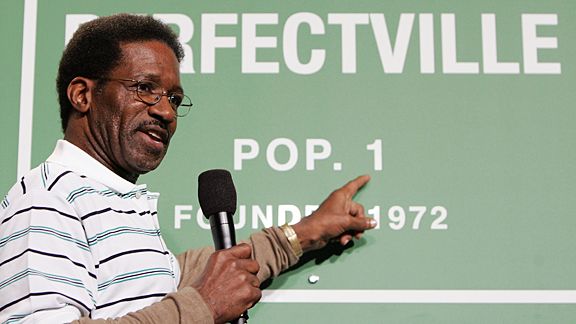 Jim McIsaac/Getty ImagesMercury Morris and the 1972 Dolphins remain in a class by themselves for at least one more season.
Mercury Morris couldn't contain himself.
What a rush! What excitement! Just the outcome he wanted!
We're referring, of course, to last month's 2011 NASCAR finale in Homestead, Fla. There in the city where Morris resides, Tony Stewart -- one of Morris' favorite drivers -- won the race and overtook Carl Edwards for the 2011 Sprint Cup title.
What, you thought we were talking about the Kansas City Chiefs win over the Green Bay Packers on Sunday?
"I'm a NASCAR man all the way," Morris told Page 2 on Sunday night.
Sure, Morris was paying attention when the Chiefs handed the Packers' their first loss of the season, extending the 1972 Miami Dolphins' run as the only NFL team ever to finish an entire season unbeaten.
Not surprisingly, Morris received phone calls from some of his 1972 teammates. Larry Little was on the line. Dick Anderson, too.
"Both of them were glad that they had lost," Morris said. "But I was not. I wanted [the Packers] to hang out and make it more exciting."
Huh?
Is all of this really Eugene "Mercury" Morris, long the primary spokesman for the 1972 Dolphins, the guy who became so visible during the New England Patriots' run at perfection in 2007 that "mercury morris annoying" is now a Google search suggestion?
Indeed, it is the same guy. In fact, there's a lot the former Dolphins running back wants you to know that might surprise you. Yes, he loves his Fins. Yes, he cherishes the perfect season. Yes, he's admittedly outspoken. Yes, yes, yes -- he's going to answer the phone next year, when the media start calling about the latest team to make a run at perfection.
But -- as told by phone to Page 2 in two parts, one before the Packers' loss and one after -- Morris has more on his mind than just rooting against every undefeated team and popping champagne when his wish comes true.
Here are 10 such things:
1. Mercury wouldn't mind some company …
As Morris said before, this isn't about exclusivity. Fans and other teammates might prefer that Perfectville to remain population: 1. But Morris -- at least these days -- "would welcome" new neighbors on his block.
In fact, prior to the Packers' loss, Morris said it "would be a great day for sport" if Green Bay went 19-0.
"[Fans] could understand that … it's actually possible," Morris said, "but just how difficult is it, when after 80 years you only have two?"
[+] Enlarge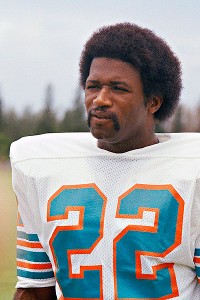 AP PhotoIn 1972, Mercury Morris rushed for 1,000 yards and 12 touchdowns.
2. Mercury likes capital-T teams …
Take Green Bay. Morris told anyone who asked before Sunday that he approved of the Packers -- because they look and act like an old-school, team-first group, and "because the way they sound is the way we sounded," Morris said. "Which is, 'We're not looking to go unbeaten.'"
That's in reference to the '72 team, about which Morris glowingly talks, especially regarding its day-in, day-out mantra: redemption. All those Fins wanted, as Morris recalls, was to win Super Bowl VII after being brutalized by Dallas, 24-3, in the previous Super Bowl.
"We just happened to go unbeaten on our way back to redeeming ourselves," Morris said. "We just simply lined up to play in a fashion that would lead us back to that last game so that we could redeem ourselves for what happened in Super Bowl VI."
In Morris' opinion, that's the way an unbeaten should do it -- not necessarily to avenge a Super Bowl loss, but with a one-game-at-a-time, don't-think-about-the-record attitude.
"The minute you start talking [about going undefeated], you're doomed."
3. Mercury still does not like the 2007 Patriots …
"The New England Patriots," Morris said, "did not [avoid] that."
The Patriots helped cement Morris' reputation as a curmudgeon, despite the fact that he's voiced his support for several teams to flirt with an undefeated season -- such as the 2008 Titans and the 1998 Broncos.
Morris said media coverage about going "undefeated" consumed the Patriots, through no fault of their own. But instead of shaking the discussion, Morris believed the team welcomed it.
"They had already tapped themselves into a position they had never been in," Morris said. "You don't get to [claim] undefeated until the last game. Undefeated is not [relevant] unless it's February something and you've won that last game. … They frontloaded history.
"I was sparring against them because I was being a reflection of what I was getting. I was getting this smart-a-- attitude," Morris said. "It doesn't mean anything if you lose that last game. Which is what they did."
4. Mercury does not actively root one way or another …
Root for someone to lose? Root for someone to win? With the exception of the Patriots, there isn't going to be much heart-wrenching rooting from Morris.
"What I think doesn't matter. It's not going to have any effect on what occurs with regard to the Green Bay Packers or any team," Morris said. "So I'm not going to set myself up for [failure]. Because if I have company now, then I'm sitting here mad because we're not the only ones.
"If I look for them to lose, and they don't lose, what am I left with? … And why would I want to do that? It's a great accomplishment."
5. Well, maybe Mercury does root occasionally …
"I was rooting for the Broncos to win," Morris said, referring to the 1998 Denver team that started 13-0.
The reason: Don Shula, Larry Csonka, Paul Warfield, Garo Yepremian and Morris were supposed to do a commercial about the Broncos coming to Miami (that season's Super Bowl site) while still undefeated. The ad would pose the question: Who can stop the Broncos? The answer: The '72 Dolphins, who would try their best to sabotage Denver's preparation for the big game.
"It would have been a $50,000 pay day for each one of us had we [done] it," Morris said.
[+] Enlarge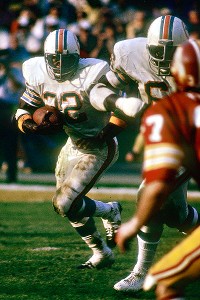 Focus on Sport/Getty ImagesDespite entering Super Bowl VII with a 16-0 record, Morris and the Dolphins were underdogs to the "Over the Hill Gang" Redskins.
6. Mercury doesn't care what you think …
So, Mercury, what of those people who wish you would just shut up? They frustrate Morris, but he calls it human nature.
"Human beings want to do two things: They want to look good, and they want to be right," Morris said. "If I make you look bad, that makes me look good. If I make you look wrong, that makes me look right."
On people who wish he would just go away: "There is no place for us to go. We are already on the top."
On people who wish he would just shut up: "What can that actually be about but sour grapes?"
On people who claim he and his '72 Dolphins teammates are bitter: "What reason do we have to be bitter? We have the greatest accomplishment in professional sport."
7. OK, maybe Mercury does care what you think …
In other ways, anyway. He definitely has some points he wants made, otherwise he wouldn't pick up the phone, wouldn't take people's questions year after year.
Among them:
He doesn't seek out interviews: "Media calls us," he said. "We don't call them." (Note: We called Morris.)
He wants to "defend the turf" -- but mostly for fans: "I enjoy being the spokesperson for the fans, because this is something they love," Morris said. "The fans own the bragging rights."
Above all, he wants people to "respect the accomplishment."
8. Mercury really wants people to respect the accomplishment …
First, Morris wants you to know that those 1972 Dolphins didn't luck into 17-0. They played some close games, yes, but they also finished first in nearly every major category on both offense and defense. He also wants you to know that being first matters.
Remember back to No. 1, when Morris talked about an undefeated team happening twice in 80 years -- and that was if the Packers had gone 19-0. They didn't. So yeah, the whole undefeated thing is extremely difficult.
Don't get him started on 19-0 vs. 17-0.
"Our record is not in jeopardy at any time," Morris said. "The achievement is that you played every game and that you won every game. It's not about being 19-0. It's about going through the season and beating every opponent.
"If the 1934 Bears would have gone 14-0, then the 1972 Dolphins would have been the second team in history to go through the season unbeaten. And that's the record. We don't shift it to, 'Well, we won 17 and they only won 14.'"
9. Mercury doesn't drink (much) champagne …
"That is a myth," Morris said of the oft-discussed/joked-about ritual. "[Some teammates] did it a couple of times and … during our anniversaries, we do that."
But remember what he said about the record not being in jeopardy?
"We don't sit here and say, 'Oh, geez, these guys lost, so our record is safe,'" he said. "You can't take Sir Edmund Hillary -- who was the first to climb Mt. Everest -- and somehow have somebody else climb it who's taller and therefore come to the conclusion that they were higher on the mountain."
10. Mercury will be back next year …
OK, this is something you probably already knew.
And he's just fine with that.
"I like it because that's what sport is," Morris said. "Sport is about the temporary aspect of who's the best."
So yes, we reporters will call him again -- "It [happens] every year," Morris said -- and he'll gladly answer.
As long as NASCAR isn't on.
Patrick Dorsey is a writer for Page 2. He can be reached at bypatrickdorsey@gmail.com.