Commentary
Quotes of the Year: Noble and facetious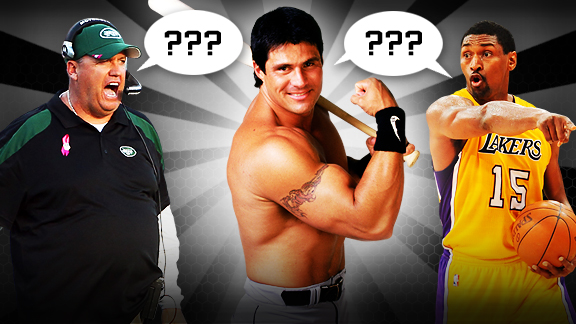 ESPN.com Illustration
Page 2 dutifully keeps its ears open for memorable, nonsensical, embarrassing and stupendous quotes all year long, then crunches the list down to the top 100 ... all so you can giggle like a schoolchild.
Without further ado, Page 2 proudly presents its 2011 Quotes of the Year:
Page 2's 2011 Quotes of the Year:
Nos. 100-81 | Nos. 80-61 | Nos. 60-41 | Nos. 40-21 | Nos. 20-1
Page 2 interviews the 2011 Quote of the Year winner
100.

"We call ourselves the Heatles."
-- Heat forward LeBron James
Page 2 spin: OK, we'll play along. LeBron is John. Dwyane Wade is Paul. Erik Spoelstra is George. Chris Bosh is Ringo, and Michael Beasley is Pete Best.
99.

"That is a good thong."
-- Hall of Fame baseball writer Peter Gammons
Page 2 spin: This probably was the result of a typo on Twitter. Goodness, we certainly hope this was the result of a typo on Twitter.
98.

"Do I still get my tickets?"
-- Unidentified alleged deadbeat dad, after being lured into police custody by the promise of tickets to the Iron Bowl
Page 2 spin: We're pretty sure both Alabama and Auburn would be horribly embarrassed to have this man as a fan.
97.

"Daddy, we're Texans now."
-- Wade Phillips, a native Texan, to father O.A. "Bum" Phillips, also a native Texan, after becoming defensive coordinator of the Houston Texans
Page 2 spin: For some reason, this quote makes us think of Sheriff Buford T. Justice and Junior Justice in the cinematic classic "Smokey and the Bandit."
96.
"man who is good at writing papers?????????????? i pay."
-- Auburn defensive back Jordan Spriggs
Page 2 spin: Former Auburn teammate Antoine Carter probably said it best when he answered Spriggs' ill-advised tweet: "u gotta be the dumbest person in the world."
95.
"I'll be adding [Jermichael] Finley to my list of TE's I've shut down; he had 0 catches and I took the ball from him for an int."
-- Raiders safety Mike Mitchell, conveniently failing to note Oakland lost that particular game 46-16 to the Packers
Page 2 spin: ... annnnd Mitchell even added the hashtag #talkischeap. No word on whether he meant it to be ironic.
94.

"En verdad verdad, Nuestra Vinotinto Ganó anoche! Paraguay no nos ganó ese juego. Tanto Fidel [Castro] como yo vimos clarito el Gol que nos quitaron!!"
-- Hugo Chavez, president of Venezuela, after his national team lost to Paraguay in the Copa America tournament in July
Page 2 spin: This translates roughly as, "The real truth is that our team won last night! Paraguay did not beat us in that game. Both Fidel [Castro] and I saw clearly the goal they stole from us!!" See, political strongmen aren't so different from the rest of us after all. They get irrationally upset about perceived bad officiating, too.
93.

"I actually had dinner with the agent [for free agent Carl Crawford] to pretend that we were actually involved and drive the price up."
-- Yankees general manager Brian Cashman
Page 2 spin: Perhaps Cashman would have been better served by spending his time in pursuit of starting pitching. Just sayin'.
92.

"It's hard for him because he's illiterate."
-- Then-Red Sox manager Terry Francona, on pitcher Josh Beckett needing to pass a brain function test days after suffering a concussion
Page 2 spin: In the interest of equal time, here's a quote that makes the Red Sox look silly.
91.

"It's normal for guys to eat dinner, believe it or not."
-- Steelers coach Mike Tomlin, on quarterback Ben Roethlisberger going out for dinner and drinks with teammates days before Super Bowl XLV
Page 2 spin: Ummm, Mike? Amid the sarcasm, you're ignoring the elephant in the room: The leader of your team willingly sings Billy Joel songs and dances to the music of Miley Cyrus in public.
90.

"I want to put the shoe on the other foot."
-- Jets coach Rex Ryan
Page 2 spin: We're going to let this one go. It's just too easy to write a cheesy foot fetish joke.
89.
"I mean, hell, he is a little freaky, I guess."
-- Cowboys defensive coordinator Rob Ryan, on his brother, Jets coach Rex Ryan
Page 2 spin: Again, it would be too easy to play the foot fetish card here. So we'll let Patriots receiver Wes Welker play it for us.
88.
"When it's all said and done, I really feel like this team's gonna win the [NFC] East."
-- Redskins quarterback Rex Grossman, prior to the start of the 2011 season
Page 2 spin: Don't be so quick to ridicule Grossman for this prediction. After all, he never said which season the Redskins would win the division.
87.
"That's true. You can write that. It is the first book I've ever read."
-- Former UConn basketball star Kemba Walker, on reading William Rhoden's book "Forty Million Dollar Slaves: The Rise, Fall, and Redemption of the Black Athlete" during his junior year.
Page 2 spin: ... annnnd Walker graduated from UConn in three years. Seriously.
86.

"This was long before computers or any kind of wireless. There weren't even wireless telephones. Looking back now, it was like, 'F---, they downloaded something into me!' Or they uploaded something from my brain, like an experiment."
-- Rock star Sammy Hagar, claiming he was once abducted by aliens
Page 2 spin: We totally would have guessed David Lee Roth was the one who was abducted.
85.

"I hate when I kinda have to pee. Tryna decide if its worth getting up or not..."
-- Washington Mystics guard Monique Currie
Page 2 spin: Fun fact: Currie earned two degrees from Duke University.
84.

"I hate when I walk more than a block and there is no trash can. You are practically asking me to litter..."
-- Washington Mystics guard Monique Currie
Page 2 spin: Neither of those degrees is in environmental science.
83.
"There's a lot of fake tough guys in this league and he's one of them."
-- Thunder forward Kevin Durant, on Heat forward Chris Bosh
Page 2 spin: Two weeks earlier, Bosh complained about Bulls center Omer Asik colliding with him while diving for a loose ball. "I know guys want to hustle and everything, but we all want to play and provide for our families and have a job," Bosh said. "If it is by somebody's leg, don't dive for the ball; it's too close."
82.

"I really stink. Wow. Neeeeeeed to shower."
-- LPGA Tour pro Michelle Wie
Page 2 spin: Thank you for sharing. Thanks, indeed.
81.

"I hope John does better than I did, because I stunk at it."
-- Matt Millen, former Lions president/GM and current ESPN analyst, on John Elway joining the Broncos' front office
Page 2 spin: Give the man credit -- he's definitely not in denial.
Thomas Neumann is an editor for Page 2.
Page 2's 2011 Quotes of the Year:
Nos. 100-81 | Nos. 80-61 | Nos. 60-41 | Nos. 40-21 | Nos. 20-1
Page 2 interviews the 2011 Quote of the Year winner
Page 2's 2010 Quotes of the Year:
Nos. 100-81 | Nos. 80-61 | Nos. 60-41 | Nos. 40-21 | Nos. 20-1
Page 2's 2009 Quotes of the Year:
Nos. 50-26 | Nos. 25-1