Commentary
Story behind Page 2's Quote of the Year
Janet Riley wasn't trying to offer up the quote of the year.
She was simply doing her job as president of the National Hot Dog and Sausage Council. She was merely standing up for the integrity of one of America's most beloved foodstuffs, the hot dog.

Riley
But when a spectator threw a hot dog at golf superstar Tiger Woods at the Frys.com Open in October, she wasn't going to sit idly while someone sullied the sterling reputation of the wiener.
She had to speak out.
So on behalf of the NHDSC, she issued the following statement:
"The use of an iconic food in an act of violence against an iconic golfer like Tiger Woods is reprehensible -- and a violation of hot dog etiquette. Some might call the thrower a 'wiener,' but we'd say that's too high a compliment. Hot dogs are meant to be enjoyed -- not weaponized."
Little did Riley know at the time that she had skillfully offered up Page 2's Quote of the Year.
"It was one of those unplanned opportunities when it seemed like the Hot Dog Council needed to offer a comment," Riley said. "It was a very spontaneous decision, and it certainly was widely picked up."
QUOTES OF THE YEAR WINNERS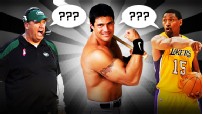 • 2011: "Hot dogs are meant to be enjoyed -- not weaponized."
-- Janet Riley, president, National Hot Dog and Sausage Council
• 2010: "I am on the toilet thinking about writing a third book."
-- Former baseball star Jose Canseco
• 2009: "I'm [expletive] going to take this [expletive] ball and shove it down your [expletive] throat, you hear that?"
-- Tennis star Serena Williams
Indeed. The quote was discussed on ESPN Radio's "Mike & Mike in the Morning." It appeared in USA Today and newspapers across the country. Bloggers around the world commented on it.
"I happened to be there with our management team in a planning session, and I said, 'I'm going to issue a statement on this,'" Riley said. "I read it aloud to the team, and they chuckled, and we issued it. I never in a million years imagined that it would get the pickup that it got. ... I wrote that statement in about seven or eight minutes, and everybody laughed at 'weaponized.' And I said, 'It's true; it was weaponized!' I don't know if that's in the dictionary, but I figured I could take a little creative license there."
[Editor's note: It most certainly is in the dictionary!]
This isn't the first time the NHDSC has become involved in a sports issue.
In 1995, the NHDSC sent a case of hot dogs to then-Seahawks quarterback Rick Mirer when he and two teammates were fined $1,000 each for eating hot dogs on the sideline during a preseason game in San Francisco. In 2003, when Pirates first baseman Randall Simon knocked down one of the participants in the Milwaukee Brewers' Sausage Race with a bat, the NHDSC issued a Certificate of Bravery to the victim. In 2009, the NHDSC spoke out in defense of Jets quarterback Mark Sanchez after he was criticized for eating a hot dog during a game against Oakland.
Nowadays, there's also the scary potential for people with impure motives to weaponize hot dogs.
"I certainly think that our PR efforts brought attention to this problem, so I hope that it will be brought under control," Riley said. "Since [the Tiger Woods incident], I am not aware that they have been weaponized. So to that extent, we were successful."
Not only were Riley and the NHDSC successful in stemming the dangerous tide of wiener weaponization, but they also succeeded in providing Page 2 with its 2011 Quote of the Year.
Page 2's 2011 Quotes of the Year:
Nos. 100-81 | Nos. 80-61 | Nos. 60-41 | Nos. 40-21 | Nos. 20-1
Thomas Neumann is an editor for Page 2.