Commentary
Quotes of the Year: Poignant, hilarious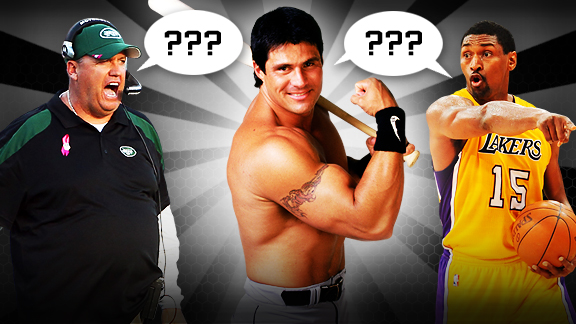 ESPN.com Illustration
Welcome to Part 2 of Page 2's 2011 Quotes of the Year. Follow the adventure and romance as we continue this year's countdown:
Page 2's 2011 Quotes of the Year:
Nos. 100-81 | Nos. 80-61 | Nos. 60-41 | Nos. 40-21 | Nos. 20-1
Page 2 interviews the 2011 Quote of the Year winner
80.

"I'm sad for the game of basketball."
-- Basketball Hall of Famer Bill Walton, on UConn's 53-41 national championship victory over Butler
Page 2 spin: For once, Walton might be guilty of an understatement.
79.
"I'm the type of guy where -- you may not know this -- pitchers fear me. I'll walk two times a game. I plan on having at least a .500 on-base percentage."
-- Former baseball star Jose Canseco, predicting his season performance as player/manager for the Yuma Scorpions of the North American League
Page 2 spin: The 47-year-old Canseco played in 60 games and walked 34 times with a respectable on-base percentage of .371. He also proposed to Lady Gaga via Twitter and estimated that his team would win "70-some-odd games." The Scorpions went 35-53 and finished last in the NAL's South Division, and Lady Gaga didn't return his tweet … yet.
78.

"Woof, woof, woof!"
-- Washington football coach Steve Sarkisian
Page 2 spin: Just one more reason ESPN needs to invest in a new reality series: "Keeping Up with the Sarkisians."
77.

"Let me be straight up with you. I went inside there on April 2, and I found potato salad that expired on February 28. And it's then when I realized I can't do business with this man and I really hope no one ate those potatoes."
-- Rap star Flavor Flav, on his fallout with business partner Nick Cimino in the ownership of Flav's Fried Chicken in Clinton, Iowa
Page 2 spin: Rap star. Reality television personality. Public health crusader. We can safely say Flav is a genuine Renaissance man.
76.

"My belief is that he'll retire for a while, but I don't know how long you can go to Montana and meditate and smoke peyote or whatever he does there. I don't know. He's going to get bored."
-- Mavericks coach Rick Carlisle, on whether Phil Jackson had coached his last NBA game
Page 2 spin: Big Chief Triangle's response: "First of all, you don't 'smoke' peyote."
75.

"At least I'm not forcing them into sports and getting my child injured like some parents."
-- Wendy Dickey, who dressed her 3-year-old daughter as a prostitute on the reality show "Toddlers and Tiaras"
Page 2 spin: Emotional injury can be more damaging than physical injury. The therapist your child will be seeing in a few years can confirm that for you.
74.

"I looked over at Barry, I was telling him to move in, move in, move in. He turned and looked at me and gave me [the] international peace sign."
-- Former Pirates outfielder Andy Van Slyke, on what he told teammate Barry Bonds moments before Bonds failed to throw out Sid Bream in Game 7 of the 1992 NLCS
Page 2 spin: Come on. Does this man look like the kind of person who would do that?
73.
"It was like a reverse Anne Frank thing."
-- Former New York Giants running back Tiki Barber, on hiding out at the house of his Jewish agent, Mark Lepselter, to avoid the media in the wake of leaving his pregnant wife for a 23-year-old NBC intern
Page 2 spin: This is probably the worst analogy in the history of war or sports. So Tiki, you might not want to head out to open-mike night at the Comedy Store just yet.
72.

"Let's not be shy. In the day of the Christians, they risked being hung on the cross if they said they were for Jesus. Well, we have to step out there and say we're for the Nailers."
-- Denny Magruder, executive director of WesBanco Arena in Wheeling, W.Va., urging the city to support the Wheeling Nailers during the ECHL playoffs
Page 2 spin: We have this year's "Complete Lack of Perspective Quote of the Year" winner. Considering the team's nickname, we might also have our winner for "Unwittingly Terrible Ironic Quote of the Year."
71.

"It is not in good shape. Evidently, it was run over by a bus. It has to be fixed."
-- Real Madrid spokeswoman Marta Santisteban, on the Copa del Rey trophy, which the team had just won for the first time in 18 years, but was accidentally dropped under a wheel of a moving team bus by defender Sergio Ramos
Page 2 spin: Some defender.
70.

"I went beyond the speed I should have been going on a public road."
-- NASCAR Sprint Cup driver Kyle Busch, on being cited for traveling 128 mph in a 45 mph zone
Page 2 spin: We have a winner for Page 2's "Understatement of the Year."
69.

"My family watched while they shocked me with the paddles. I saw the last two touchdowns from the ICU unit."
-- Notre Dame fan Leo Staudacher, on suffering a heart attack at Michigan Stadium
Page 2 spin: We can only imagine what Staudacher's pulse rate measured while Michigan scored 28 points in the fourth quarter, including the winning touchdown with two seconds left.
68.
"I was part of the team that didn't make history."
-- Wizards center Othyus Jeffers, on the team winning its second road game of the 2010-11 season, thereby avoiding tying the NBA single-season record for road futility
Page 2 spin: Washington Wizards basketball … come watch us not make history.
67.
"A new big three has announced its arrival -- Wall, Crawford and Blatche."
-- Wizards owner Ted Leonsis
Page 2 spin: We're not going to compare John Wall, Jordan Crawford and Andray Blatche to LeBron James, Dwyane Wade and Chris Bosh just yet, but at least they're not calling themselves the Weatles or the Wizeatles or the John Wall Experience or even Led Zeppelin.
66.

"Since I became Led Zeppelin, my life has improved a thousand fold."
-- The former George F. Blackburn, of Bethalto, Ill., on changing his name to "Led Zeppelin II"
Page 2 spin: We're not sure whether he plays any instruments, but if he does, maybe he could open for the Heatles.
65.

"I thought surely the days of empty stadiums and an uncaring student body were over. Boy was I wrong. The UCF game was a testament to how stubborn and pathetic our student body is …"
-- SMU wide receiver Steven Nelson, on low attendance at Mustangs games
Page 2 spin: Guess which student body is ready for Big East football!
64.

"My suggestion would be if you don't want the scrutiny, you don't hold a championship celebration before you've even practiced together."
-- Orlando Magic coach Stan Van Gundy, on the Miami Heat
Page 2 spin: Stan is beginning to sound a bit like someone who didn't leave the Heat on the best of terms.
63.

"I was blowing up like a football. I had no choice but just to lay there, blowing up like a balloon. … You can't turn a tap on and let it out. You just have to burp it out, or fart it out."
-- New Zealand truck driver Steven McCormack, on the freak accident that left him with a running air hose stuck in his left buttock
Page 2 spin: Good to know. Good to know, indeed.
62.
"It's the world of prostitution. You never know what you're gonna get. Is it gonna be a pretty girl, an ugly girl or whatever it's gonna be."
-- Hall of Fame linebacker Lawrence Taylor
Page 2 spin: That certainly is a new and different twist on Forrest Gump's "box of chocolates" line.
61.

"This is a substantial amount of iguana meat, well beyond what would be considered as personal use."
-- Joe Uribe, acting U.S. Customs and Border Protection port director, Laredo, Texas
Page 2 spin: Exactly how much iguana meat is an appropriate amount for personal use?
Thomas Neumann is an editor for Page 2.
Page 2's 2011 Quotes of the Year:
Nos. 100-81 | Nos. 80-61 | Nos. 60-41 | Nos. 40-21 | Nos. 20-1
Page 2 interviews the 2011 Quote of the Year winner
Page 2's 2010 Quotes of the Year:
Nos. 100-81 | Nos. 80-61 | Nos. 60-41 | Nos. 40-21 | Nos. 20-1
Page 2's 2009 Quotes of the Year:
Nos. 50-26 | Nos. 25-1