Commentary
Quotes of the Year: Astute and myopic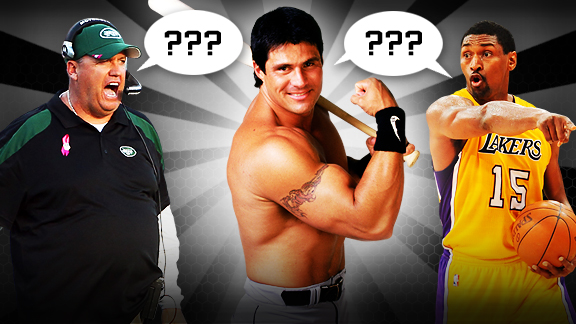 ESPN.com Illustration
Welcome to Part 3 of Page 2's 2011 Quotes of the Year. Enjoy the following monologues and soliloquies as we continue this year's countdown:
Page 2's 2011 Quotes of the Year:
Nos. 100-81 | Nos. 80-61 | Nos. 60-41 | Nos. 40-21 | Nos. 20-1
Page 2 interviews the 2011 Quote of the Year winner
60.
"If curfew is at 10, you might think 11 is a good time to head out. But you should play it safe and wait until 12."
-- Former Missouri defensive end Aldon Smith, now playing with the 49ers, offering advice on how to break curfew in college without getting caught
Page 2 spin: Missouri football: Ready to face the best the SEC has to offer.
59.

"Playoff sweat is different than regular-season sweat."
-- Heat forward LeBron James, explaining his postseason hydration routine
Page 2 spin: It's true. Regular-season sweat averages 26.7 points per game and shoots 51 percent from the field. Postseason sweat averages 23.7 points per game and shoots 46.6 percent from the field.
58.
"So I was just corrected on proper hashtag etiquette by our quarterback @MattBarkley ... I'll remember that later on #studymorefilm"
-- USC football coach Lane Kiffin
Page 2 spin: If Barkley ever corrects USC assistant Ed Orgeron on proper hashtag technique, here's the reaction he's likely to receive.
57.

"I slapped him on the ass out there one day, and I've got a quarter horse in Tennessee that doesn't have an ass on him like that."
-- Tulsa offensive line coach Denver Johnson, on Patriots offensive tackle Nate Solder, whom he coached at Colorado
Page 2 spin: Johnson apparently believes that a player's hind quarters can reveal his professional potential -- which come to think of it, is probably just as scientific and effective as any other assessment used for the NFL draft.
56.

"Officer I can't do this. I don't feel I can't walk a straight line. I had a few drinks. Let's try another test."
-- Rapper Flo Rida, as quoted in a police report, after being pulled over in his $1.7 million Bugatti in Miami Beach
Page 2 spin: If we count the number of bad decisions in this scenario, the number probably approaches 1.7 million.
55.
"I'll say hypothetically I don't have any more of my Florida jerseys. There were some Jacksonville businessmen that really hypothetically liked my play."
-- Dolphins linebacker Channing Crowder, cryptically alluding to possible NCAA violations, which allegedly may have perhaps been committed while he played at Florida
Page 2 spin: Crowder seems to be a master of the art of plausible deniability. Hypothetically speaking, of course.
54.

"I personally don't noodle, but I would defend to the death your right to do so."
-- Texas state Senator Bob Deuell, on the right to life, liberty and barehanded fishing
Page 2 spin: This quote serves as a great excuse to link to awesome photos such as this, this and this.
53.

"Crazy. Karma is a b----. ... Gets you every time. Its not good to wish bad on anybody. God sees everything!"
-- Heat forward LeBron James, presumably tweeting about the Cavaliers' 112-57 loss to the Lakers on Jan. 11
Page 2 spin: Note to LeBron: Even if we do suppose that God watches the NBA, it's quite a leap to think he's watching Cavaliers games ever since you took your talents to South Beach.
52.
"You see Bevo and he's just sitting there taking craps."
-- Vikings running back Adrian Peterson, an Oklahoma alum
Page 2 spin: Come on, even in light of the fierce Sooners-Longhorns rivalry, there's simply no need to poo-poo the legitimacy of Texas' mascot.
51.

"I like people who play ice hockey -- they stop for hitchhikers."
-- U2 frontman Bono, during a concert at Commonwealth Stadium in Edmonton, Alberta, referring to Oilers center Gilbert Brule, who had given him a lift the previous day
Page 2 spin: Don't try this at home, kids.
50.
"I wouldn't change anything about my life [even] if I could."
-- Eagles quarterback Michael Vick
Page 2 spin: Wow. Nothing? Really? What about, you know, that thing ... letting anyone know your childhood nickname was Ookie.
49.

"We smoked it all."
-- Former Oregon cornerback Cliff Harris, responding to a state patrolman who asked, "Who's got the marijuana in the car?" after pulling over Harris and Ducks quarterback Darron Thomas for traveling 118 mph in a 2011 Nissan Altima that had been rented by an Oregon employee
Page 2 spin: Not surprisingly, the officer's next words were not, "OK then, you're free to go, gentlemen."
48.
"It will be the end of the world."
-- Blackpool manager Ian Holloway, on the soccer club's potential relegation from the English Premier League
Page 2 spin: This is just one of several apocalyptic quotes from the sports world in 2011. Ravens linebacker Terrell Suggs said this of his team's playoff matchup with the Steelers: "This is World War III to us. This is definitely Armageddon." On Nov. 14, NBA commissioner David Stern said of the league's lockout: "We are about to go into the nuclear winter of the NBA." Meantime, Blackpool was indeed relegated, the Ravens lost to the Steelers and the NBA lockout was settled 12 days after Stern offered that quote.
47.

"Horse herpes outbreak forces rodeo queens to ride stick ponies."
-- Actual headline on the website of television station KSL, the NBC affiliate in Salt Lake City
Page 2 spin: This wins the race for Page 2's Misleading Headline of the Year by 35 lengths.
46.

"I don't have burnout in my gear box."
-- Enigmatic actor Charlie Sheen
Page 2 spin: Neither does Kurt Busch, at least when driving on city streets.
45.

"Sure, yeah, I am on a drug; it's called Charlie Sheen. It's not available because if you try it once you will die, your face will melt off and your children will weep over your exploded body."
-- Mercurial actor Charlie Sheen
Page 2 spin: In addition to the inherent danger described above, this drug will likely make you grow a third ear out of your forehead and allow you to successfully pull a tractor with your teeth.
44.

"If they want me in it, it's a smash. If they don't, it's a turd that opens on a tugboat."
-- Unhinged actor Charlie Sheen, on a possible reprise of the "Major League" movie franchise
Page 2 spin: Like any good relief pitcher, Sheen has supreme confidence and a short memory.
43.

"I'm sorry, man, but I've got magic. I've got poetry in my fingertips. Most of the time -- and this includes naps -- I'm an F-18, bro. And I will destroy you in the air. I will deploy my ordinance to the ground."
-- Agitated actor Charlie Sheen
Page 2 spin: This includes naps?! We are sooo jealous.
42.

"If Charlie Sheen outlives me, I'm gonna be really pissed."
-- Television producer Chuck Lorre, in a vanity card that ran at the end of an episode of "Two and a Half Men."
Page 2 spin: For what it's worth, Chuck, the dude did earn you a boatload of money. Just sayin'.
41.

"I'm the Charlie Sheen of baseball, but without drugs and a prostitute."
-- Marlins manager Ozzie Guillen, when he was still manager of the White Sox
Page 2 spin: Ladies and gentlemen, meet Ozzie Guillen, Page 2's International Voice of Reason for 2011.
Thomas Neumann is an editor for Page 2.
Page 2's 2011 Quotes of the Year:
Nos. 100-81 | Nos. 80-61 | Nos. 60-41 | Nos. 40-21 | Nos. 20-1
Page 2 interviews the 2011 Quote of the Year winner
Page 2's 2010 Quotes of the Year:
Nos. 100-81 | Nos. 80-61 | Nos. 60-41 | Nos. 40-21 | Nos. 20-1
Page 2's 2009 Quotes of the Year:
Nos. 50-26 | Nos. 25-1