Commentary
Quotes of the Year: Legends and leaders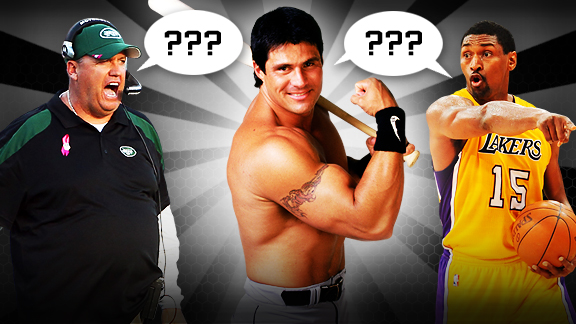 ESPN.com Illustration
Welcome to Part 4 of Page 2's 2011 Quotes of the Year. Enjoy the following bedtime lullabies and tips on alternative energy sources as we continue this year's countdown:
Page 2's 2011 Quotes of the Year:
Nos. 100-81 | Nos. 80-61 | Nos. 60-41 | Nos. 40-21 | Nos. 20-1
Page 2 interviews the 2011 Quote of the Year winner
40.
"I don't profess to know anything about basketball."
-- Clippers owner Donald Sterling, during testimony in former general manager Elgin Baylor's wrongful termination suit against him
Page 2 spin: Doesn't that pretty much sum up three decades of Sterling's franchise ownership?
39.

"This is what I'm getting paid for -- is to play."
-- University of Washington quarterback Keith Price
Page 2 spin: Ostensibly, Price was referring to his scholarship stipend. But he might want to select his words a bit more carefully in the future.
38.
"I'm just hoping the coach doesn't dismiss me."
-- Ohio State president Gordon Gee, on whether he considered firing football coach Jim Tressel
Page 2 spin: We all know that sports stir the drink at big universities, but do you have to smash our suspended disbelief into a million tiny pieces?
37.
"Stop txting me abt my dad. HE IS NOT repeat NOT, GOING TO OHIO STATE. thanks."
-- Georgia Tech volleyball player Nicki Meyer, daughter of retired Florida football coach Ohio State football coach Urban Meyer
Page 2 spin: Ummm, you might want to check your sources.
36.

"I would definitely suck as a politician."
-- Former baseball star Jose Canseco
Page 2 spin: Come on, Jose. Judging by 2011 standards, you probably would be an exceptional politician.
35.

"I'm not saying don't drink. Just don't do 13 shots out of a bowling ball. The guy peeing where he's standing? That's a problem."
-- Dave Roberge, manager of the band O.A.R.
Page 2 spin: Clearly, we at Page 2 love us some understatements.
34.

"Come meet Indians legends Chad Ogea and Paul Sorrento."
-- Actual tweet from the Cleveland Indians
Page 2 spin: What? No Andre Thornton and Joe Charboneau?!
33.

"I'm pretty sure he thinks I'm an idiot. I mean, truthfully, most people do. My own family does, so I'm pretty sure he does, too."
-- Oklahoma prison inmate Eric Torpy, who's six years into a 33-year prison sentence that he requested because the number matches the jersey number of his favorite basketball player, Larry Bird
Page 2 spin: Fortunately for him, he wasn't a fan of George Mikan.
32.

"Our players were hit by lightning during a training match."
-- North Korea women's soccer coach Kwang-Min Kim, offering an excuse for his team's World Cup loss to the U.S.
Page 2 spin: The propaganda machine of North Korea just keeps churning out Grade-A material.
31.

"We're from Alabama -- you can't make this s--- up. Some things just happen there, and people want to know why we rank 48th in education."
-- Former Auburn basketball star Charles Barkley, on vandalism of the trees at Toomer's Corner
Page 2 spin: One of these days, Barkley is going to come out of his shell and quit tiptoeing around uncomfortable issues.
30.
"I know one thing about these guys: They're not going to stop quitting."
-- Dolphins quarterback Chad Henne
Page 2 spin: The Dolphins were 0-3 when Henne offered that statement. Since then, the team has won five games and totally played its way out of the Andrew Luck Sweepstakes. Apparently, the Dolphins stopped quitting.
29.

"I'm trying my best to get the governor to understand Interstate 71 sucks."
-- Bruton Smith, owner of Kentucky Speedway
Page 2 spin: A massive traffic jam at the Quaker State 400 on in July began more than eight hours before the race and spanned more than 15 miles. Thousands of ticket holders either never arrived or were turned away from the event.
28.

"All the other runners were supportive and kept encouraging me to continue, so I was running naked. It was cold and rainy, so I wasn't exactly proud of what I was showing."
-- St. Paris, Ohio, resident Brett Henderson, on running naked in Cincinnati's Flying Pig Marathon after an alleged wardrobe malfunction. He was then subdued with a Taser and arrested by Cincinnati police.
Page 2 spin: Update: Henderson later pleaded guilty to public indecency. He was sentenced to one year of probation and 80 hours of community service. Henderson also is banned from running any future Flying Pig Marathons.
27.
"I played four years in Detroit. I can handle [getting hit by] a car."
-- Former Lions quarterback Joey Harrington, urging hospital staff to speed up his treatment after he suffered a broken collarbone and punctured lung when the bicycle he was riding was struck by an SUV in Portland, Ore.
Page 2 spin: It's funny because it's true.
26.

"If a man wants to divorce me and says our relationship has no value to him, and then he asks if he can sleep with me, the answer is no."
-- Baylor women's basketball coach Kim Mulkey, on having no interest in playing Texas A&M after the Aggies leave the Big 12
Page 2 spin: Apparently, this guy is good to go with "anybody, anytime." Baylor, however, is clearly not down with that kind of nets-with-the-ex scenario.
25.
"Don't run away with a girl after one date when you've been dating someone else for three or four years. You've been dating this woman for 30 years, show a little respect."
-- Louisville basketball coach Rick Pitino, on Pitt and Syracuse leaving the Big East for the ACC
Page 2 spin: Pitino probably isn't the best person to offer up this particular metaphor -- unless he wants to send us into convulsions from laughing.
24.

"How much powdered sugar do you want me to put on dog [expletive] to make it taste good? We're 0-5."
-- Former 49ers linebacker Gary Plummer, explaining what he told team executives who admonished him for being critical of the team on last season's radio broadcasts
Page 2 spin: A lot, Gary. Come on, they were 0-5. It's going to take a lot.
23.
"I've loved my career in porn, but I've always dreamed of owning a football club, and that would give me an even bigger buzz."
-- Porn star-turned-soccer team owner Klarisa Leone
Page 2 spin: This actually turned out to be the misquote of the year thanks to poor translation by The Sun tabloid of London. Turns out Leone only wanted to start a chapter of the Inter Milan fan club in Prague -- not actually buy the club Inter Prague
22.

"If we were trying to run a regular offense, he'd be screwed."
-- Broncos coach John Fox, on starting quarterback Tim Tebow
Page 2 spin: Good thing Tebow has such a supportive coach ... and that he plays in the AFC West.
21.

"He would say truly terrible things. One time, he said she had no talent and her fame wouldn't last."
-- Unnamed source, claiming that Nets forward Kris Humphries was responsible for his divorce with Kim Kardashian
Page 2 spin: So, yeah. But what was the terrible thing?
Thomas Neumann is an editor for Page 2.
Page 2's 2011 Quotes of the Year:
Nos. 100-81 | Nos. 80-61 | Nos. 60-41 | Nos. 40-21 | Nos. 20-1
Page 2 interviews the 2011 Quote of the Year winner
Page 2's 2010 Quotes of the Year:
Nos. 100-81 | Nos. 80-61 | Nos. 60-41 | Nos. 40-21 | Nos. 20-1
Page 2's 2009 Quotes of the Year:
Nos. 50-26 | Nos. 25-1