Commentary
Quotes of the Year: Brutal and honest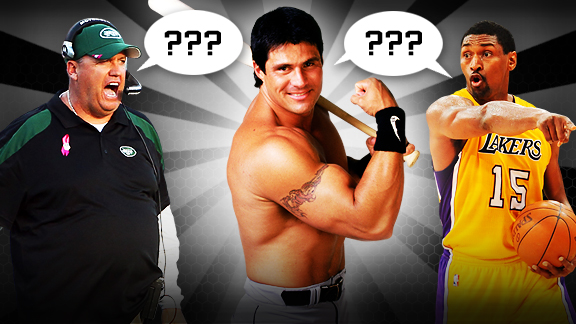 ESPN.com Illustration
Welcome to the stunning conclusion of Page 2's Quotes of the Year. Follow the twists, turns and astounding foolishness as we wrap up this year's countdown:
Page 2's 2011 Quotes of the Year:
Nos. 100-81 | Nos. 80-61 | Nos. 60-41 | Nos. 40-21 | Nos. 20-1
Page 2 interviews the 2011 Quote of the Year winner
20.
"Actually when I was in college, they didn't teach me how to pay parking tickets. I didn't take the class. I blame that on my professors."
-- Lakers forward Metta World Peace, on the unpaid parking tickets that temporarily held up his bid to change his legal name from Ron Artest
Page 2 spin: Who would've thought unpaid parking tickets would be the biggest obstacle to achieving World Peace?
19.

"My dry cleaning prob cost more than some people's wardrobe."
-- Central Florida guard Marcus Jordan, who also happens to be one of Michael Jordan's sons
Page 2 spin: We can't really blame Marcus for his braggadocio. When you lead a Conference USA team in scoring and assists, it's bound to go to your head.
18.
"I hope they have Twitter in heaven."
-- Former baseball star Jose Canseco
Page 2 spin: "St Pete, gates are locked. Must b sum mistake. I was first one in 40/40 club! Little help? #stillblacklisted"
17.
"He's every bit as good as Brett Favre was a few years ago; he just doesn't throw interceptions."
-- Wisconsin governor Scott Walker, on Packers quarterback Aaron Rodgers
Page 2 spin: Brett Favre's greatness won't be forgotten in America's Dairyland, but just like a nice block of Muenster, it apparently has an expiration date.
16.

"I got tiger blood, man. Dying's for fools; dying's for amateurs."
-- Incomprehensible actor Charlie Sheen
Page 2 spin: Sheen is definitely no amateur. He's definitely a professional.
15.
"Prayers for my colleagues that've gotten in trouble with the law during this difficult lockout process, may everything go well."
-- Patriots wide receiver Chad Ochocinco
Page 2 spin: In case you're interested, here's the roster of the 23 colleagues for whom Ocho was praying.
14.

"Watch how much evil, which we call crime, watch how much crime picks up, if you take away our game."
-- Ravens linebacker Ray Lewis, on the prospect that the NFL lockout could've wiped out the 2011 season
Page 2 spin: We're convinced "Evil Which We Call Crime" would be an awesome name for a heavy metal band.
13.

"You're a hater, and you're just unattractive inside."
-- Tennis star Serena Williams, to a chair umpire at U.S. Open during women's final
Page 2 spin: Serena was the 2009 winner for the Page 2 Quote of the Year for an outburst at the U.S. Open. Her words have teeth and claws.
12.

"I'm gonna kill you guys."
-- Former U.S. Olympic gymnast Paul Hamm, to Ohio police officers
Page 2 spin: Whatever. Try running that mouth at Serena Williams, tough guy.
11.
"You don't know me. I will kill you. I know all of you, and I will kill all of you and blow this place up."
-- Detroit Tigers first baseman Miguel Cabrera, via police report, to the staff of a Florida restaurant that wouldn't serve him because the establishment was closing
Page 2 spin: That's it. Let's settle this right now. You and Hamm into the octagon!
10.

"Football fans love it. If some stupid fans don't understand and appreciate such a gift, they can go to hell."
-- Mohamed Al Fayed, chairman of Premier League club Fulham, on statue of Michael Jackson outside the team's stadium
Page 2 spin: Al Fayed cherishes his team's fans almost as much as the SMU Mustangs football team cherishes theirs. A Big East invitation can't be far behind.
9.

"Kim Kardashian: Queen of the 'soft verbal' ??????????????????????
??????????????????????????????????????????????????"
-- Colorado State basketball coach Tim Miles
Page 2 spin: Miles definitely provided a quality riff, but all those question marks make it more difficult to retweet. Come on, Coach!
8.
"It was a bit of horseplay that went seriously wrong. We'd all had a few drinks when one of the lads did a moonie. A player picked up a pool cue and it all went wrong from there."
-- Anonymous, friend of a Welsh soccer player who was severely injured when a pool cue was rammed up his backside
Page 2 spin: All wrong? All wrong indeed.
7.

"She broke wind or picked her nose unselfconsciously and unapologetically. ... She did not bathe for days on end, did not use deodorant, did not brush her teeth, did not fix her hair, did not wear shoes or socks."
-- Fernando Flores, former bodyguard of Britney Spears, alleging in a sexual harassment suit against the singer that she lacked personal hygiene
Page 2 spin: Jason Trawick, the future Mr. Spears, sure is one lucky dude.
6.

"Heavenly father, we thank you tonight for all your blessings. You said in all things, give thanks. So we wanna thank you tonight for these mighty machines that you've brought before us.
"Thank you for the Dodges and the Toyotas. Thank you for the Fords, and most of all, we thank you for Roush and Yates partnering to give us the power that we see before us tonight. Thank you for GM Performance technology and the RO7 engines. Thank you for Sunoco racing fuel and Goodyear racing tires that bring performance and power to the track.
"Lord, I wanna thank you for my smokin' hot wife, tonight, Lisa, my two children, Eli and Emma, or as we like to call them, the Little E's. Lord, I pray you bless the drivers and use them tonight. May they put on a performance worthy of this great track. In Jesus' name, boogity-boogity-boogity.
Amen.
-- Joe Nelms, pastor of Family Baptist Church in Lebanon, Tenn., presenting the invocation
Page 2 spin: Page 2 would like to see a statue placed at Nashville Superspeedway in honor of Nelms' memorable oration.
5.

"I opened my eyes and there was a naked man wearing my leather jacket eating a Fudgsicle in front of my bed."
-- Movie star Nicolas Cage, describing a break-in at his home three years earlier
Page 2 spin: That is seriously weird. Next thing, you're going to tell us Cage is the cover boy of a Serbian biology textbook.
4.

"This deal is a sugar-coated Satan sandwich. If you lift the bun, you will not like what you see."
-- Rep. Emanuel Cleaver, D-Mo., on the federal debt ceiling bill that was signed into law in August
Page 2 spin: Coincidentally, this was the unofficial slogan of the 2011 Kansas City Royals.
3.

"Tryin' to get our two boys ready to carry 'em to the golf tournament before practice, right? Twelve cats live across the road. Our door's open. Screen's broke -- we need to get a new screen door -- but the screen's broke, so you can come in through the screen but you can't get back out of it.
"I turn and look. There's a little kitty cat in our -- in our kitchen. So I said, 'What're you doin' in here, little kitty cat?' By that time, [growl], the cat turns, tries to get back out, but the screen won't go that way. Cat starts goin' 'MEEOOOOW!' All crazy!
"And I told our players: We need more dogs. Bo's barkin' in the back, I have to go shut Bo up, Mel's like, 'What's goin' on?!' I say, 'There's a cat in the house.' 'Cat in the house?!' I said, 'Yeah, there's a cat in the house!'
"So I told our players, I tried to let it out the front door -- 'MEEEOOOW!' -- the cat's still goin' crazy in there. And I told our players: You need to be more like a dog! We don't need a bunch of cats in here -- meow! -- looking' in the mirror. 'I look gooood, I got my extra bands on, I got my other shoes.'
"Be a dog! We don't need no meows, we don't need no cats. We need more dawgs."
-- Former Coastal Carolina football coach David Bennett, describing ... ummm, we have no idea what he was describing. But whatever it was, it was fantastic.
Page 2 spin: Bennett was relieved of his duties at Coastal Carolina on Dec. 9. Page 2 hopes he finds a high-profile coaching gig as soon as possible.
2.
"I'm shocked!!! I was sleep and woke up with nipple piercings. What do I do ASAP?"
-- Lakers forward Metta World Peace
Page 2 spin: Man, if we had a nickel for every time that's happened to us ...
1.

"Hot dogs are meant to be enjoyed -- not weaponized."
-- Janet Riley, president of the National Hot Dog & Sausage Council, on the spectator who threw a hot dog at Tiger Woods at the Frys.com Open in October
Page 2 spin: Ding! Ding! Ding! We have a wiener winner.
• Click here to read Page 2's interview with Janet Riley about her Quote of the Year


Thomas Neumann is an editor for Page 2.
Page 2's 2011 Quotes of the Year:
Nos. 100-81 | Nos. 80-61 | Nos. 60-41 | Nos. 40-21 | Nos. 20-1
Page 2 interviews the 2011 Quote of the Year winner
Page 2's 2010 Quotes of the Year:
Nos. 100-81 | Nos. 80-61 | Nos. 60-41 | Nos. 40-21 | Nos. 20-1
Page 2's 2009 Quotes of the Year:
Nos. 50-26 | Nos. 25-1