Commentary
Page 2 looks at the year that wasn't
Originally Published:
December 28, 2011
By
Jim Caple
| Page 2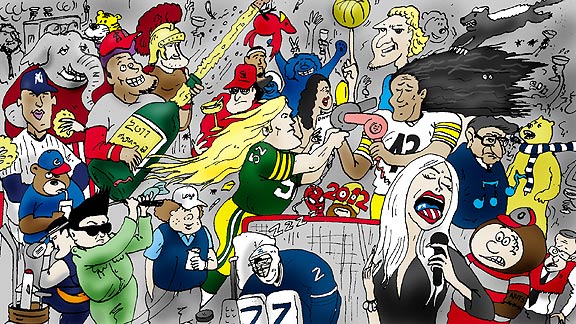 Kurt Snibbe/ESPN.com
The past year in sports was a forgettable 12 months, sort of like Christina Aguilera's grasp of the lyrics to "The Star Spangled Banner."
True, some moments -- the final Sunday at Augusta, the women's World Cup finish, Game 6 of the World Series -- were as unbelievable as the late Kim Jong-il's old reported 38-under-par golf scores. But after 365 days of scandals, lockouts, billionaire bickering and canceled games, overall 2011 was a year you literally want to forget.
Fortunately, our memories aren't nearly as indelible as a Buckeyes tattoo, so you already may have forgotten these moments happening in 2011 …
Jan. 1: After staying up all night to toast the New Year, Ohio State coach Jim Tressel wakes up hung over and unable to adequately explain where and when he got all those embarrassing tattoos on his chest.
Jan. 5: A YouTube video goes viral as more than 15 million people around the globe eagerly click on to hear the startling, radio-quality and heartwarming voice of a homeless Cleveland man saying, "LeBron James is a greedy @#%&!''
Jan. 8: The NFL playoffs begin with the 7-9 Seahawks rallying to beat the reigning Super Bowl champion Saints 41-36 on Marshall Lynch's exhilarating, earthquaking, 152-yard touchdown run. But the biggest upset occurs when the 14-2 Patriots are somehow knocked out in their first game by No. 11-seed Virginia Commonwealth.
Jan. 10: Auburn's victory over Oregon in the BCS Championship Game is marred when students get confused celebrating the school's first national title since 1957, and instead of tearing down the goalposts, they tear down Toomer's oaks.
Jan. 22: After America's most legendary name in fitness dies at age 96, Jack LaLanne is buried face down so his body may do pushups for eternity.
[+] Enlarge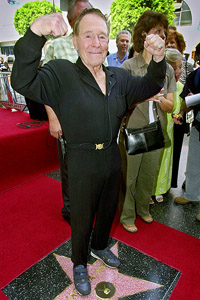 AP Photo/Reed SaxonExercise legend Jack LaLanne passed away this past year.
Jan. 23: Following decades of bitter, hate-filled feuding, the NFL's fiercest rivals meet for the 182nd time -- and the first time ever during the playoffs -- when commissioner Roger Goodell and union chief DeMaurice Smith sit down at Chicago's Soldier Field to argue over the new labor contract.
Feb. 2: Punxsutawney Phil sees Bret Favre's shadow, meaning six more months of irritating media speculation about whether he'll come out of retirement again.
Feb. 6: The NFL season ends when a record television audience of 111 million tunes in to watch Alex Rodriguez and Cameron Diaz in the Popcorn Bowl. Meanwhile, Christina Aguilera creates a stir at the Super Bowl when she mixes up the lyrics to the national anthem that is patriotically played at every sporting event -- the Black Eyed Peas' "Let's Get It Started.'' And finally, the Packers win the day's big event when Green Bay linebacker Clay Matthews' hair is declared prettier than Steeler safety Troy Polamalu's hair.
Feb. 11: After mass Arab Spring protests in Tahrir Square force the resignation of Egyptian president Hosni Mabarak, the Big East adds the Cairo University to the conference.
Feb. 17: Spring training opens in Arizona and Florida, including Fort Meyers where Red Sox pitchers go over the proper fundamentals for sneaking up to the clubhouse in the eighth inning for beer and a bucket of fried chicken.
March 25: Everyone's NCAA tournament bracket gets Jimmered.
March 27: Kentucky's John Calipari completes one of the most amazing coaching turnarounds in history when he reaches the Final Four just years after what the official NCAA record books shows as winless seasons at UMass and Memphis.
April 4: After UConn wins the Final Four in a blowout over Butler, coach Jim Calhoun celebrates by first taking down his share of the net profits.
April 8: Following another positive test for PEDs, Manny Ramirez receives a 100-game suspension but he doesn't notice.
April 10: After Rory McIlroy blows a four-stroke lead and seven other golfers hold a share of the lead during an extraordinarily chaotic Sunday, the Masters ends with the green jacket going to North Korean dictator Kim Jong-il, who shoots a 38-under-par 34 with seven holes-in-one.
April 12: The Tea Party movement gains a new member when TV viewers nationwide are able to read Kobe Bryant's lips saying, "No new taxes.''
April 29: Tens of millions of viewers around the globe are glued to their TVs for the eagerly awaited royal wedding of Kate Middleton and Prince Fielder. The groom celebrates the occasion by eating all the thrown rice in a big teriyaki bowl.
May 7: The 137th Kentucky Derby is won by 30-1 longshot Animal Kingdom, ridden by Marlin Perkins. Trainer Jim Fowler is sent ahead to deal with the drunk, angry bettors who put money on favorite Dialed In, who finishes eighth.
May 20: In a move that creates global financial uncertainty, Standard & Poor's lowers Fred Wilpon's credit rating to D-minus-minus, suitable for bird cages.
May 25: Broadcast of all sporting events are interrupted for a dramatic White House announcement that a team of Navy SEALS has successfully stormed the studio and removed Oprah from syndicated TV.
May 29: Due to Middle East instability, the average price for a gallon of gasoline rises to an all-time high in America. In a related story, Indianapolis 500 leader J.R. Hildebrand is passed with 1,000 feet left to go after running out of gas because he was hoping to save a nickel a gallon at Costco.
June 13: Dirk Nowitzki and the Dallas Mavericks win the NBA championship after the NBA locks LeBron James out of the fourth quarter of each game of the series.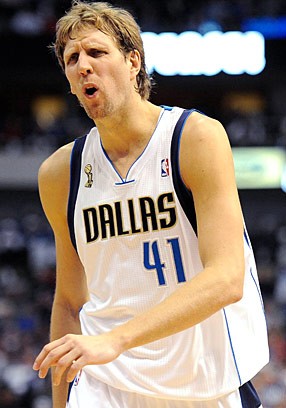 Jerome Miron/US PresswireA championship ring with the Dallas Mavericks has put Dirk Nowitzki in a different stratosphere.
June 15: The Arab Spring protests spread to yet another country when masses of angry protestors turn over cars, throw bricks at police and set buildings on fire to demand the immediate ouster of Vancouver Canucks goalie Roberto Luongo.
June 19: In the most extraordinary golfing performance since Tiger Woods won the 1997 Masters, 21-year-old Rory McIlroy rallies from his crushing collapse at Augusta in April by piling up an eight-stroke lead and shooting an historic 16-under-par at the U.S. Open. He finishes second, however, to Kim Jong-il, who shoots 52-under with 31 holes-in-one.
July 8: Derek Jeter reaches another career milestone when he sends home a woman with his 3,000th gift basket containing autographed baseball and photos.
July 9: Two Tour de France cyclists are hit by a 22-year-old texting this message while driving: "I'm driving in the Tour de France! This is so awesome -- oh, s@#&!"
July 18: The U.S. women's soccer hopes end abruptly and painfully in extended time against Japan when goalkeeper Hope Solo misses a Samba step and is eliminated from "Dancing With the Stars."
July 21: After failing to make the cut at the British Open, the world's most famous golfer shocks the sport when Kim Jong-il fires caddie Steve Williams and has him shot in front of a firing squad.
July 25: After 135 trying days of stalled talks, politically motivated filibusters, contentious arguments and angry accusations, a financial crisis is narrowly averted at the last minute when Roger Goodell and DeMaurice Smith agree to raise the debt-ceiling on NFL player salaries and owner profits.
Aug. 7: NASA announces its probe has discovered deposits of gypsum on Mars, evidence that water once flowed across the Martian surface and, most importantly, proof that the planet could sustain a Big East team.
Aug. 15: Riots and widespread looting break out across northeastern London and cause massive chaos when a tour bus filled with Vancouver Canucks fans visits the city.
Aug. 20: Kim Kardashian and NBA forward Kris Humphries get married but change the standard wedding vows to "For richer and more richer'' and "Until October sweeps week do we part.''
Aug. 24: Former Olympic gold medalist Justin Gatlin shows up at the world track championships with frostbitten feet from wearing wet socks in a cryogenic chamber. By the way, this really happened. Seriously, I'm not making that up.
Aug. 26: Usain Bolt is disqualified for a false start at the world track championships when he rises early from the blocks to begin his victory celebration in the 100-meter dash. In a related story, Justin Gatlin finishes last while running in slipper socks and a Snuggie.
Sept. 12: After two weeks of almost unrelenting rain at the U.S. Open, Novak Djokovic shows why he is the sport's No. 1 player by demonstrating his superb backhand, forehand and breaststroke.
Sept. 18: Worried his health must be failing, North Korea begins a death watch for Kim Jong-il after he shoots only three holes-in-one while losing a golf tournament to a 16-year-old girl, Lexi Thompson.
Sept. 29: Republican presidential hopeful and former Massachusetts Gov. Mitt Romney's campaign hopes take a hit during a GOP debate when he bets Texas Gov. Rick Perry $10,000 that the Red Sox will reach the postseason.
Oct. 8: The NBA postpones the season's scheduled start after a proposal to end the four-month lockout is blocked by Republican Speaker of the House John Boehner.
[+] Enlarge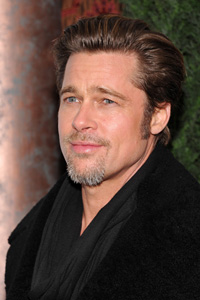 AP Photo/Evan AgostiniBrad Pitt played the role of A's GM Billy Beane in "Moneyball."
Oct. 16: The Chicago Cubs announce they finally have hired a general manager smart enough, innovative enough and dynamic enough to take the team to its first World Series since 1945: "Moneyball'' star Brad Pitt.
Oct. 21: The Occupy Fenway Park movement continues to draw national attention to itself, with more than 40,000 fans still living in tents inside the stadium and refusing to ever shut the @#$% up about the Red Sox's collapse.
Oct. 23: Tim Tebow satisfies an angry gathering of 5,000 at Denver's Occupy Wall Street protest with just five loaves of bread, two fishes and three completed passes.
Oct. 24: St. Louis manager Tony La Russa is perplexed when he calls Domino's for a large pepperoni pizza only to instead have right-handed reliever Lance Lynn show up on his doorstep with an order of General Tso's chicken and a copy of the Book of Mormon.
Oct. 28: St. Louis' dramatic World Series victory is dampened when Albert Pujols warns the Cardinals not to get any champagne on his new Los Angeles Angels jersey.
Oct. 30: Kris Humphries has his season delayed further when Kim Kardashian locks him out.
Oct. 31: America celebrates Halloween in the traditional way by sending trick-or-treaters to A-Rod's home to have Cameron Diaz hand them popcorn balls.
Nov. 4: Joe Paterno breaks the NCAA football record for covering up a scandal the longest.
Nov. 5: Dippin' Dots declares bankruptcy, prompting lovers of stadium-vended ice cream to wonder what they'll possibly eat in the future.
Nov. 17: In another thrilling comeback performance in primetime against the Jets, Tim Tebow piles up 102 yards rushing on the ground, 58 yards passing through the air and 77 yards walking on water.
[+] Enlarge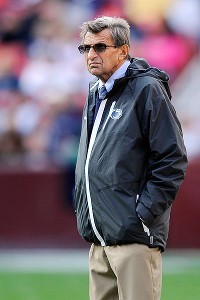 AP Photo/Nick WassIt was not a good year for Penn State coach Joe Paterno.
Nov. 21: The Baseball Writers Association of America votes Ryan Braun the National League's Most Valuable Chemist Award.
Nov. 25: Black Friday rapidly turns ugly when doors open at midnight and Angels general manager Jerry Dipoto shoots Cardinals general manager John Mozeliak with pepper spray so that he can grab Albert Pujols for the door-buster price of $254 million.
Dec. 1: Americans kick off the Christmas season by watching A-Rod and Cameron Diaz begin stringing popcorn for their tree.
Dec. 8: The biggest free-agent signing of the winter is official. While the city of St. Louis falls into a deep depression, the "We Are The 1 Percent'' movement gains a new member in Anaheim.
Dec. 11: After yet another thrilling overtime victory for Denver, Tim Tebow turns water into Gatorade and tosses it over Broncos coach John Fox.
Dec. 18: North Korea and the golf world mourn the passing of Kim Jong-il. After his son and successor, Kim Jong-un, is described by former classmates as a huge basketball fan, Pyongyang is quickly added to the Big East Conference.
Dec. 20: Millions of eager movie-goers line up for the long-awaited release of the dark, complicated and occasionally revolting documentary thriller, "The Girl with the Ohio State Tattoos.''
Dec. 24: Riots break out at a shopping mall when shoppers from Vancouver line up for the new Air Jordan's.
Dec. 25: Denver football fans gather with friends and family to exchange gifts, drink eggnog, sing carols and otherwise celebrate the birthday of Tim Tebow.
Dec. 31: Americans close out the year in the traditional manner by gathering by their TVs to watch that famous Times Square object drop and skip past Roberto Luongo's stick.