Commentary
Nickelback can save bowl attendance
Originally Published:
December 29, 2011
By
DJ Gallo
| Page 2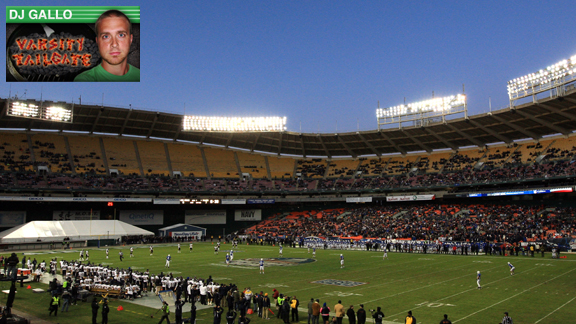 Getty Images
Many bowl games continue to struggle to sell tickets. Odd, considering that a full 1/35th of the games have broad significance. Yet the issue remains. It's time to come up with some ideas to help bowl games fill the stands.
Promote charitable tie-ins. The Kraft Fight Hunger Bowl is part of Kraft Foods' broader domestic hunger-relief initiative. The Famous Idaho Potato Bowl donated three potatoes to the Idaho Foodbank for each fan at the game. These are examples of how bowl games can drive ticket sales by showing fans their money is going to help those less fortunate. And who is less fortunate than a football program that will lose $185,000 by going to a BCS game? (Cue Sarah McLachlan music.) "Please say you'll be the answer for an innocent football program that is suffering right now. A program that needs your help. Please. Purchase a ticket to the Discover Orange Bowl right now. This is your chance to say: 'I won't sit by while a college football program is in need.' Please order a ticket today."
Have more sponsor giveaways. People like free stuff. People like getting value for their dollar. What if the Champs Sports Bowl gave all fans in attendance a 50 percent off coupon to its store? What if the Little Caesars Bowl had free pizza at the game? What if the Bell Helicopter Armed Forces Bowl gave the first 10,000 fans in the stadium an AH-1Z Zulu attack helicopter? I know I'd buy a ticket.
Publicize team virtues. Bowls need to spend less time telling us about the great players and coaches they're featuring and more time about the great citizens who are playing in the game. Tell us the names of every player who hasn't been arrested. Promote all of the ways each coach has stayed NCAA compliant. Let us hear about scandals that haven't been covered up. Most years, all that stuff would just make me assume I'm watching two goody-goody (aka bad at football) teams play. But after this season, I'll gladly watch any college football game featuring teams whose off-the-field issues don't make me want to retch.
Make the games more interactive. Most every bowl game has a "Fan Zone" where paying customers can get their pictures taken in uniform or meet former players, etc. Basic, fairly boring stuff. But being that only 2.8 percent of the bowl games mean anything major, why not pick a few lucky fans out of the stands to get a few snaps? Ticket sales would skyrocket and the stunt would also raise the reputation of certain conferences. "See. I told you that lady wouldn't lead their team to anything better than a field goal drive against us," Big East commissioner John Marinatto might say.
Schedule compelling halftime shows. Two words (annoyingly made into one): Nickelback. Sell two ticket sections: Booing and Tomato-Throwing. For 100 bucks, you get into the upper deck and back rows of the lower deck, close enough for Nickelback to hear your boos and taunts. For $1,000, you can sit in the first few rows, close enough to hit the band with tomatoes or other overripe produce. That's a sellout in five minutes, and at prices higher than any other bowl game in America.
Thursday, December 29


Champs Sports Bowl: Florida State vs. Notre Dame
Notre Dame closed the regular season with a 14-point loss to Stanford, as starting quarterback Tommy Rees went 6-for-13 with an interception. The Irish are also 0-2 all-time against Florida State in bowl games, and haven't won consecutive bowls since 1992-1993. All that makes the Irish a 3.5-point underdog. No matter. Notre Dame can easily win this game with the help of a delicious sports drink.


Valero Alamo Bowl: Washington vs. No. 12 Baylor
Robert Griffin III has a 192.3 passer efficiency rating. The single-season FBS record is Colt Brennan's 186.0 in 2006. Meanwhile, Washington running back Chris Polk needs 205 yards to become the Huskies' all-time leading rusher. Considering that the Washington and Baylor defenses are both ranked between 55th and 116th in every major defensive statistical category, sit back and enjoy the history that this game will surely provide.
Friday, December 30


Bell Helicopter Armed Forces Bowl: BYU vs. Tulsa
Usually this game features a military service academy. But with all due respect to our fighting men and women and the power and technology of America's weapons, none of them are nearly as intimidating as Tulsa's Captain Cane. No enemy, foreign or domestic, can defeat someone wearing dishwashing gloves and pimp boots who can harness the power of foam lightning.


New Era Pinstripe Bowl: Rutgers vs. Iowa State
The winner of the Pinstripe Bowl receives the George M. Steinbrenner Trophy, which serves to remind the recipient that Mr. Steinbrenner would be disappointed in the team for not winning the national championship.


Franklin American Mortgage Music City Bowl: Mississippi State vs. Wake Forest
This is the first bowl game of the season featuring an SEC team. Or, as it might be thought of in SEC country: This is the first bowl game of the season.


Insight Bowl: Iowa vs. No. 14 Oklahoma
Bob Stoops is actually an Iowa alumnus, having played defensive back for the Hawkeyes from 1979 to 1982. It's amazing his career wasn't cut short by injury due to playing in a visor. He's tough.
Saturday, December 31


Meineke Car Care Bowl of Texas: Texas A&M vs. Northwestern
Texas A&M is a 10-point favorite and Northwestern hasn't won a bowl game since 1949. This matchup doesn't seem great at first glance, but there's a reason for it: The Aggies probably have to crush a Big Ten team in bowl game in order for their SEC membership to become official.


Hyundai Sun Bowl: Georgia Tech vs. Utah
Georgia Tech head coach Paul Johnson has lost four consecutive bowl games: the 2006 Meineke Car Care Bowl, the 2008 Chick-fil-A Bowl, the 2010 FedEx Orange Bowl and last year's AdvoCare V100 Independence Bowl. You have to start wondering if this guy can't win the (not really that big) game.


Kraft Fight Hunger Bowl: Illinois vs. UCLA
Here are the opening two sentences of ESPN's official game preview: "UCLA is the first team in a decade to earn a trip to a bowl with a losing record. Illinois is the first FBS team in history to close the regular season with six straight losses after opening with six consecutive wins." Yikes. The Fight Hunger Bowl is played in San Francisco. If the stadium has any electrical or lightning problems, I doubt anyone will mind.


AutoZone Liberty Bowl: Cincinnati vs. Vanderbilt
Cincinnati is the Big East co-champion; Vanderbilt was the last bowl-eligible team in the SEC. They are matched in a bowl game. That seems about right.


Chick-fil-A Bowl: Virginia vs. No. 25 Auburn
A loss by 7-5 Auburn would make the Tigers the first defending national champion with fewer than eight wins since USC in 1963, and the first defending champ with six losses or more since Ohio State in 1943. Obviously it's a must-win for Auburn. The Tigers don't want to be discarded to the scrap heap of college football history like USC and Ohio State were.
Monday, January 2


TicketCity Bowl: No. 19 Houston at No. 22 Penn State
If you plan to attend this game, don't buy tickets at the bowl's official site: TicketCityBowl.com. A "Premier Sideline Seat" will cost $75 there. Instead, head over to TicketCity.com, where I found a "Premier Sideline Seat" for as low as $25. You have to admire TicketCity for underselling its own bowl.


TaxSlayer.com Gator Bowl: Ohio State vs. Florida
It's being called the Urban Meyer Bowl. Unfortunately, Ohio State won't be allowed to play in its own coach's bowl next year. Awkward.


Outback Bowl: No. 17 Michigan State vs. No. 16 Georgia
This should be a great game between two 10-3 teams. At least tune in for the last few minutes, because if you miss the final minutes of a Michigan State football game, you obviously don't like sports or entertainment.


Capital One Bowl: No. 20 Nebraska vs. No. 9 South Carolina
A win by South Carolina would give the program its first 11-win season. Nebraska will struggle to score on the Gamecock defense, and South Carolina enters as a 2.5-point favorite. Bo Pelini's best bet might be to just throw a few chickens on the field before kickoff and hope for the best.


Rose Bowl: No. 10 Wisconsin at No. 5 Oregon
It's the granddaddy of them all. Since there are now 35 bowls, perhaps granddaddy should have taught his family more about birth control.


Tostitos Fiesta Bowl: No. 4 Stanford vs. No. 3 Oklahoma State
It's one of the best bowls on this year's schedule, but you have to imagine that Stanford and Oklahoma State will be disappointed to find out that last year's game was for all the Tostitos. There are simply none left. Sorry, fellas.
Tuesday, January 3


Allstate Sugar Bowl: No. 13 Michigan vs. No. 11 Virginia Tech
The Wolverines and Hokies were both BCS at-large selections. Considering the ACC is 2-11 all-time in BCS games, with Virginia Tech going 1-4, you have to wonder why the BCS committee wants to needlessly humiliate a member conference.
Wednesday, January 4


Discover Orange Bowl: No. 23 West Virginia vs. No. 15 Clemson
Here's Clemson coach Dabo Swinney on the game: "I'd be surprised if there's not some points scored in this one. I don't think it'll be a 6-3 ballgame, you know, like maybe some of the other games around. This one should be an exciting game for fans." Ha-ha! Take THAT, LSU and Alabama! If you were much worse, you would totally want to be West Virginia and Clemson.
Friday, January 6


AT&T Cotton Bowl: No. 8 Kansas State vs. No. 6 Arkansas
This game features the highest-ranked team Alabama beat (Arkansas) versus the highest-ranked team Oklahoma State beat (Kansas State). But let's not put too much into the outcome of this game in regard to the BCS title matchup. The BCS system is a disaster regardless of who wins this game.
Saturday, January 7


BBVA Compass Bowl: SMU vs. Pitt
Getting to play so late into bowl season is great for Pitt because it gives their players enough time to get foolishly comfortable with their latest temporary coach.
Sunday, January 8


GoDaddy.com Bowl: Arkansas State vs. Northern Illinois
After the NFL wild-card playoff action ends, head on over to ESPN and watch the Sun Belt and MAC champions play. It will trump anything you see that day from the NFC East or AFC West champions.
Monday, January 9


Allstate BCS National Championship Game: No. 2 Alabama vs. No. 1 LSU
We know that the winner will be the national champion. But will it entertain Dabo Swinney and America in the process? That is the true test of greatness.
DJ Gallo is the founder of SportsPickle.com. His first book, "The View from the Upper Deck," is available from only the finest bargain-book retailers. His next book project will be released soon. You can follow him on Twitter @DJGalloESPN.