Commentary
Prepare for 2012 with 20s and 12s
Originally Published:
December 30, 2011
By
Doug Williams
| Special to Page 2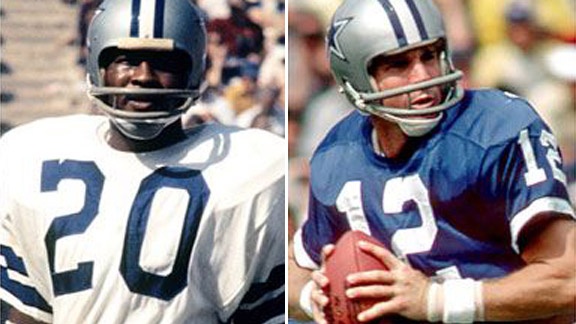 AP Photo, US PresswireMel Renfro and Roger Staubach formed one of the best 20-12 combos in NFL history.
Bring on the year 2012.
On the Chinese calendar, it's the Year of the Dragon. On the Mayan calendar, it's the year we all implode like the Red Sox in September. Supposedly the ancient Mayans predicted the end of the world for Dec. 21, 2012, just in time to leave us all in suspense about the NFL wild-card races.
But to those in sports -- or who follow sports -- numbers can hold special meaning (why else would Clinton Portis pay $18,000 to a Redskins teammate for the right to wear No. 26?), and 2012 can mean plenty.
Aside from being a somewhat goofy movie with John Cusack, "2012" also is an array of numerals that can link Ray Rice, Catfish Hunter, Carl Lewis, a couple of outstanding Dodgers teammates, the Beatles, former Cavs All-Star forward Mike Mitchell and President James A. Garfield.
How so? Read on:
THE MILESTONES
Little big man: Ray Rice is just 5-foot-8, but while playing for Rutgers he became the first player in Big East history to rush for more than 2,000 yards in a season, totaling exactly 2,012 in 2007.
Kareem's career: He's the NBA's all-time career scorer, but Kareem Abdul-Jabbar also came into the league as a dominant rebounder. (Just ask his biggest fan, Roger Murdock of "Airplane" fame.) Abdul-Jabbar played 20 seasons in the NBA and for 12 consecutive years averaged more than 23 points and 10 rebounds.
Catfish: Jim "Catfish" Hunter threw a perfect game, won 224 games and was elected to Baseball's Hall of Fame. He wasn't a strikeout pitcher but got his share, finishing with 2,012 whiffs in nearly 3,500 innings.
The ball was slippery: Mack Calvin played 10 seasons in the ABA and NBA and was known as a quick, 6-foot scoring guard. But he also turned the ball over 2,012 times, including an ABA-leading 356 in 1970-71.
Durable duo: Roger Peckinpaugh and Wally Moses never played at the same time, but the major leaguers each played 17 seasons and 2,012 games in the big leagues. Peckinpaugh may be remembered most for just seven games, however -- the ones in the 1925 World Series when he committed eight errors at shortstop.
We're No. 106! Tied on the NCAA Division I basketball scoring list at 2,012 points -- far behind all-time leader Keydren Clark's 3,058 career points -- are Ohio's Brandon Hunter and Southern Illinois' Kent Williams, who both played their final seasons in 2003. Hunter once led the NCAA in rebounding; Williams is a member of the Salukis' Hall of Fame.
Cavalier performance: In 1981, Mike Mitchell, a small forward with a high-arcing jump shot, scored 2,012 points (for a career-high 24.5-point average) for the Cleveland Cavaliers and made the only NBA All-Star Game of his fine 11-year career.
A 20/12 guy: Craig Biggio was one of the Houston Astros' original Killer Bees (along with Jeff Bagwell and Derek Bell) and an iron man who three times played 162 games in a season. Biggio played 20 seasons with 12 seasons of more than 650 plate appearances.
HEY, DUDE
The Beatles hold the record for most No. 1 Billboard hits in the U.S. with 20. In the U.K., they produced 12 studio albums. Their longest song, "Revolution 9," seems like it runs 20:12, but it's really only 8:22.
PERFECT TIMING
At the 1987 U.S. Track and Field Championships, Carl Lewis sprinted to a win in the 200 meters with a time of 20.12. If only his (in)famous rendition of the national anthem had been so quick.
YOU CAN LOOK IT UP
The 20th most-visited website in the world is Google Deutschland. No. 12 on the list is Yahoo! Japan.
20s & 12s: SOME DYNAMIC DUOS
Rocky Bleier (20) and Terry Bradshaw (12): The running back (now a motivational speaker) and QB (now motivated to speak) teamed up for four Steelers Super Bowl championships.
Mel Renfro (20) and Roger Staubach (12): Five-time Pro Bowl cornerback Renfro and Hall of Fame quarterback Staubach helped the Dallas Cowboys win two Super Bowls together.
Don Sutton (20) and Dusty Baker (12): For five seasons, the Hall of Fame pitcher and power-hitting left fielder played for the Dodgers in L.A., winning two NL pennants as teammates.
Manu Ginobili (20) and Bruce Bowen (12): The scorer (Ginobili) and defensive specialist (Bowen) have been together on three Spurs NBA championship teams.
Natrone Means (20) and Stan Humphries (12): The running back-QB duo helped the Chargers to the team's only Super Bowl appearance in XXIX, where Means scored a TD and Humphries threw for one in a lopsided loss to the 49ers.
THE PRESIDENTS, 20 & 12
James A. Garfield was the 20th president of the United States. Zachary Taylor was the 12th. Both were major generals in the Army -- Taylor serving in Mexico and Garfield in the Civil War -- and both died early in their terms, Garfield by an assassin's bullet in 1881 (the year Cap Anson won the NL batting title) and Taylor by gastroenteritis in 1850 (two years before Anson was born).
2,012 MILES APART
Brownsville, Texas, and San Francisco are 2,012 miles apart, according to a website called (conveniently enough) distancebetweencities.net. Brownsville is where singer/actor/former football player Kris Kristofferson was born in 1936, 64 years before he recorded the song "San Francisco Mabel Joy." It's also the distance between the home of the Masters, Augusta, Ga., and Heber City, Utah. Though no golfer from Heber City has won the green jacket, Jack Nicklaus, who won six of them, designed Heber City's Red Ledges resort course.
ALMOST STRANGERS
It's about 2,012 miles between Stanford and the University of Alabama -- give or take a few Andrew Luck completions -- or about the distance of average road trips for football teams in the future Big East Conference. Yet Stanford and Bama have played just twice, tying in the 1927 Rose Bowl and the Crimson Tide winning a rematch in '35.
2012 PLUS ONE
The coming year is a leap year, meaning 2012 has 366 days, not 365, with the extra coming on Feb. 29. Among those born on Feb. 29 is Pepper Martin, the former Gashouse Gang Cardinals star, and John Niland, former Pro Bowl guard with the Cowboys in the 1960s and '70s.
20 & 12: PRODIGIES
At 20, Dwight Gooden became the youngest major league pitcher ever to win 20 games when he went 24-4 with a 1.53 ERA in 1985. At the age of 12, Li Lianjie -- better known as actor/martial arts master Jet Li -- won gold medals in the martial art of wushu at the All China Games.
20 & 12, RETIRED
Jersey No. 20 has been retired 13 times total in major league baseball, the NFL, NBA and NHL; No. 12 also has been retired 13 times -- not counting the Cowboys and Steelers, who don't officially retire numbers but haven't issued the No. 12s worn by Staubach and Bradshaw since they retired.
Doug Williams is a freelance writer based in San Diego.
Special to ESPN.com
Former sports editor, San Diego Union-Tribune
Freelance writer based in San Diego
ESPN.com contributor since 2010