Commentary
Here's the final sports quiz of 2011
Updated:
January 2, 2012, 2:40 PM ET
By
Jim Caple
| Page 2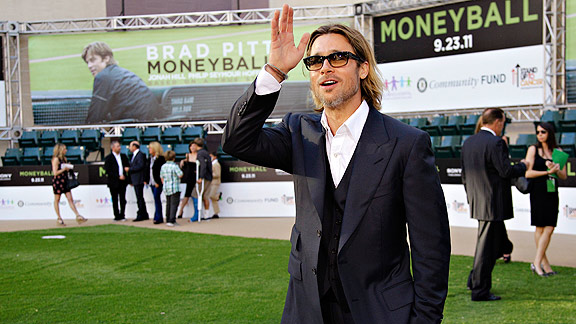 AP Photo/Ben MargotWhich was higher in 2011? The box-office gross of "Moneyball" or the Athletics' payroll?
Here's one last quiz about the past year to take, while wondering when you'll finally stop writing 2011 on your checks. (Wait a second -- do people still use checks?).
1. Arrange the following from lowest to highest:
A. Days the Kardashian/Humphries marriage lasted
B. Days the Pittsburgh Pirates had a winning record
C. Days the NFL lockout lasted
D. Days the NBA lockout lasted
E. Days Tim Pawlenty's presidential campaign lasted
2. Which was higher?
A. The box-office gross for "Moneyball''
B. The Athletics player payroll
3. What athletic feat was not ascribed to Kim Jong Il, the longtime North Korean dictator who died in December?
A. Shot a 38-under-par round of golf with five holes-in-one on a 7,700-yard course
B. Bowled a perfect 300 game in his first try
C. Dunked a basketball over LeBron James, though the video was confiscated by James
D. Provided advice to North Korea's World Cup soccer team coach via an invisible cellphone
4. Arrange the following from highest to lowest:
A. Points gained on Dow Jones in 2011
B. Pounds lost by Rulon Gardner on "The Biggest Loser''
C. Points allowed by Tampa Bay Buccaneers
D. Points allowed by Kansas Jayhawks
5. Who did not travel to Germany in 2011?
A. Dirk Nowitzki
B. Alex Rodriguez
C. Buffalo Sabres center Luke Adam
D. Hope Solo
E. None of the above
[+] Enlarge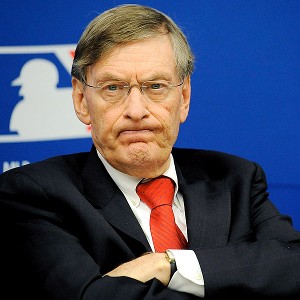 Patrick McDermott/Getty ImagesWas the 2011 salary of baseball commissioner Bud Selig higher than that of Miami Heat superstar LeBron James?
6. Who had the higher salary in 2011?
A. Bud Selig
B. LeBron James
7. What injury did not occur in 2011?
A. Cyclist Johnny Hoogerland was hit by a French TV car in the Tour de France and sent flying into a barbed wire fence but finished the race anyway.
B. 2008 Olympic gold medalist Justin Gatlin's feet were frost-bitten after he wore wet socks in a cryogenic chamber.
C. Giants pitcher Jeremy Affeldt stabbed himself in the hand while trying to separate two frozen burger patties with a knife.
D. Seahawks quarterback Tarvaris Jackson strained an oblique trying to knock over milk bottles at a state fair midway.
8. Who was not arrested in 2011?
A. Manny Ramirez
B. Charlie Sheen
C. Hines Ward
D. Ben Wallace
E. Paul Hamm
F. All of the above
9. Who did not reveal he was gay in 2011?
A. Olympic skater Johnny Weir
B. Phoenix Suns president/CEO Rick Welts
C. Former Villanova star Will Sheridan
D. Kobe Bryant
10. Which team (record in parentheses) did not play in its sport's postseason in 2011?
A. Seattle Seahawks (7-9)
B. UCLA Bruins (6-8)
C. Indiana Pacers (37-45)
D. Dallas Stars (42-29-9)
E. Philadelphia 76ers (41-41)
Answers:
1. B (50), A (72), E (84), C (135), D (160).
2. A ($75 million to $65 million).
3. C, dunked a basketball over LeBron.
4. A (640), D (525), C (494), B (173).
5. E, none of the above (all of them traveled to Germany).
6. A, Bud Selig ($18.2 million to $16 million).
7. D, Tarvaris Jackson.
8. B, Sheen.
9. D, Kobe Bryant.
10. D, Dallas Stars.
Jim Caple is a senior writer for ESPN.com. You can follow him on Twitter at jimcaple.