Commentary
Winners and losers of 2011 NFL season
Originally Published:
January 2, 2012
By
DJ Gallo
| Page 2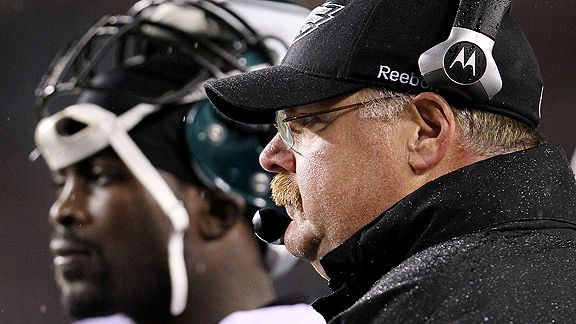 Chris McGrath/Getty ImagesAndy Reid and Michael Vick were big winners despite a rough season in Philadelphia.
We all now know which teams are in the playoffs and all the seedings and matchups. But who really won the 2011 season?
WINNERS
Andy Reid: Reid has coached the Eagles since 1999. After early success, Philadelphia hasn't been to an NFC Championship Game since 2008 and hasn't been to the Super Bowl since 2004. This year the Eagles spent a fortune and felt they were primed to win a Super Bowl, yet the team couldn't even take a lousy division whose winner went 9-7. In one of the oddest decisions on record, Reid made his offensive line coach his defensive coordinator and still, 13 years into his tenure, has yet to discover what this "linebacker" position is. Despite all of this, there is zero indication that Reid will lose his job. He's bulletproof. No failure can topple him. People think he's overweight? Wrong. He's covered in gelatinous Kevlar, and he's immovable.
Ryan Fitzpatrick, Kevin Kolb, Michael Vick, Santonio Holmes: They got paid a ton of money, then did pretty much nothing. It's the American dream. Congratulations, fellas.
Jacksonville Jaguars: Blaine Gabbert was mostly awful all season. Thanks to Tim Tebow's late-season collapse, the Broncos may be more than willing to trade him back to Florida, setting up Tebow's greatest miracle yet: changing tarps into paying fans.
Roger Goodell: The new kickoff rule was widely blasted before the start of the season. Touchbacks were up this season, but no one can say the game was negatively impacted in any way. Good job, Roger. Go buy yourself something nice with James Harrison's money.
Matt Flynn: No quarterback has made so much money off one game since JaMarcus Russell abused Charlie Weis' awful Notre Dame team at the 2007 Sugar Bowl. A free agent this offseason, Flynn, also an LSU grad, might want to tell his agent to limit any Russell comparisons.
Peyton Manning and Jay Cutler: Their teams went a combined 3-19 without them. No one wants to get hurt, but it's not so bad when you can reassert your dominance while wearing a sweatshirt on the sideline.
Kyle Orton: He didn't have a good season, but he played a huge role in the season's two biggest stories. If it wasn't for Orton playing poorly at the start of the season, Tebowmania wouldn't have happened. And if Orton didn't have a good game in Week 15, the Packers probably would have gone 16-0. Who knows what amazing stories Orton's inconsistency will provide us in 2012?
LOSERS
Oakland Raiders: At the time, Hue Jackson called the Carson Palmer deal "probably the greatest trade in football." Everyone else saw the trade details and immediately did this. It's tempting to put the Raiders in the Winners category for the amazing feat of getting fleeced by the Bengals. Alas ... the Raiders remain losers.
Albert Haynesworth: The Patriots lost their last two games of the year with Haynesworth on the roster. The Buccaneers then picked him up and proceeded to lose seven in a row. Haynesworth is pretty much the opposite of Manning and Cutler. Too bad the Colts or Bears didn't pick him up. Would they somehow have lost twice each week, or would a black hole of failure open up and suck the entire team in? The possibilities are endless. It would have been interesting to see, simply for science.
Jerry Jones: He dumped Wade Phillips last year, made Jason Garrett the head coach and brought in Rob Ryan as defensive coordinator. Garrett's season will be remembered for icing his own kicker and Ryan's defense frequently got lit up. Meanwhile, Phillips turned the Texans' defense into one of the best in football. He who laughs all the time also laughs last.
Ndamukong Suh: He made himself into a villain this season. That's fine for some people, but Suh was trying to position himself as a marketable player. Now every time I eat Subway, I fear the counter girl will attack me and step on my head.
Andrew Luck: Cam Newton and Andy Dalton had outstanding rookie seasons. Luck will need to blow those out of the water to get close to the hype he's generated by obliterating Pac-12 defenses. No fault of his own, but there's almost no way he can meet expectations. And it's unfortunate because the "Suck for Luck" slogan can be quickly modified by fans to "Luck Sure Sucks."
Quote of the Week
"Uh, maybe on one side of the ball."
-- Antonio Cromartie, Jets cornerback, when asked whether the Jets gave enough effort to beat the Dolphins.
Ooof. That's rough. No one has accused Mark Sanchez and the Jets' offense of not trying before. Sanchez tries. It's just that being an NFL quarterback isn't easy. Let's watch Cromartie play quarterback for the Jets and see how well he does out there. I bet that he'd gain new respect for the offense and that the Jets would have a better record. Win-win.
Stat of the Week
5,476
Drew Brees ended his season with 5,476 passing yards. At his current pace of 151 passing yards per game, No. 10 overall pick and golden-tressed Blaine Gabbert will eclipse 5,476 yards passing for his career in Week 7 of the 2013 season. Brees may go down as bald people's greatest hero of all time.
Players Who Will Be Picked Way Too Early in Your 2012 Fantasy Draft
Matt Flynn, QB, Packers: 31-for-44, 480 yards, 6 TD, INT
Chris Ivory, RB, Saints: 19 carries, 127 yards, TD
Dexter McCluster, RB, Chiefs — 86 total yards, TD
Michael Crabtree, WR, 49ers: 9 catches, 92 yards, 2 TD
Austin Collie, WR, Colts: 9 catches, 96 yards, TD
Dennis Pitta, TE, Ravens: 6 catches, 62 yards, TD
Pictures of the Week
"Ha-ha! I support your economy! Take THAT!"
"I guess I'd better check out the job listings. I hope someone is hiring."
"Together we've proved once and for all that two wrongs don't make a right. I'm proud of that."
MORE GALLO PHOTO CAPTIONS!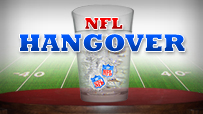 Page 2 has just the thing to cure your hopelessly bad case of the Mondays.
DJ Gallo's NFL Hangover photo gallery

"What are you? A sports columnist? You don't have to bow to me."
"Time for a little pregame wax snack."
"Look at the mess you've all made of my reputation!"
"Have you ever considered becoming a neck donor?"
"Oh, yeah. It's just like riding a bike. I'm looking good."
"So how's it feel to coach the black sheep of the division, Pat?"
"Do it. Go ask how your buttocks taste."
"You know, you made me look pretty stupid." "Whoa. That was all you. I am what I am."
News Conference Questions Someone Should Have Asked
Raheem Morris: "Is your best hope that your general manager has also quit on the season and will forget to fire you?"
Jim Caldwell: "Will you have your Realtor contact Andrew Luck to see if he's interested in buying your house?"
Rex Ryan: "As an expert on terrible predictions, what do you think about the Mayans and 2012?"
5 Things I Resolve To Think I Think
1. Good news! I think I figured out professional football. If your fans spell out your name -- such as "E-A-G-L-E-S! Eagles!" or "J-E-T-S! Jets! Jets! Jets" -- you will forever be disappointing. But if they don't spell it out, you have a shot at winning something. Glad I could help with this matter.
2. During Matt Flynn's assault on the Packers' record book, some people on social media were getting dangerously close to implying that maybe Aaron Rodgers isn't that good and is just a "system quarterback." Who knows? Maybe that's true. If that is the case, everyone should run Green Bay's "system." So to recap: Don't spell your team's name and run a great system. Don't call my house. My agent will handle my coach/general manager job offers. Thank you.
3. Jason Taylor: Hall of Famer? Probably. Jason Taylor: Most productive athlete post-"Dancing with the Stars" appearance? Definitely.
4. Penn State is reportedly trying to hire Patriots offensive coordinator Bill O'Brien as its new head coach. O'Brien, of course, got publicity three weeks ago when he got into a yelling match on the sideline with Tom Brady. If Penn State can't come to terms with O'Brien but is set on hiring someone who yells at Tom Brady, perhaps it should consider Fireman Ed. Or maybe even Bridget Moynahan.
5. The criticism that Jets captain Santonio Holmes is getting for being pulled out of the team's final game is unfair. By creating such a problem that he was taken out of the team's most important game of the season, he enabled others to play. He empowered those around him to perform when it mattered most. That's what great leaders do. Santonio Holmes: You are the leader America needs.
DJ Gallo is the founder of SportsPickle.com. He has written a book and written for Comedy Central, The Onion and ESPN The Magazine. He co-hosts the Page 2 Podcast and has appeared on ESPNews. You can follow him on Twitter at @DJGalloESPN.