Commentary
Clip and save: First sports quiz of 2012
Updated:
January 3, 2012, 10:53 AM ET
By
Jim Caple
| Page 2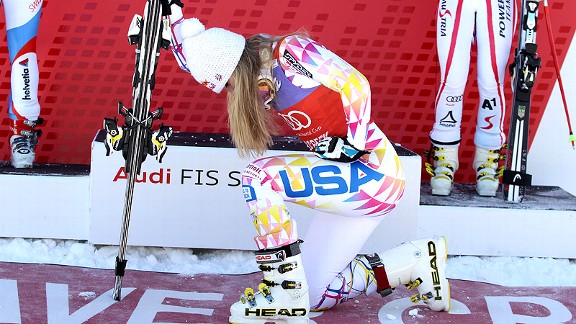 AP Photo/Alessandro TrovatiWill Olympic skier Lindsey Vonn join "Dancing with the Stars" this year?
What will 2012 bring the wide world of sports? Your guess is as good as mine. And you can prove it with this 2012 prediction quiz. Fill it out, keep track of your answers and we'll see how it all panned out the end of the year.
1. Predict the following from lowest to highest:
A. Days in 2012 until Prince Fielder signs
B. Days Tim Tebow survives in the NFL playoffs
C. Days before Ron Paul drops out of presidential campaign
D. Days the Cubs will spend in first place
2. Who will agree to appear on "Dancing With the Stars''?
A. Michael Phelps
B. Lindsey Vonn
C. Amanda Knox
D. Jordyn Wieber
E. Tony La Russa
F. None of the above
3. True or false: Madonna will have a wardrobe malfunction or profanity bleeped out during the Super Bowl halftime performance.
4. Who among the following will deliver an acceptance speech?
A. Barry Larkin at Cooperstown
B. Denard Robinson at the Heisman Trophy ceremony
C. Robert Griffin III at The ESPYs
D. Mitt Romney at Republican convention
E. All of the above
5. What will be the higher number?
A. All-Star votes for Albert Pujols
B. Republican primary votes for Rick Perry
6. Who will People magazine name its Sexiest Man Alive?
A. Mark Sanchez
B. Ryan Gosling
C. Tim Tebow
D. Derek Jeter
E. Newt Gingrich
F. None of the above
[+] Enlarge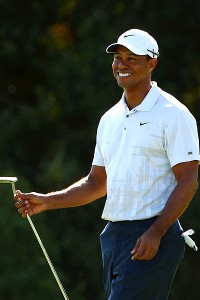 Ryan Pierse/Getty ImagesWhat kind of season will Tiger Woods have this year?
7. What will Tiger Woods win in 2012?
A. The Masters
B. U.S. Open
C. British Open
D. Byron Nelson Championship
E. a paternity suit
F. none of the above
8. Which college will win the NIT?
A. Washington
B. Wake Forest
C. Minnesota
D. UCLA
E. Villanova
F. None of the above
9. True or false: The London Olympics will be disrupted by a riot.
10. What will receive the highest ratings?
A. Final Four championship game
B. NBA Finals championship game
C. Last game of the World Series
D. NFL draft
E. Opening ceremonies of the Olympics
E. Final night of "Dancing With the Stars''
Jim Caple is a senior writer for ESPN.com. You can follow him on Twitter at jimcaple.