Commentary
Readers: Unexpected moments of year
Updated:
January 5, 2012, 9:56 AM ET
By
Jerry Greene
| Page 2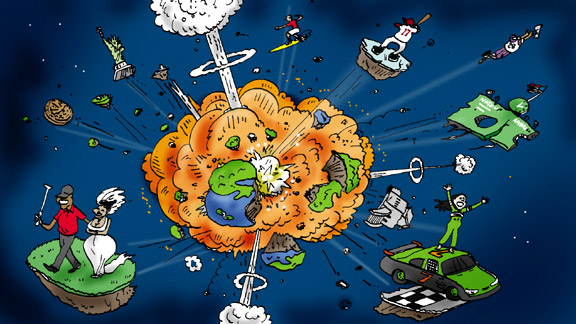 Kurt Snibbe for ESPN.com
This may be a risky year for predictions, as many believe the ancient Mayans foretold the end of the world on Dec. 21, 2012. Let's hope they're wrong. For one thing, that's a Friday, so we wouldn't even get the weekend first.
However, the common scientific belief now is that the Mayans said no such thing. Apparently they looked forward to Dec. 21, 2012, as the end of a creation cycle, calling for much celebration and goodwill. In other words, bring out Dick Clark and drop the Times Square ball about 10 days early.
The Mayans loved sports, you know. (This is a subtle segue so I can get to the list.) They had a ball game they called "pitz." Nothing like a good game of pitz -- except it seemed to involve decapitation. You never wanted to lose in pitz.
Well, we don't have any predictions about pitz but we do have a reader-generated list of surprising sports events this year. Unfortunately, the world ending is predicted here, too, so maybe we had some Mayans playing our game. Check it out:
Top 10 Unexpected Sports Moments of 2012
10. "Hufflepuff wins gold in men's Quidditch at London Olympics despite no proof the school is a sovereign nation," said Erik D. of Elmhurst, N.Y.
9. "Jacksonville Jags, noting Packers' financial windfall from selling more team stock, become publicly owned. Unfortunately shares are not bought but Jags make deal to give them away as prizes in boxes of Cracker Jack," said Lisa H. of Hamilton, Mont.
8. "Rex and Rob Ryan take vow of silence before NFL season begins," said Brian V. of Pleasantville, N.J.
7. "Danica Patrick wins the Daytona 500," said Linda C. of Daytona Beach, Fla.
6. "Charles Barkley breaks par at Augusta -- in a swimsuit," said Kristin B. of Los Angeles.
5. "Florida Marlins invite Tim Tebow to make ceremonial first pitch on opening day but, just to be safe, wait until the start of the ninth inning for him to throw. His pitch enriches the life of the catcher and gets full coverage on national TV although the score of the game is never mentioned," said John N. of Houston.
4. "Michael Jordan releases another new shoe but this one costs just 40 bucks and nobody wants it," said Gene M. of Athens, Ga.
3. "Serena Williams opens the 'Save Our Line Judges Foundation'," said Sally K. of El Paso, Texas.
2. "Manny Pacquiao fights Floyd Mayweather," said Ben M. of Peoria, Ill.
1. "Tiger Woods marries Kim Kardashian on Dec. 21 and the world explodes," said Jimmy W. of Brisbane, Australia.
Are you sure you're not Mayan, Jimmy?
Jerry Greene is a regular contributor for ESPN.com. He can be reached at osogreene@aol.com.