Commentary
Let's compare nuptials of LBJ vs. MJ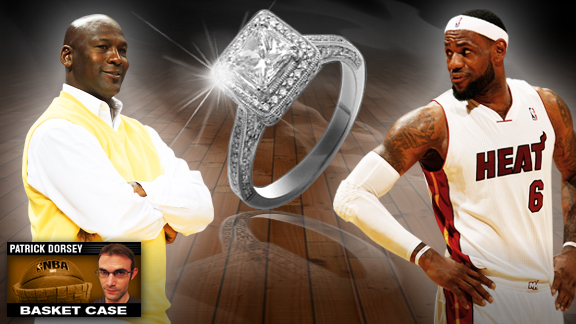 ESPN.com IllustrationMichael Jordan and LeBron James recently said they are both getting married.
There LeBron James goes again.
Trying to be Michael Jordan.
He started with No. 23. Just like Jordan.
Signed with Nike. Just like Jordan.
Ruined a franchise. Just like Jordan.
(No, we kid, we kid. Both the Cavaliers and Bobcats are on the rebound … just like Kobe. Zing! We'll be here all week, folks. And every week! Welcome to Basket Case.)
But back to LeBron's pursuit of Jordan, which blew way past basketball and into the halls of matrimony. Yes, during the holidays -- even as our beloved NBA was returning to the court for the first time since a certain player kinda sorta didn't do so good in the Finals -- the league's leading living legend stole headlines by proposing to his girlfriend … only to be matched days later by the young chaser.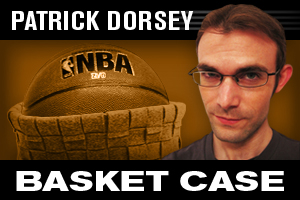 Jordan complex, anyone?
OK, OK, we're kidding there, too. LeBron isn't actually Jordan-obsessed. Everyone should be entitled to true love and marriage, even guys with bizarre mustaches or penchants for celebrating early.
And here's the thing: As engagements go, LeBron might just have more reason to celebrate than Mr. Jordan. Let's break it down, tale-of-the-tape style:
HOLIDAY
LeBron James: New Year's Eve.
Michael Jordan: Christmas weekend.
Advantage: James. Especially because on Christmas there's the chance you forget which gift box the ring is in, and you end up getting down on one knee for a cat calendar. Hiss.
AGE DIFFERENCE
LeBron James: Plus-2; James just turned 27, Savannah Brinson is 25.
Michael Jordan: Plus-16; Jordan is 48, Yvette Prieto is 32.
Advantage: James. Basket Case will always favor age-appropriate couples.
RING
LeBron James: Reportedly 4-5 carats, worth from $250,000 to $300,000.
Michael Jordan: Yet unseen. Unless you're talking about these.
Advantage: Jordan. Even a Dwane Casey-sized rock doesn't best six won on the hardwood.
WITNESS
LeBron James: Dwyane Wade (and, uh, Gabrielle Union).
Michael Jordan: Those six rings?
Advantage: James. Gabrielle Union does best six rings won on the hardwood.
CAKE
LeBron James: In the story of the early NBA season thus far, a Boca Raton cake boss (lowercase) agreed to give James a $3,000 birthday cake (and, ultimately, engagement party cake) in exchange for the free publicity. Except James' people said cakes, but no cakes, and chose another one, leaving the poor first baker iced.
Michael Jordan: Boris Diaw ate it.
Advantage: Jordan. Cake is bad for you.
CELEBRATION
LeBron James: Dinner at SL Nightclub at the Shelborne South Beach.
Michael Jordan: Some reports say a yacht. Others say unknown.
Advantage: Hard to say. Jordan's could have actually been in space!
And the winner is …
James! Hey, romance is for the young. Now let's see if James can put a ring on it -- meaning his own finger -- this summer. First step: Stay away from cake. Again, it's bad for you.
---
PHOTO CAPTIONS
We steal this gimmick, because we love.
"Don't worry about the blowout, guys. Skrillex on South Beach tonight!"
"Wow. Even the basketball is mad that I married Candace Parker."
"Hey, back off! I was doing my impression of LeBron proposing to his girlfriend!"
"Phil Kessel is TOTALLY killing it for the Leafs this year." "I know, right?"
"Hey Khloe, that Nash guy is kinda cute." "Kim, don't even think about it."
"I'm telling you, Kim, don't do it …"
"Hey! My daddy says stay away from Steve Nash!"
"Uh, bro, I think Kim Kardashian's looking for you."
"OK, Jason. I'll miss this shot on purpose if afterward you go distract Kim Kardashian while I slip out the back of the arena."
---
TWEETS OF THE WEEK
7. "Jus got 2 Denver, gotta meet up wit Tebow while I'm out here!" and "Where's @TimTebow at?? I'm n Denver lol" -- Isaiah Thomas, who is one letter in his name away from wondering, "Hmmm. Tebow to the Knicks for the full midlevel? YES!"
6. "Boo that ref. boo. Boo him again. Boo. One more time. Boooooooooooooooooooo" -- Stephen Curry, who was either watching football, or is facing all kinds of fines for bashing the ref via Twitter during a game.
5. "COLTS need to lose today. We need that number 1 pick." -- Eric Gordon, whose hometown team treated him a little better than his first NBA one.
4. "Just telling you guys now that my New Year's resolution for 2012 is to make a shot … it's gonna happen." -- Shane Battier, and it did! He made three whole ones Thursday night!
3. "'It's not what you look at that matters, it's what you see' Henry David Thoreau" -- Gary Forbes, quoting a guy that this writer has quoted, maybe … zero times?
2. "I wonder whas the weather like in / Minnesota" and "Thank u tweeps for the weather up date!! We pulln off!! Tweet u when I land!!" -- Tony Allen, one of the league's top tweeters … who apparently hasn't figured out a weather app. Dude, T.A., tweet me at @DorseyPatrick, because (1) I can help with the weather app problem, and (2) I need followers! (No, seriously. I need followers. It's like a Detroit Pistons home game over here.)
1. "Everytime i try to get into Madison Square Garden, the security guards ask me if im a trainer LOL" -- Jeremy Lin, who is awesome.
---
• Joke of the Week: "There's a plan for the Pentagon to cut almost half a trillion dollars from the military. Yeah, the Pentagon plans to pay for future wars by divorcing Kobe Bryant." --Tuesday's "Conan"
Patrick Dorsey is a Page 2 editor. He averaged 12 points per game as a second-grader in YMCA hoops. All other basketball court records have been sealed. But if you must inquire, reach him at bypatrickdorsey@gmail.com or @DorseyPatrick on Twitter.