Commentary
Some advice for Collins, Barkley, others
Updated:
January 8, 2012, 3:15 PM ET
By
Jerry Greene
| Page 2
A lot of important sports figures said things during the past week that proved to be embarrassing. These people can benefit from advice just as we all need wizened council at times, because where is Yoda when you need him?
Or if not Yoda, at least Tony Dungy.
Even though the advice may be too late to help now, there's always the next time:
• Tip to prep football superstar Landon Collins: If there is a hot girl you really want to take to the prom, do not introduce her to your mother.
• Tip to Charles Barkley: If a golf club manufacturer pays you to praise its clubs, that's a scam.
• Tip to Andrew Luck: When they swear that Peyton Manning will be in Indianapolis no more than one more season, get it in writing.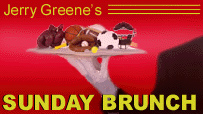 • Tip to backup Jets QB Greg McElroy: When a teammate tells you that the guys have something special planned in the locker room, run, don't walk, in the opposite direction.
• Tip to new Western Kentucky coaching staff: One, two, three, four, five -- and six.
And while our literary chefs put the finishing touches on the main dishes for this Brunch, we'll munch on a few more tidbits. (Try the crab cakes: delicious.)
• The Buccaneers fired coach Raheem Morris and his entire staff -- Larry, Curly and Moe.
[+] Enlarge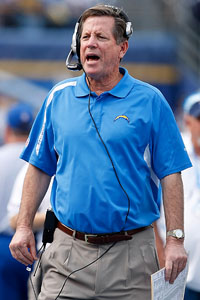 Jeff Gross/Getty ImagesSan Diego's Norv Turner has more lives than a cat.
• Prince Harry said that attending the beach volleyball competition during the '12 London Games is a priority and asked for premium seats. Suddenly, don't we all like Prince Harry a bit more? Bet that dude can par-tee.
• The three great mysteries of the world: (1) The meaning behind Stonehenge. (2) Does Loch Ness really have a monster? (3) Why can't Norv Turner be fired?
• Statement of the Week: "This is going to be comparable to a Super Bowl, or even bigger" Sugar Bowl Committee member Ronnie Burns, on the upcoming LSU-Alabama BCS title game. Sure it is, Ronnie.
• And a closing bit of tid from Jay Leno: "West Virginia beat Clemson in the Orange Bowl by a score of 70-33. West Virginia scored 70 points? They don't score that high on their SATs!"
Ding ding. Dinner bell. Time for the really juicy parts of the Brunch, brought to you by some of the best. Enjoy.
• Bragging rights for college football are almost over with only two schools left that can do all that much bragging. But how about something else to crow about, such as financial worth of your school's program? Darren Everson of the Wall Street Journal presents a list of most of the major schools compiled by Ryan Brewer, an assistant professor of finance at Indiana University-Purdue University Columbus. You can see where your beloved program ranks. University of Texas fans will really enjoy it and should check it out here.
• All this reminds us that the BCS title game is Monday. Frank Deford, writing for NPR.org, compares the BCS to the old Holy Roman Empire. Friends, it is not a nice comparison. Here's my favorite sentence from Frank: "Still, we Americans continue, lobotomized, to accept the BCS as legitimate, when it's the goofiest competition this side of the Iowa caucuses and the People's Choice Awards." Find the rest here.
• Sticking with the colleges, the Rose Bowl parade has passed us by, but one thing we didn't see were the Budweiser Clydesdales because they were pulled from the parade. Kevin Paul Dupont of The Boston Globe misses those iconic creatures and wonders what else are we losing -- including beer! Find out the bad news here.
• And now for something completely different -- golf. You remember golf? Steve Elling of CBSSports.com gives us 18 people, places and things that cover absolutely everything that could happen in Tour golf this year. No, wait, he doesn't mention John Daly, so something bizarre might come up that he missed. You can look here.
• And a good way to close is with a look at Carlos Zambrano's move from Chicago to South Beach, where he will be taking his crazy. Steve Rosenbloom of The Chicago Tribune tries to warn the Marlins here.
That's it. The Brunch is closed for another week. Have a great NFL Sunday and BCS Monday. And if LSU wins the collegiate title and the Saints win the Super Bowl, is Louisiana officially the party state of the year?
Jerry Greene is a regular contributor to ESPN.com and can be reached at osogreene@aol.com.