Commentary
The conference bowl season scorecard
Originally Published:
January 10, 2012
By
DJ Gallo
| Page 2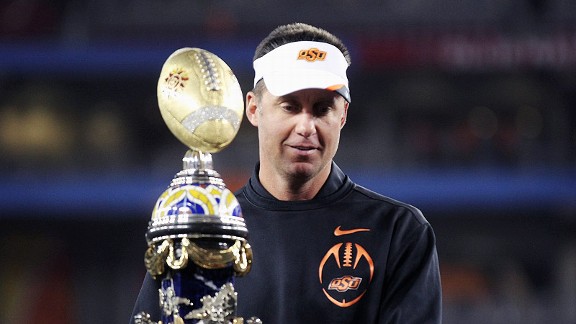 Donald Miralle/Getty ImagesTwo SEC teams played for the title, but Oklahoma State made its own statement by beating Stanford.
Bowl season is at its end. We have a national champion. But the point of bowl season is not to determine a national champion. That's what a playoff would be for. The point of bowl season is to watch the bowl performances of each conference, then argue about why your favorite conference is awesome compared to all others.
ACC: .250 (2-6)

How awesome are they? Well, uhh ... Florida State beat Notre Dame in the Champs Sports Bowl. This totally would have been awesome 20 years ago or so. And help is on the way in the form of Pitt and Syracuse. Add in their bowl performances, and the ACC's record moves to ... 2-7. Ah, crap.
How awful are they? The ACC is, without question, the worst BCS college football conference. The conference now has five consecutive losing bowl seasons and is far and away the worst conference in BCS bowls, with an all-time mark of 2-11. All the mocking the Big East receives really deserves to be directed a bit south.
Big East: .600 (3-2)

How awesome are they? The Big East usually outperforms expectations in bowls, and another winning bowl season silences some critics. West Virginia had the bowl season's most lopsided BCS and bowl victory, and in the New Era Pinstripe Bowl Rutgers beat Iowa State ... who had beaten Oklahoma State ... who some people think could be the best team in the country ... soooooo ... Rutgers could be the best team in the country? YES! No. But it's a sort of fun thought exercise. The best news of all is that four incoming Big East teams -- Boise State, Houston, SMU and San Diego State -- played in bowls and went a combined 3-1. All hail the Big East: college football's future power conference!
How awful are they? The college football powers-that-be insist that the regular season remain important. This really sucks for the Big East.
Big Ten: .400 (4-6)

How awesome are they? The Big Ten didn't get shut out on the big bowl day this year, nor did the conference get humiliated in BCS bowls. Progress! If Michigan continues to improve and the conference can convince Northwestern to not accept bowl bids ever again under any and all circumstances, the Big Ten could maybe even see a winning bowl season next year.
How awful are they? Only a triple-overtime Michigan State victory in the Outback Bowl saved the Big Ten from going 0-5 on Jan. 2. And one of the conference's bowl victories was over a 6-7 -- now 6-8 -- UCLA team, which almost shouldn't count. It shows how far the conference has fallen that 4-6 can almost feel like success. At least Ohio State won't be able to contribute a bowl loss/vacated bowl victory next season. That will help.
Big 12: .750 (6-2)

How awesome are they? The Big 12 finished bowl season with the best winning percentage of any BCS conference, and Oklahoma State beat Stanford to bolster the Cowboys' case for being snubbed from the BCS title game. Plus, Baylor's 67-56 win in the Valero Alamo Bowl earns extra points for ... having lots of extra points?
How awful are they? Two of the six wins came from Missouri and Texas A&M, so you can asterisk them, and Kansas State lost to Arkansas, giving the Big 12 another loss to the SEC. Iowa State's loss to Rutgers hurt Oklahoma State's case, although not as much as Oklahoma State's loss to Iowa State.
Pac-12: .285 (2-5)

How awesome are they? Oregon won the Rose Bowl, and that's always a nice accomplishment. If the conference's other 11 schools would get their own massive apparel corporations to support them, no one would be able to touch the Pac-12.
How awful are they? The ACC, the Pac-12 ... if you can see the Atlantic or Pacific oceans, you are a long way from good college football. Run! Run to the heartland!
SEC: .667 (6-3)

How awesome are they? One of their bowl losses was in the BCS title game to another SEC team. Take that away and they go 6-2 to match the Big 12's record, add in the wins by Missouri and Texas A&M to push it to 8-2, throw in six consecutive national championships and ... we're never going to escape from the S-E-C! chants. Sigh.
How awful are they? SEC fans mock other conferences when their teams get crushed in the BCS title game, so the SEC must also be terrible because an SEC team got crushed in this year's BCS title game. Sorry. Them's the rules.
DJ Gallo is the founder of SportsPickle.com. He has written a book and written for Comedy Central, The Onion and ESPN The Magazine. He co-hosts the Page 2 Podcast and has appeared on ESPNews. You can follow him on Twitter at @DJGalloESPN.