Commentary
Tim Tebow hasn't won over most bettors
Originally Published:
January 12, 2012
By
Sarah Phillips
| Special to Page 2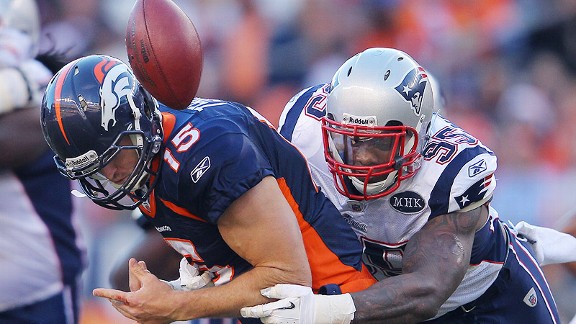 Doug Pensinger/Getty ImagesWill Tim Tebow improve on his 11-of-22, 194-yard passing performance against the Pats on Dec. 18?
Tim Tebow is getting no love at the sports books.
Three specific Tebow props are available for the Broncos' showdown in New England -- and doubt has driven the action, according to Nevada oddsmakers.
Will Tim Tebow complete more or fewer than 11½ passes?
John Elway isn't the only one who isn't impressed with Tebow's throwing motion, as bettors are lining up to wager on the under.
Tebow has averaged 11 pass completions per game since taking over as starting quarterback this season. But the Patriots' secondary isn't scaring anyone this season -- even Dan Orlovsky of the Colts had 30 completions against New England on Dec. 4!
Pick: Over 11½ completions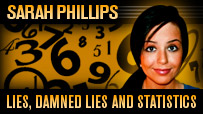 Will Tim Tebow throw more or fewer than one touchdown pass?
Will Tebow's inconsistency cancel out the Patriots' terrible pass defense?
Tebow has averaged 1.08 touchdown passes per game this year, and he's going up against one of the worst passing defenses in the NFL. The Patriots have allowed 1.56 touchdown passes per game this season. How do you like your New England passing defense -- roasted, broiled or pan seared?
Pick: Over one touchdown pass
Will Tim Tebow run for more or fewer than 52½ yards?
You'd expect bettors to side with Tebow here, because running the ball has basically been a secondary form of Tebowing this season. But the majority of early wagers have been placed on the under. Tebow has averaged 56.1 rushing yards per game this season, and he rushed for 93 yards against the Patriots in Week 15 -- including a 9-yard touchdown run which should have been a 5-yard loss.
Pick: Over 52½ rushing yards
Seriously, has everyone forgotten Tebow Time?
Maybe bettors would have more faith in Tim if this game was being played on a Sunday.


Broncos at Patriots, Saturday, 8 p.m. ET, CBS
Pick: Broncos (+13½)
Pick:
Under 51
This week's other NFL picks


Saints at 49ers, Saturday, 4:30 p.m. ET, Fox
In a similar scenario last year, New Orleans traveled to Seattle to face the 7-9 Seahawks and left its fans wondering, "Who dat … on the field?" If San Francisco can avoid a shootout by controlling the clock, the 49ers will probably win this game outright. Good news, San Francisco fans: The under is 4-1 in the 49ers' past five home games.
Pick: 49ers (+4)
Pick:
Under 47½


Texans at Ravens, Sunday, 1 p.m. ET, CBS
The last time the Ravens won a playoff game at home, Baltimore went on to win Super Bowl XXXV. While the Ravens are currently on a 10-game home winning streak, Baltimore is only 1-3-1 against the spread in its past five games at home. Expect the Ravens to win, but fail to cover in a low-scoring game. The under is 4-1 in the past five playoff games in which Baltimore has been favored.
Pick: Texans (+9)
Pick:
Under 38


Giants at Packers, Sunday, 4:30 p.m. ET, Fox
Following New York's win over Atlanta last Sunday, Giants defensive end Jason Pierre-Paul guaranteed a victory over the Packers. JPP is obviously a little naughty by nature. His confidence may not be worth a win, but it's worthy of a cover. New York is 5-1 against the spread in its past six games overall. The Giants must ground the Packers' aerial attack if they hope to pull off the upset. The under is 4-0 in New York's past four games.
Pick: Giants (+8½)
Pick:
Under 53½
Last week's picks: 3-6
Season record: 83-71-2 (54 percent)
You can follow Sarah Phillips on Twitter @SarahPhilli.