Commentary
Brick City's primer on court storming
Originally Published:
January 12, 2012
By
DJ Gallo
| Page 2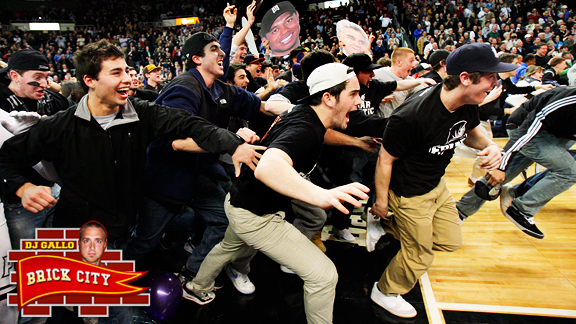 AP ImagesBrick City commends these court-stormers on their fine form, but not everyone is so advanced.
Welcome to the first edition of Brick City, picking up with college basketball where the Varsity Tailgate column left off with college football.
Is this exciting news? Possibly. Storm-the-court exciting? No.
But the debut edition of Brick City is a good opportunity to remind everyone of some things to consider when storming the court. Conference play is heating up. March is just more than six weeks away. College football season is over. It's court-storming season.
Refer to these eight tips if your team pulls off an upset at home.
Don't trample anyone. While your team's big victory may seem important and exciting when the final buzzer sounds, when the night is over you may end up thinking that a January victory over McNeese State wasn't necessarily worth stepping on an old woman's neck.
Don't get trampled. A crush of humanity will be pouring down from the stands all around you. You'll want to keep moving with your knees bent, maintaining a low center of gravity. But not too low. Not on-the-ground low.
Look for TV cameras. This is your chance to get on television and make your case to the nation that your team is great. Say things like: "Wooooooooooo!" and "We're No. 1!" If that doesn't convince America, well, you've done all you can.
Have your cell phone video camera running. If someone does step on someone's neck, you're going to want to put that up on YouTube. You know, for the sake of journalism.
Realize the finality of storming the court. "Yay! We stormed the court! Now what?" That's pretty much it, actually. Outside of maybe getting on TV, once you reach the floor it's just a few minutes of everyone kind of bouncing up and down at midcourt until event staff and police clear you out. It's like if an invading force attacked a castle in the middle ages, broke through the gate and then just milled about inside for a spell: "OK. That's all we wanted to do. Have a good day. We'll be heading back to our land now."
Be a student. Storming the court is for current students only. If you are out of college and storm the court, realize you are basically the creepy guy who still cruises past his old high school in his Trans-Am ... the next time you cruise past your old high school in your Trans-Am.
Have some dignity. You're excited. We're excited. Everyone is excited. But don't go hugging the players or weeping or anything like that. They're college students just like you. They just happen to be good at basketball. It's kind of awkward to worship someone who could sit next to you in your sociology class. I mean, you don't see them freaking out every time you gain a new level in Skyrim.
Make sure other people are storming the court. This is the most important one. If you run out there and no one else does ... uh-oh, you just became a crazed fan. Enjoy your tazing and night in jail.
---
The Sweet 16

16. Towson (0-17) extended its Division I-record losing streak to 36 on Wednesday night with a 17-point home loss to 4-13 William & Mary. Towson averages 49.8 points per game, good for 343rd out of 344 schools. "We've got to guard better. We can't win any shootouts. There are no 17-game shooting slumps. We are what we are," said Towson coach Pat Skerry. Oof. That is depressing. Especially when you consider that there are no 17-game defensive slumps either.

15. But there's no reason to kick Towson when it's down. It's not like it's trying to break futility records. So until Towson wins a game -- and that could be a long time from now (William & Mary was the worst remaining team on its schedule) -- Brick City will feature one POSITIVE thing about the Tigers each week. So here's this week's positive: One of Towson's assistant coaches is Luke Murray, son of actor Bill Murray. That's cool, right? This Murray classic must feel a lot like Towson's season.


14. Towson is not the only winless team in college basketball this season. Binghamton and Chicago State are also 0-for-their-seasons. Towson can take solace in knowing that records are made to be broken. Even records for futility. Probably even more so, due to their shoddy construction.

13. Congratulations to this week's Name of the Week winner: South Dakota freshman guard Nimrod Hilliard IV. Nimrod helped the Coyotes end their three-game losing streak Saturday night with four points, three assists and only one turnover in 18 minutes of play. By the way, "Nimrod" apparently means "skillful hunter," so if you think it means "a dumb person," you are obviously a nimr- ... a dumb person.

12. In order to not conflict with the Tebows-Patriots game Saturday night, Northern Colorado moved its game against Eastern Washington from 5 p.m. to 4 p.m. Northern Colorado's last home game had a listed attendance of 1,146, so either way their game probably wasn't going to be putting a huge dent in CBS' ratings.

11. Wisconsin was not able to move its Sunday game against Nebraska, however. It will still start in the middle of the Packers-Giants game. There are no rules that say Bo Ryan can't use a timeout to watch television.

10. In case you missed Kansas State coach Frank Martin's comments following the Wildcats' loss to Baylor on Tuesday night, here you go. He seems like a fun guy to play for. If you're a highly touted recruit who hates himself, there's not another program you'd even consider.

9. Michael Jordan's eldest son, Jeff Jordan, has left the Central Florida program. It's his senior season, so his college basketball career is over. Who knows what Jordan will do now. His UCF bio doesn't list his major. If I was him, my major would be Does It Matter? My Dad Is Loaded Studies.

8. The Brick City column seeks to be nothing but informative, so I'd like to pass along some basketball and coaching tips when I can. Check out this great play run by Louisiana-Lafayette to defeat Western Kentucky. Coaching genius right there.


7. The Michigan State-North Carolina season opener on the deck of the USS Carl Vinson was such a success that now the Spartans' hockey team has been approached about playing a game on an aircraft carrier. If MSU can schedule the Tar Heels for that game, too, it'd be a heavy favorite to avenge the defeat. Are you scared, Tar Heels club hockey team, or what?

6. Texas A&M-Corpus Christi got only one free throw attempt in its game against UT-San Antonio on Wednesday night. WAY TO ROB THEM ALL GAME, REFS! Oh, Corpus won 50-49? Never mind then. Good job, refs.

5. Brandon Paul's 43 points for Illinois on Tuesday night were the third-most points in Illini history behind Dave Downey's 53 in 1963 and Andy Kaufmann's 46-point game in 1990. You'll all remember Kaufmann's famous comments to his team before that game.

4. Pitt has lost five in a row, its longest losing streak in the Jamie Dixon era, and the Panthers' latest defeat featured their lowest point total in 38 years and lowest point total in a home game in 61 years. This is probably not the best way to put an end to a history of disappointing losses in the NCAA tournament.

3. Louisville is the Big East's other team that opened the season highly ranked only to fall on hard times. The Cardinals have lost four of five, including a 31-point loss to Providence on Tuesday. This 1-4 string comes on the heels of Rick Pitino saying he would step away when his contract expires in 2017. Of course, it's possible he could be done coaching earlier.

2. Auburn center Rob Chubb on Auburn's struggles on the road: "In our away games, we came out flaccid, we came out aloof." Yes, Chubb was flaccid.


1. The biggest game of this weekend is No. 8 Indiana at No. 5 Ohio State on Sunday afternoon. Yes, if you're just now getting back into college basketball with college football season ending, Indiana is good again. These guys no longer seem quite as sad.
DJ Gallo is the founder of SportsPickle.com. He has written a book and written for Comedy Central, The Onion and ESPN The Magazine. He co-hosts the Page 2 Podcast and has appeared on ESPNews. You can follow him on Twitter at @DJGalloESPN.