Commentary
Tips for Clippers to attract celebrities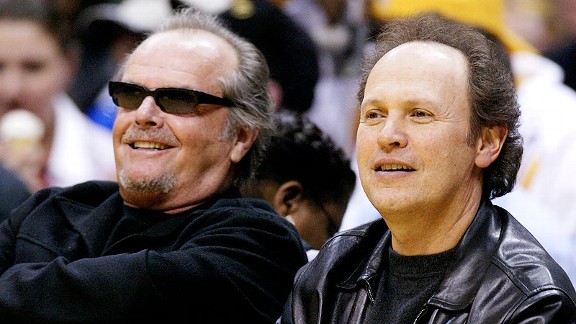 Vince Bucci/Getty ImagesJack Nicholson talks with Billy Crystal maybe about how the Clippers can draw celebrities.
Los Angeles is the center of basketball right now. Kobe Bryant is blowing up. The Clippers just beat the Heatles. And the two franchises are set to play each other Saturday -- for the first time since Chris Paul was traded to the Lakers and then untraded to the Lakers and then traded to the Clippers to create Lob City.
But is L.A. really a two-team town now? Has this rivalry officially caught fire, with the Clippers' increased success and raised expectations?
Nope. Not yet. As a far-reaching Page 2 investigation shows, some damning evidence has emerged that shows the Lakers still own Los Angeles.
That evidence: Celebrities.
Sure, Rihanna made waves by skipping the People's Choice Awards to watch Clippers-Heat. But the overall numbers still skew heavily in the Lakers' favor.
A-listers in attendance, per a scan of the photos from the teams' first few home games …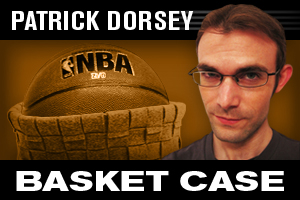 Lakers vs. Rockets, Jan. 3: Ashton Kutcher, Tom Petty, George Lopez and model power couple Cindy Crawford and Rande Gerber.
Clippers vs. Rockets, the next night: Billy Crystal. Who's always there.
Lakers vs. Grizzlies, Jan. 8: Antonio Banderas, Red Hot Chili Peppers frontman Anthony Kiedis, the omnipresent Jack Nicholson and aforementioned Rihanna (talk about Unfaithful).
Clippers vs. Bucks, the previous night: Ummm …
Lakers vs. Bulls, Jazz, Knicks, Nuggets and Warriors (December/January): Charlize Theron, Vanessa Hudgens, Will Ferrell, Mario Lopez, Richard Lewis, Kaley Cuoco, Andy Garcia, Julie Bowen and Kanye West (watching his hometown Bulls on the road).
Clippers vs. Bulls, Dec. 30: No Kanye. But hey! Floyd Mayweather! (Maybe Manny Pacquiao tricked him into going?)
Lakers vs. Suns, Jan. 10: Zac Efron, Heather Locklear, Woody Harrelson, Jack and longtime Clippers fan Penny Marshall.
Clippers vs. Heat, Jan. 11: Rihanna, of course. But so what -- they stole Penny Marshall!
So how do we fix this? How do we make The Battle of Los Angeles (non-Rage Against the Machine edition) a fair fight, celebrity-wise?
Here are Basket Case's tips for the Clippers to attract celebrities:
Invite Tim Tebow: He loves helping the downtrodden, and likely would bring girlfriend Katy Perry might accidentally run into Katy Perry.
Trade for Lamar Odom: That way you get two!
Paid appearances: But only if it fits under the cap; probably shouldn't buy out Mo Williams just to cover Jwoww's booking fee.
Trade for Royal Ivey: Then nickname him "Blue," and make every home game Blue Ivy Night. (Sorry, no refunds on tickets.)
Hold the Golden Globes at halftime: It's the ultimate celebrity awards night. Unfortunately, the untarnished Clippers would give host Ricky Gervais very little material to work with, from a joke standpoint.
Go Scientology: On second thought, bad idea. Tom Cruise might try to actually suit up for the Clips.
Win a championship: That's how the current Heat team got so many celebrities. Oh, wait.
IN PICTURES. AND WORDS.
"You see this thing I'm doing, Kendrick? It's called a smile. Go ahead. Try it. It's not that hard."
"Guys, I keep telling you -- I'm the cutest Spanish point guard in the league."
"Ohhhh, so this is why Chris Paul wanted nothing to do with us."
"Whoa. Brother vs. brother. This is just like that movie, 'Warrior!'" "Shut up, Troy."
"You think the risotto is bad in New Orleans, try finding a good one in Denver."
"Let's see … Tebow, Tebow, Tebow … not courtside … not lower level … not in the club seats … where … is … he?"
"TEBOW! OH MY GOD! TEBOW'S HERE! I KNOW HIM! I KNOW HIM!"
"I'm not Tebow, Monty. I'm just Rocky, the Nuggets' mascot."
"Now watch me imitate Tebow's throwing motion!"
RETWEETS
7. "People love to be single cause you think you dont have to answer to anyone! But eventually you will have to answer to someone!" -- J.R. Smith, who apparently isn't single.
6. "I'm bout to tebow, man" --Anthony Morrow, who alluded to doing what Nate Robinson and Paul George actually did.
5. "How in the hell Houston make the playoff and my Cowboys did not. SMDH." --Reggie Evans, asking something we've all been wondering.
4. "Another day another dollar." --Dante' Cunningham, clearly the lowest-paid player in the league. Seriously, the players' union needs to look into this.
3. "So will this game be decided by a suicide squeeze or penalty kicks?" --Heat owner Micky Arison, on that offensively challenged BCS Championship Game.
2. "Lots of hipsters in this here Whole Foods lol #loveit" --Julian Wright, who apparently saw me at Whole Foods last week.
1. "Damn iPad is n Sacramento. Smh" --Brandon Rush, who included a mapped picture of where exactly his tablet is, showing the world just how dumb … Wait, have you seen my iPad?
JOKE OF THE WEEK
"President Obama met with the Dallas Mavericks to congratulate them on their 2011 NBA Championship, while Joe Biden met with the Globetrotters to congratulate them on that episode of 'Scooby-Doo' they did."
--Monday's "Late Night with Jimmy Fallon"
BASKET (CRYSTAL) BALL
Heat at Nuggets, Friday: The thin mountain air will tire out LeBron James, forcing the King into a rare ineffective fourth quarter.
Golden State at Detroit, Saturday: Thousands of Lions fans, aimless and with nothing to do, will wander into the heretofore empty Palace to see what this basketball thing is all about.
Magic at Knicks, Monday: Dwight Howard and Amare Stoudemire will accidentally drink from the same water bottle, causing them to magically switch teams and play one game as the other person before realizing they were happier in their previous situations. From the makers of "The Change-Up."
Suns at Knicks, Wednesday: Steve Nash and Mike D'Antoni stare longingly into each others' eyes, wondering if they can rekindle the romance after all these years.
Lakers at Heat, Thursday: Nothing particularly interesting will happen.
Patrick Dorsey is a Page 2 editor. He averaged 12 points per game as a second grader in YMCA hoops. All other basketball court records have been sealed. But if you must inquire, reach him at bypatrickdorsey@gmail.com or @DorseyPatrick on Twitter.
ESPN Editor
General Editor
Joined ESPN in 2011
Arizona native, LA resident, Northwestern graduate