Commentary
Packers' Rodgers, Harrell join fraternity
Originally Published:
January 13, 2012
By
Cam Martin
| Special to Page 2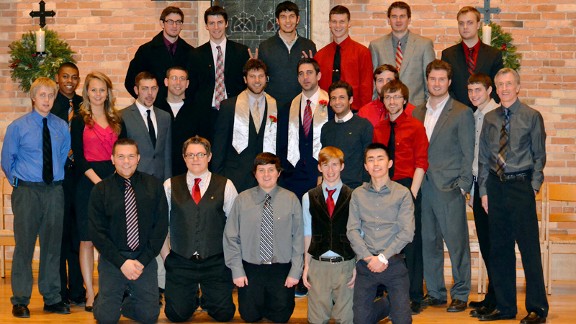 Courtesy of Aaron ReynoldsGraham Harrell and Aaron Rodgers pose with their new fraternity brothers at St. Norbert College.
When you earn a bye in the NFL playoffs, you've earned the right to spend that down time in any number of ways. You could spend it with family, spend it relaxing ... or you could spend part of it joining a fraternity.
That's what Packers quarterbacks Aaron Rodgers and Graham Harrell did.
That's right, the reigning Super Bowl MVP and one of his backups went "Old School" on January 5th and were initiated into Tau Kappa Epsilon at St. Norbert College, which is located in De Pere, Wisc., about five miles south of Green Bay. Obviously this raises a lot of questions, so let's try to answer a few.
Were they hazed? Paddled? Ordered to shoot a horse (even if the gun was filled with blanks)?
"No," said TKE president Aaron Reynolds, 22. "We don't haze or paddle or anything like that."
Did they have to pledge like everyone else?
"No, they're honorary members," said another TKE, senior Nolan Smith, 22. "They didn't have to do the regular six- or seven-week program."
They must have been excited about that.
"Oh, yeah, they were happy they didn't have to go through the regular pledge process," Smith said. "But it still meant a lot for them to be initiated into TKE."
So why were they joining? Well, not for the social aspect. After all, as NFL quarterbacks, they probably do OK in that regard. No, Rodgers and Harrell joined TKE, Reynolds explained, because they'd wanted to join back in college, but they were too busy being major-college quarterbacks -- Rodgers at Cal, Harrell at Texas Tech. Dan Zegers, a former TKE at St. Norbert who is now a scouting assistant for the Packers, mentioned joining his old fraternity as honorary members, and they took him up on it. The Packers (who are sort of busy) said Rodgers, Harrell and Zegers were not available to comment this week.
In a 45-minute ritual that was attended by TKE members from throughout the country, Rodgers and Harrell were inducted into the fraternity whose stated purpose is "the advancement of society through the personal growth of our members, and service to others." The fraternity's biggest fundraising commitments are to St. Jude's Children's Research Hospital, because entertainer and St. Jude's founder Danny Thomas was a TKE; and to Alzheimer's disease research, because former President Ronald Reagan, who suffered from Alzheimer's, was also a TKE.
Rodgers shares a commitment to St. Jude's, and his new fraternity brothers look forward to possibly working alongside him in charity events.
"We were all really surprised that he and Graham Harrell were willing to be part of our group, which was really nice and really enlightening," said Smith, a Milwaukee native and diehard Packers fan. "Coming from a football enthusiast's perceptive, it's kind of weird. Iconic football players who are now your fraternity brothers. It sort of serves as a double sweetener."
But Reynolds, a native of Aurora, Ill., said he couldn't resist telling Rodgers that he's not a Green Bay fan.
"I said I really respect you as a football player. But I am a Bears fan.' And he was like, 'Oh, really? Is this going to be a problem?' And I said, 'No, no, there's no problem.'"
Cam Martin is a contributor to Page 2. He previously worked for the Greenwich (Conn.) Time and The (Stamford, Conn.) Advocate, and has written online for CBS Sports and Comcast SportsNet New England. You can contact him at cdavidmartin@yahoo.com or follow him on Twitter: @CameronDMartin.