Commentary
Is Eli Manning > Peyton Manning?
Originally Published:
January 16, 2012
By
DJ Gallo
| Page 2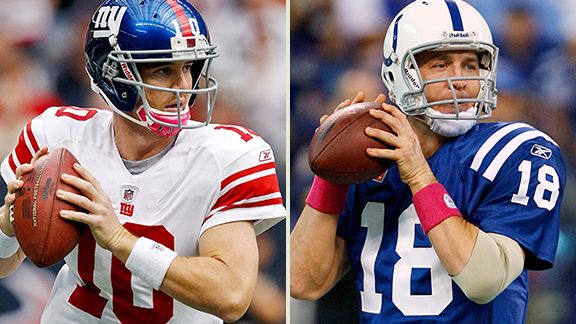 US PresswireCuold it be true that Eli Manning might be a better quarterback than his brother Peyton Manning?
We might have had it wrong all these years. Peyton Manning always was regarded as the premier Manning quarterback. Eli was the little brother -- less talented, less successful, less interesting, less everything.
But by almost every standard, one can make the case that Eli is the best Manning and Peyton is the forgotten runner-up.
Age
Peyton: 35 Eli: 31
2011 Passing Yards
Peyton: 0 yards Eli: 4,933 yards
2011 Team Record
Peyton: 3-17 (including preseason) Eli: 11-7 (including playoffs)
Presumed Replacement
Peyton: Andrew Luck Eli: none
Rumored 2012 Employer
Peyton: New York Jets Eli: New York Giants
Quarterback Defeated in the Super Bowl
Peyton: Rex Grossman Eli: Tom Brady
Most Memorable Super Bowl Pass
Peyton: into Tracy Porter's chest Eli: onto David Tyree's helmet
Often-Mocked Commercial Catchphrase
Peyton: "Cut that meat!"
Eli: None (mute in most of his commercials)
Head
Peyton: fivehead Eli: forehead
Chronic Injury
Peyton: neck Eli: fatigue from beating the Packers and Patriots all the time
Quote of the Week
"This game isn't about wins and losses. It's about relationships."
-- Ray Lewis, after Baltimore's win over the Texans.
Vince Lombardi probably rolled over in his grave after hearing that comment. Which is good, because the Packers caused him to roll over again later in the day, so he's facing right-side up again. YAY!
Stat of the Week
5
With Green Bay's exit in its first game of the playoffs, it is five consecutive years that the defending Super Bowl champion has failed to win a playoff game the next season. Patriots, Giants, 49ers, Ravens -- one of you will be a failure next year. You all should be ashamed of yourselves.
Pictures of the Week
"I demand you help out our quarterback this week!"
"Why? Why must I be struck blind after my greatest career moment? Why?!" "Alex, no. It's just your helmet."
"I warned you not to shake Coach's hand after a playoff win."
MORE GALLO PHOTO CAPTIONS!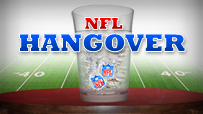 Your Monday isn't complete without bonus NFL photo captions!
DJ Gallo's NFL Hangover photo gallery

"Sure, sometimes I wonder how many yards I'd throw for against my defense."
"I shall just stand here and defeat them with my mere presence."
"Who wants this? I'll probably catch a few more."
"Yeah, him over there. Gronkowski. The biggest player on the field. One of you should cover him."
"I wish they made furry, stylish boots for hands."
"Now strangle him to death! Do it!"
"Yes, God's love is big enough even for you."
"Evil will always triumph over good, because good is dumb."
"Forgive them for what they did here today."
"AAAAAAHHHHHH! He's quarterbacking my team in the playoffs again!"
"Our colors are purple and woke up in a roadside ditch, right?"
"Sorry, guys. I know doing this for me after every play probably gets a little tiring."
"I don't think that works past the wild-card round."
"This game aside, you guys have to admit I've exceeded expectations, right?"
"I'm with you, man. Great quarterbacks like us deserve more credit."
"OK, everybody. Hors d'oeuvres are ready."
"Ohmigod. I can't believe we're losing to this dork."
"What do you mean the BCS system doesn't have its merits? It would prevent this from happening."
"I should have had State Farm insure my feelings."
"Maybe we caught the eyes of some of the Giants players."
News Conference Questions Someone Should Have Asked
To Mike McCarthy: "Considering your receivers forgot how to catch in just one week, are you concerned that during a long offseason they could forget how to do basic human functions such as feeding themselves and using the bathroom?"
To Tom Coughlin: "Did you get the sense that the Packers were overconfident because of all the time they've been hanging out at insurance offices lately?"
To Gary Kubiak: "Looking back at your season, do you now regret not investing more money so you would have an elite third-string quarterback?"
Five Things I Thought You Thought I Thought
1. Rob Gronkowski, Aaron Hernandez, Vernon Davis and Jimmy Graham all played outstanding games in the divisional round, leading to more talk about the emergence of tight ends in modern NFL offenses. I think we can all agree that this is a positive development. It's about time that huge, fast, strong and extremely athletic people can find work in professional football.
2. Tim Tebow threw for 136 yards on Saturday, but Denver lost. That number and the outcome of the game probably forced a lot of soul-searching among dyslexic Tebowists.
3. Just like last week's Broncos-Steelers game, Giants-Packers was marred by some awful officiating, including a fumble call that was somehow blown even on review. The NFL should consider a review system similar to the NHL, in which reviews are done by an official live at league headquarters instead of by an on-the-field ref peering into a box on the sideline. Not only would this streamline the situation and put the call in the hands of someone looking at the play from every angle on a wall of big screen, high-def televisions, but Roger Goodell also could dole out fines and suspensions in real time. All the game officials would have to do is write up and distribute tickets for the amounts Goodell determines. Simple and effective while adding the element of arbitrary punishment that NFL fans love.
4. There was an interesting article in The New York Times over the weekend about how Lambeau Field is actually heated. So the "frozen tundra" is a myth. But if you're looking for something in Green Bay that is hard and frozen and inhospitable to football, just check out the hands of any Packers receiver. ZING! (is the sound Aaron Rodgers' passes make before they smack into the hands of a Green Bay receiver and fall harmlessly to the ground. A DISCOUNT DOUBLE ZING!)
5. Dear Patriots and Giants: One of you needs to do America a huge favor and step forward and prevent a Harbaugh Super Bowl. Two weeks of coverage of one family would be too much to bear. If you all got tired of hearing where Jerome Bettis grew up a few years ago (it was Detroit!), just imagine what 14 days of a Harbowl would subject us to. Day 3: "Coming up next, we investigate what the Harbaugh boys got for the Christmas of 1974 and how it may have shaped their lives." Please help us.
DJ Gallo is the founder of SportsPickle.com. His first book, "The View from the Upper Deck," is available from only the finest bargain-book retailers. His next book project will be released soon. You can follow him on Twitter at @DJGalloESPN.