Commentary
Rankings: Mayor Tom Coughlin Edition
Originally Published:
January 16, 2012
By
Greg Hardy
| Page 2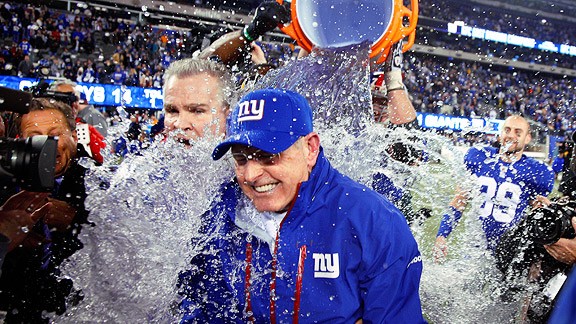 Jeff Zelevansky/Getty ImagesTom Coughlin has his New York Giants one step away from the Super Bowl. Who would have thought?
Cancel your appointment for the "Fire Tom Coughlin News Conference" and make your way to the "Tom Coughlin Victory Parade" and ESPN.com's Page 2 Power Rankings! Our formula combines the results of two surveys: a human poll concocted by ESPN Page 2's Greg Hardy and a scientifically calibrated poll generated by computer analysis. Unfortunately, our computer lost countless hours of productivity after it was discovered that instead of registering for the Kobe System motivational speaking class, it mistakenly signed itself up for the Kris Humphries marriage encounter weekend retreat. To the results!
1. Tom Coughlin's winning campaigns
| | | | |
| --- | --- | --- | --- |
| Human Poll | Computer Poll | Power Points | Trending |
| 9.4 | 9.7 | 19.1 | |
Credentials: We usually try to leave partisan politics alone, but we've got to concede some election results here at the Page 2 Power Rankings campaign headquarters. We couldn't help but notice that once every four years, the Giants coach parks his campaign tour bus at Lambeau Field and scores a huge victory that no recount can dispute. Thus, we decree that Tom Coughlin has elected himself in our eyes as the mayor of Green Bay. And we're not going to call it Green Bay, Wis., it's Green Bay, N.Y., from now on. The NFL's smallest outpost, which has always portrayed itself as a hamlet that can hold its own against America's biggest cities, has inevitably been swallowed up by NYC. Don't feel bad, Green Bay. Look at the Giants' home stadium. They've already swallowed up New Jersey into thinking it's part of New York. So look out, Candlestick Park, because the Giants are 4-0 in NFC title games. Westward expansion, ho!
| | | | |
| --- | --- | --- | --- |
| Human Poll | Computer Poll | Power Points | Trending |
| 9.4 | 9.0 | 18.4 | |
Credentials: By throwing six touchdowns against Denver's defense, Tom Brady proved he is the ultimate professor of passing know-how. What else can we expect while he's a student of the dean of football strategy in Bill Belichick. But with the emergency of Rob Gronkowski and Aaron Hernandez, we'd like to announce the groundbreaking for the latest school of Patriots hard knocks: Tight End Technical Institute. Sorry, scholarships are not available for anyone who wants to sign up for a season-ticket plan.
| | | | |
| --- | --- | --- | --- |
| Human Poll | Computer Poll | Power Points | Trending |
| 8.8 | 8.2 | 17.0 | |
Credentials: He's out of the playoffs, but an unlikely milestone in Tebowmania was just reached: with a headline of "Tim Tebow REAL-LIFE MIRACLES. Plus: His hush-hush marriage plan," Timmy has made the front page of The National Enquirer. Oh, where's the Weekly World News to pick up the torch and run with more "exclusives" during the offseason? We'd love to see scoops such as: "TEBOW, ELVIS TO RECORD GOSPEL ALBUM" … "TEBOW PRAYS FOR BAT BOY" … and "I LOST 100 POUNDS OF SIN WITH THE TEBOW DIET."
| | | | |
| --- | --- | --- | --- |
| Human Poll | Computer Poll | Power Points | Trending |
| 7.6 | 7.2 | 14.8 | |
Credentials: Bad news: the Clippers star could be facing a left hamstring injury right as Clippers fever is gripping Los Angeles. Good news: Clippers owner Donald Sterling is fine with licensing L.A. Clippers' branded crutches to sell at the Staples Center. Hawk a few cases of those, and that should offset any dip in ticket sales if Paul has to miss games.
5. Australian Open smack talk
| | | | |
| --- | --- | --- | --- |
| Human Poll | Computer Poll | Power Points | Trending |
| 7.1 | 7.3 | 14.4 | |
Credentials: Hey, tennis fans, get back to watching the Aussie action. Roger Federer and Rafael Nadal say everything's been smoothed over after Nadal's outburst regarding his rival's priorities toward other players' welfare on the eve of the Grand Slam event. For our next story, we will track down rumors that Rafa has been consulting with Pittsburgh Steelers linebacker James Harrison for some strategic pointers on how to "greet" Federer the next time they go to shake hands at the net.
6. Kentucky cheerleading goddesses
| | | | |
| --- | --- | --- | --- |
| Human Poll | Computer Poll | Power Points | Trending |
| 6.3 | 6.3 | 12.6 | |
Credentials: Because the Southeastern Conference dominates all college sports, the University of Kentucky won the Universal Cheerleader Association Championship for a record 19th time. Defending champion Alabama placed second, and reportedly it's being blamed on Nick Saban accidentally being put in charge of the squad. That mistake was compounded by the fact the cheerleaders' nutritional guidelines were accidentally swapped with the ones intended for the Crimson Tide's offensive line. So for the past six months, the Alabama cheerleaders were being fed for the purpose of bulking up to 330 pounds apiece. Thus, every one of their attempts at a back flip ended in disaster.
| | | | |
| --- | --- | --- | --- |
| Human Poll | Computer Poll | Power Points | Trending |
| 5.4 | 5.3 | 10.7 | |
Credentials: Baltimore's John and San Francisco's Jim are one win apiece from turning the Super Bowl into a sibling rivalry. Would they have been this successful if they had followed the family's wish for them to become overall-wearing plumbers who smashed turtle shells with giant hammers? We say no.
| | | | |
| --- | --- | --- | --- |
| Human Poll | Computer Poll | Power Points | Trending |
| 5.4 | 4.8 | 10.2 | |
Credentials: Is there anyone who's surprised that at age 62 Meryl Streep is winning awards for playing former British prime minister Margaret Thatcher? But we really think she's about to show her range by starring in dual roles in the upcoming biopic of actresses Kate and Rooney Mara. The only holdup for the project so far is gaining NFL licensing rights for the characters to wear all that New York Giants and Pittsburgh Steelers gear. The options are filming all the scenes outside the Mara and Rooney estates, or changing the backstory so that the actresses are daughters in Canadian Football League power families.
| | | | |
| --- | --- | --- | --- |
| Human Poll | Computer Poll | Power Points | Trending |
| 5.3 | 4.2 | 9.5 | |
Credentials: Look out, world. Finland's Osku Palermaa just became the first international bowler to win the Professional Bowlers Association World Championship at the South Point Casino in Las Vegas. On the one hand, there goes American dominance in yet another sport. While we in the States surrounded bowling with a culture of cheap beer, menthol cigarettes and Friday-night, black-light $2 games, the rest of the world kept their eye on the ball (and pins, we suppose). On the other hand, American bowling equipment manufacturers can tap new revenue streams in international markets. For starters, people of Finland: expect Blu-ray copies of "Kingpin" and "The Big Lebowski" dubbed into Finnish on the shelves of your Best Buys by next Tuesday.
| | | | |
| --- | --- | --- | --- |
| Human Poll | Computer Poll | Power Points | Trending |
| 5.0 | 4.1 | 9.1 | |
Credentials: We have only one question for the Baltimore Ravens' team physician: "Give it to us straight, doc: How injured would Ed Reed's ankle have to be for it to be in worse shape than a healthy Joe Flacco throwing arm?"
| | | | |
| --- | --- | --- | --- |
| Human Poll | Computer Poll | Power Points | Trending |
| 4.1 | 4.0 | 8.1 | |
Credentials: The Mark Wahlberg caper in which he smuggles counterfeit $100 bills generated $24.1 million (in actual money, we presume) to win the weekend box office. We've already set up a pitch session with execs at Universal Studios for our idea for a twist ending for "Contraband 2." At the end, Mark Wahlberg's character finds out he just pirated a container ship full of bootlegged "Entourage" Blu-rays, thus ripping off a boatload of producer royalties from the real Mark Wahlberg.
| | | | |
| --- | --- | --- | --- |
| Human Poll | Computer Poll | Power Points | Trending |
| 4.0 | 3.1 | 7.1 | |
Credentials: Meanwhile, in Shanghai, the 7-foot-6 retired Houston Rockets center has become one of the youngest -- and we're guessing tallest -- of about 140 members of a group that advises the city legislature. It's just something to keep him busy, along with being a university student and owning his pre-NBA career professional basketball team. Now, obviously politics works a lot differently in mainland China than it does on Main Street, USA, but we know this: If someone in America owns a basketball team and is involved in politics, you could bet your voter registration card that by next year that basketball team would see construction begin on a new publicly funded arena.
13. Full-time NFL officials
| | | | |
| --- | --- | --- | --- |
| Human Poll | Computer Poll | Power Points | Trending |
| 3.1 | 3.4 | 6.5 | |
Credentials: Odds are, you don't get paid to watch the NFL full-time, but you devote enough time tailgating and updating your fantasy roster that it feels like a part-time job. Well, what a coincidence: Every on-field referee is doing his job as a part-timer. But now, in an effort to improve consistency in the calls from stadium to stadium, commissioner Roger Goodell indicated that the league is thinking of hiring around 10 full-time officials to be in charge of spreading the gospel of what constitutes helmet-to-helmet hits. It's an idea long overdue. Plus, we finally get to ask the question we've been waiting for decades to ask: Will full-time NFL officials be eligible to receive vision benefits?
Also receiving votes
• Miss Wisconsin: Congratulations to Kenosha's Laura Kaeppeler, who traded in her foam cheesehead hat for a Miss America tiara this weekend. Of course, every guy in Wisconsin is so deeply depressed about the Packers' season getting flushed down the toilet, for the rest of the week they wouldn't notice if every woman in Wisconsin was instantly transformed into Laura Kaeppeler's hotter twin sister. But we're sure she'll get a golf clap from the locals eventually.
Never receiving votes
• NFL coaching carousel: There are job swaps aplenty going on around the league, but the résumés are getting slimmer than Andy Reid's 2012 margin of error. The Atlanta Falcons just hired as their offensive coordinator Dirk Koetter out of Jacksonville -- despite the fact the Jaguars were last in the league in total offense and yards passing in 2011. At this rate, the only guy who'll be left to be hired for the Oakland Raiders' head-coaching opening will be one of Peyton Manning's neck surgeons.
Greg Hardy is a Page 2 contributor. It's all pop culture all the time at Twitter.com/HardyVision.