Commentary
Ex-cheerleader reminisces about 49ers
Originally Published:
January 18, 2012
By
Bonnie-Jill Laflin
| Special to Page 2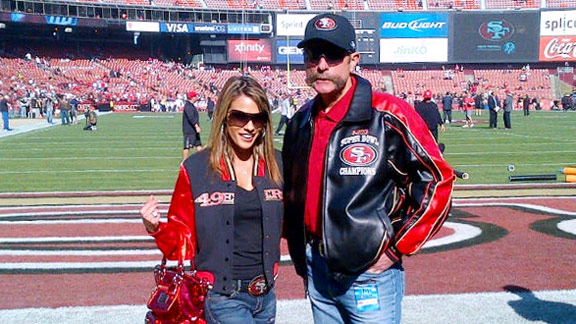 Courtesy of Bonnie-Jill LaflinBonnie-Jill Laflin returns to Candlestick with her father, Ross Laflin, to reminisce about the 49ers.
As I prepare for this weekend's NFC Championship Game, I am filled with anticipation.
It is so exciting to see the San Francisco 49ers host the most important game of their season.
I'm so proud to see they are getting the respect they've been missing since those glory years.
Fans everywhere are talking about their chances against the New York Giants and how this will be a true test. But, win or lose, the new Jim Harbaugh 49ers are making a statement. In just one year, they have made an incredible turnaround, and who would have thought the road to the Super Bowl would come through Candlestick Park.
As a San Francisco native, I grew up a 49ers fan. I had no choice, being a daddy's girl and he being a 49ers season-ticket holder; I was always in tow to each home game.
This past Saturday, as I stepped onto the sidelines at The Stick with my dad, my head flooded with so many emotions.
These were the same sidelines I cheered on as a member of the 49ers Gold Rush from 1994 to '96, the years when if we didn't win a championship, it was a bad year. The dynasty years, the era of Steve Young and Jerry Rice. The year when Young finally got that monkey off his back, and now here I was again.
It was a perfectly sunny day, unlike most in San Francisco in January, when the fog and biting cold are normal. I wondered whether this was a sign.
I looked around the stadium, soaking it in.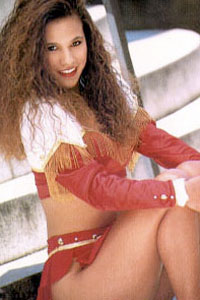 Courtey of Bonnie-Jill LaflinBonnie-Jill Laflin was a 49ers cheerleader in the mid-1990s.
I had my Super Bowl ring on, along with all my blinged-out Niners gear.
I felt like I was back home and with my 49ers family, surrounded by so many 49ers greats from the '80s and the '90s, such as Joe Montana, Dwight Clark, Eric Davis, Brent Jones and Keena Turner, now supporting the new members of the 49ers family.
I said hello to coach George Seifert, who was being honored that day, and we reminisced about the good old days and talked about how we both hoped this would mark the return of the 49ers, the 49ers of the DeBartolo years.
But now we're here in 2012, with a new regime led by 49ers president Jed York, who spent a few moments with me on the field prior to the game and dubbed me the 49ers' good luck charm.
The player intros of the starting defense got those in the crowd swinging their rally towels and screaming, "Who's got it better than us -- nobody!" That's Harbaugh's mantra. The game was an emotional roller coaster, a high-powered offense and the NFL's stingiest defense battling quarter after quarter. Who would have ever thought that in the final four minutes, these two teams would be exchanging blows like heavyweight boxers in the last round of a championship fight.
The emotions bonded us as we exchanged high-fives, and paced up and down the aisles with each lead change. Fans who did not know each other before the game now were united in one cause to get a W and advance to the NFC title game once more. The Stick was rocking it.
Then came "The Grab" with nine seconds left as Vernon Davis scored the winning touchdown. And finally Alex Smith got the monkey off his back and silenced his critics.
Harbaugh, in only one year, has instilled a new attitude and a new energy.
This is what sports is all about.
I looked around the stands, and I saw everyone hugging and screaming, my dad and I sharing the same hug we shared when I was a girl, and I thought to myself, "Who's got it better than us -- nobody."
Bonnie-Jill Laflin is the first and only female scout in the NBA, an animal activist, and a former cheerleader. She can be reached on Twitter here.