Commentary
Brick City revisits worst hoops blowouts
Originally Published:
January 19, 2012
By
DJ Gallo
| Page 2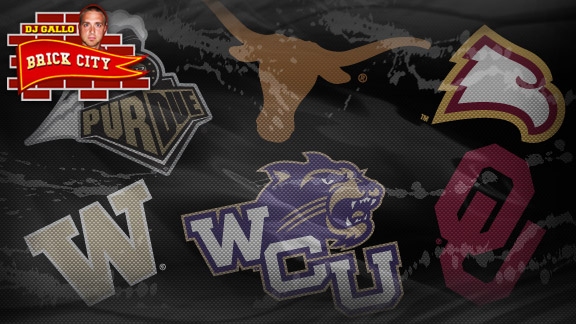 ESPN.com Illustration
College basketball history was made this week. On Tuesday night, Western Carolina defeated Toccoa Falls College -- a tiny Christian school in rural north Georgia -- 141-39. The 102-point margin of victory is the third-largest in Division I history.
Here's a list of the worst blowouts in D-I history for your enjoyment/pity:

No. 10 (tie): 93 points; Furman 126, Virginia Intermont 33
Dec. 29, 2004: The Paladins shot 70 percent from the field and made 21 3-pointers, while Virginia Intermont made only 19 shots total -- field goals and free throws combined. One game later, Furman shot 31 percent from the floor and made only six 3s in a 16-point loss to Indiana. The lesson: Indiana basketball > Virginia Intermont basketball. Try to remember this.

No. 10 (tie): 93 points; Washington 100, Puget Sound 7
Jan. 14, 1921: Puget Sound's official team website has no mention of the basketball program prior to 1946. Perhaps this game is why. They needed 25 years to recuperate.

No. 9: 94 points; Southern 159, Texas College 65
Dec. 6, 1990: After a relatively competitive 63-38 first half, Southern outscored the Steers 96-27 in the second half. We can assume Texas College's head coach never used the same halftime pep talk again. It apparently was rather ineffective.

No. 8: 95 points; Oklahoma 146, Northeastern Ill. 51
Dec. 2, 1989: Northeastern Illinois opened the game with a 4-2 lead, but then things got a bit out of hand. Trailing by those two points, the Sooners responded with a 31-2 run. Later in the game they went on 10-0, 15-0, 8-0, 18-0 and 14-0 runs. However, if you just take away those combined runs of 96-2, Northeastern Illinois only would have lost 50-49 -- a near upset! Good job, fellas!

No. 7: 96 points; Western Kentucky 103, Adairville Independents 7
Jan. 10, 1923: E.A. Diddle coached 42 seasons at Western Kentucky, winning 759 games and 32 conference championships. This was his first game on the job. You could say it was a fairly promising start to his tenure.

No. 5 (tie): 97 points; Winthrop 130, Johnson & Wales 33
Dec. 7, 1996: Four days earlier, Winthrop had lost 57-28 to NC State. Mercifully, Johnson & Wales wasn't on NC State's schedule.

No. 5 (tie): 97 points; Southern 154, Patten 57
Nov. 26, 1993: The Jaguars put up 154 points on Patten and went on to score 148 that season against Louisiana Christian and 142 against Paul Quinn (Texas) College. But they could also beat the big boys. In the first round of the 1993 NCAA tournament, 13-seeded Southern upset ACC champion Georgia Tech 93-78. Coach Ben Jobe said he had a motto: "Kill a gnat with a sledgehammer." For many people, the gnat that Jobe killed was their NCAA brackets.

No. 4: 101 points; Texas 102, San Marcos Baptist 1
Jan. 10, 1916: Whoever made that one free throw for San Marcos Baptist must have been a big hero back on campus at the boarding school. Yes, San Marcos Baptist Academy was -- and is -- a boarding school for teenagers. Scheduling this game probably didn't do much to help the Longhorns' 1916 RPI.

No. 3: 102 points; Western Carolina 141, Toccoa Falls 39
Jan. 17, 2012: Western Carolina outrebounded Toccoa Falls 58-16. It also managed a slight turnover edge, giving the ball over fives times to the Eagles' 27 turnovers. Here are two minutes of highlights from the Catamounts' victory. (May not be safe for work if your employer bans the viewing of snuff films.)

No. 2: 106 points; Purdue 112, Indiana State 6
Jan. 10, 1911: Purdue played the Sycamores six times before 1911 and had gone 6-0, winning by an average score of 49-12 but really laid it on Indiana State in this matchup. The Boilermakers must have had a very talented team that year. Wait ... 101 years ago? Yep. That was probably Robbie Hummel's freshman season.

No. 1: 117 points; Long Island 179, Medgar Evers 62
Nov. 26, 1997: LIU used nonstop defensive pressure to destroy its Division III Brooklyn neighbor for the biggest margin of victory in D-I history. The Blackbirds had 39 steals and forced 60 turnovers -- or one turnover every 40 seconds. Yikes. LIU coach Ray Haskins expressed regret over the margin of victory several days later: "It wasn't by design, and what made it difficult was our style of play. I'm not proud of this, because to me, it's like a prize fighter beating up his little brother." Medgar Evers was very fortunate that LIU didn't have a boxing team. Getting knocked out hurts more than getting dunked on.
The Sweet 16

1. While we're on the topic of teams getting blown out, Towson extended its Division I record losing streak to 38 games this week with a 15-point loss to Georgia Southern and a 30-point loss to Old Dominion. But as promised in last week's Brick City column debut, something positive will be mentioned about Towson here each week until its streak ends. Here is this week's positive item: Towson has a player named Jamel Flash. Flash is a cool name, right? ("Really? That's your positive item?" Hey, 38 in a row. It's not going to be easy every week. In fact, it might be impossible.)

2. Indiana's return to glory has hit a bit of a roadblock with three consecutive Big Ten defeats. Nebraska was the latest to knock off the Hoosiers on Wednesday night, causing Cornhuskers fans to storm the court, where they celebrated and also probably took the opportunity to ask the team's more athletic players to consider coming out for a real sport, like football.

3. If you purchased this Indiana basketball T-shirt before the losing streak, it was a good buy. Win or lose, the shirt can make sense.
4. The biggest upset of the week was tiny Lindsey Wilson College knocking off mighty Georgetown. Wait ... it wasn't that Georgetown? Oh. Then this guy should probably calm down a little bit.

5. This week's Name of the Week award goes to UCLA guard De'End Parker. Parker is the youngest of 10 children. De'End Parker is probably a better name than Vasectomy Parker.

6. If you haven't heard the name Doug McDermott, you will. (Well, I guess you just did.) He's a 6-foot-7 sophomore for Creighton who is averaging 23.8 points and 8.4 rebounds per game and shooting 52 percent on 3-pointers. Even The Jimmer didn't get close to those numbers as a sophomore, and Fredette never shot better than 44 percent on 3s in a season. Yet he was a superstar. McDermott needs better marketing. From now on, he shall be called Dougger McDermott. There. A sufficiently ridiculous name that the public will remember.

7. Speaking of Fredette, BYU is doing fairly well without him. The Cougars are 16-4 and second in the West Coast Conference. Brandon Davies is back on the team and averaging 13.4 points and 8.2 rebounds per game with an impressive honor code adherence percentage of 100.

8. McDonald's All-American Khem Birch started the season at Pitt, played 10 games and then suddenly left the team in early December. The next week, he enrolled at UNLV. This week, Birch spoke critically about his former team to 93.7 The Fan in Pittsburgh, saying that many of the Panthers players felt "threatened" by him and that they "didn't try to embrace me or anything." He also claimed the Pitt offense wasn't to his liking and that he didn't form a close relationship with head coach Jamie Dixon: "There was no relationship formed. Like, you know, I wouldn't call him to tell him how I felt and all of that." Birch, a freshman, then went on to say this of his former teammates: "I remember when some people didn't get what they wanted, during a half, if they didn't score a certain amount of points, during halftime, it would be silence from those players. It wasn't like they were happy. Even if we were winning, they would just get mad because they didn't get what they wanted." Birch did not add, but it can be assumed, that all of his professors at Pitt failed to teach him about irony.

9. This week's coaching lesson comes from Michigan State legend Tom Izzo, in which he tells us to respect your enemies, but also loathe them with every fiber of your being. Will do, Tom!

10. Marshall coach Tom Herrion taught us the most about coaching this week, however, when he flopped to the ground and seemed to fake a heart attack after being lightly grazed by a Central Florida player. The UCF player was called for a flagrant foul and Marshall won by a point. It's shocking that a Duke coach wasn't the first to think of this. It might be the one blemish on Mike Krzyzewski's résumé.

11. What's worse: Herrion faking a fall to the ground or Washington State's Ken Bone actually falling to the ground? Yes, it's Herrion by a mile.

12. Congratulations to Southern Illinois forward Davante Drinkard. Wednesday night he played 11 minutes and did not record a single other stat -- not a shot, not a rebound, not an assist, not a turnover. Too many people nowadays need to be flashy and in your face. It's nice to see a more subtle, minimalist performance.

13. Kentucky freshman Anthony Davis is becoming more dominant with each game. If he continues to play well, and if Joe Flacco leads the Ravens to a Super Bowl title, could we be entering the Age of the Unibrowed Athlete? Soon, kids around the country could be growing their eyebrows together to be like their favorite stars. Between that and the oddly enduring popularity of the Justin Bieber hairdo, it could be years until we see a teenager's forehead again.

14. Roy Williams accidentally left five players on the court in the waning seconds of North Carolina's 33-point loss at Florida State on Saturday. Williams and the rest of the team ducked out early to avoid the crowd rushing the floor ... and forgot to make sure the guys on the court were with them. Good thing no one got hurt. The North Carolina players were completely defenseless, as evidenced by the 90 points the Tar Heels allowed.

15. Brick City rule: You may not get up on the scorer's table and pound your chest when you bank in a game-winning 3-pointer.

16. This weekend's best game is on Saturday when No. 5 Missouri takes on No. 3 Baylor (2 p.m. ET on ESPN). The Bears are coming off their first loss of the season -- an 18-point defeat at Kansas in which they were outrebounded 36-21. Perhaps they could jump a little higher if they wore some RG3-style Superman cape socks. Make it happen, Scott Drew.
DJ Gallo is the founder of SportsPickle.com. He has written a book and written for Comedy Central, The Onion and ESPN The Magazine. He co-hosts the Page 2 Podcast and has appeared on ESPNews. You can follow him on Twitter at @DJGalloESPN.