Commentary
Capt. James T. Kirk deserved better
Updated:
January 22, 2012, 11:25 AM ET
By
Jerry Greene
| Page 2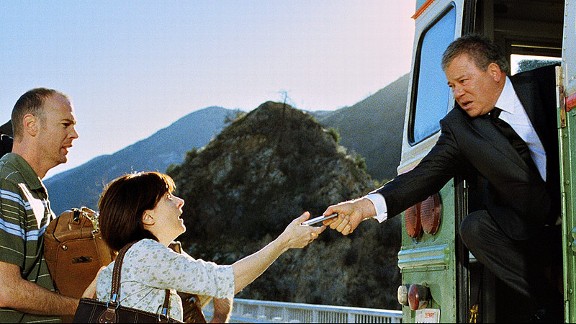 AP Photo/priceline.comIn a new commercial, William Shatner's Priceline pitchman, the Negotiator, makes a costly sacrifice.
Work with me on this one.
Priceline.com reportedly is introducing a commercial Monday that probably also will be shown during the Super Bowl telecast. It is that tenuous Super Bowl connection that is being used here in order to discuss the terrible thing about this new commercial.
They're going to kill Captain Kirk -- again.
Yes, apparently this will be William Shatner's last outing as Priceline pitchman when he manages to save the folks in a bus that is about to fall off a cliff -- but he goes down with his bus instead of his starship. And his last words?
"Save yourselves -- some money."
Please.
Is that better than his last words in "Star Trek: Generations," which were: "It was … fun. Oh, my …" Obviously, Captain Kirk deserved better. Actually, going off a cliff on a bus is superior to his death in the Star Trek flick -- where he got crushed by a bunch of rocks on some stupid planet because Malcolm McDowell wanted to escape into a different movie.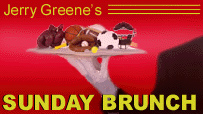 Of course "Generations" was the seventh Star Trek movie -- an odd-number disaster. What's Priceline's excuse?
And while we all remember our favorite original series Star Trek episode (and please, not the overrated "City on the Edge of Forever"), here are few more bits of tid while our superb gathering of sportswriting chefs prepare the main courses of today's Brunch:
• If I'm reincarnated as a tennis racquet, please don't let me end up in Marcos Baghdatis' bag.
• Has that poor Packers fan stopped crying yet?
• Which kind of reminds me, wonder what Mike Singletary will be watching.
• Cleveland Cavaliers bought Cleveland Gladiators. Insert joke here.
• Will Tim Tebow be Denver's starting quarterback next year? Only Rob Lowe knows for sure.
• The entire St. Petersburg, Fla., City Council says it will become "ambassadors" for the Rays in order to help them sell more tickets. OK, everything is fine now.
• Hey, Trinity College squash team: What have you done for us lately?
[+] Enlarge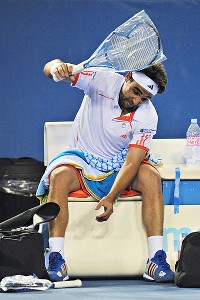 Paul Crock/AFP/Getty ImagesMarcos Baghdatis smashes a new racket wrapped in plastic after smashing another two in frustration.
Ding ding. That's the Brunch Bell, so while we ponder the fleeting fame for Trinity College squash, our literary chefs introduce other fine items on the menu:
• Speaking of literary treats, famed former Buffalo Bills coach Marv Levy has discovered a way to win a Super Bowl. He's written a novel about a winning Super Bowl team. Only problem is that the fix was in. T.J. Simers of the Los Angeles Times talks to Levy and wonders how happy the NFL will be about this albeit fictional account. Find out how Levy feels here.
• And speaking of fiction, read any Twitter scoops lately? Columnist Bob Kravitz of the Indianapolis Star tells us how it felt trying to verify tweeted sports scoops by a TV actor and the mistake he admits he made. Check it out here.
• And now from a source you may not frequent, GQ.com gives us a compelling look at Terrell Owens by Nancy Hass, who had an article in "Best American Sports Writing 2011." She lets Owens talk to us and, as the talking goes on, we cannot help but form our opinions of a sad man who wants so desperately to be wanted. Decide for yourself here.
• In recent Brunches we have offered fine commentary about LeBron James. Now Israel Gutierrez of The Miami Herald returns to compare and contrast the careers of James and Kobe Bryant -- asking whether they are two ships passing in the night without ever really making contact. Compare them yourself here.
• We close with some delicious notes by Mike Bianchi of The Orlando Sentinel. For one thing, find out what he says was Shaq's worst moment on camera since "Kazaam II." There's more shots at others here.
That's it for the Championship Sunday Brunch. Enjoy the games -- especially if you are from Baltimore and San Francisco. OK, that's just a Brunch hunch.
Jerry Greene is a regular contributor to ESPN.com and can be reached at osogreene@aol.com.