Commentary
Rankings: N.Y. Hate Meter Edition
Originally Published:
January 23, 2012
By
Greg Hardy
| Page 2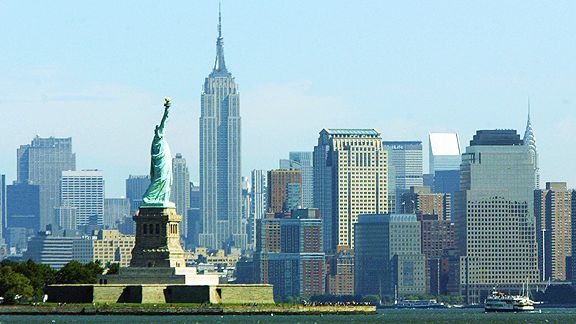 Chris Hondros/Getty ImagesAll kidding aside, what will the next two weeks be like for non-New Yorkers?
Get ready for a Big Apple dose of media over-saturation heartburn with ESPN.com's Page 2 Power Rankings! Our formula combines the results of two surveys: a human poll concocted by ESPN Page 2's Greg Hardy and a scientifically calibrated poll generated by computer analysis. Unfortunately, our computer learned that the price of a first-class stamp just went up to 45 cents, so it spent the weekend printing out everything on its hard drive to send out as snail mail before the USPS elevates it to 46 cents -- or goes out of business, whichever comes first. To the results!
| | | | |
| --- | --- | --- | --- |
| Human Poll | Computer Poll | Power Points | Trending |
| 9.7 | 9.6 | 19.3 | |
Credentials: Hoo-ray. The Giants are in the Super Bowl. Again. Maybe it will be as thrilling as watching the opposing team miss a field goal in the final seconds. Or holding your stomach while Kerry Collins throws for 86 yards against the Ravens. And don't tell us a rematch against the Patriots will be as thrilling as Super Bowl XLII, because we could just watch an old recording of that and fast forward through the commercials. Yes, it's time for non-New Yorkers to come up with an "Official New York Sports Teams Playoff Hate Index." No. 1 on the insufferability scale is a New York Yankees World Series run. Big Blue, you're No. 2. We'll follow that with New York Jets AFC title game failures, because at least those generate amusing New York Post headlines. Dishonorable mention will go to Mets financial scandals, Knicks NBA trade rumors, Rangers "24/7" coverage on HBO, and Islanders hockey arena tattoo parlor health code updates. Buffalo Bills and Sabres, we'll add you to the list if we could come up with anything sadder than what you've surely thought up yourselves.
2. Lee Evans and Billy Cundiff
| | | | |
| --- | --- | --- | --- |
| Human Poll | Computer Poll | Power Points | Trending |
| 9.3 | 9.0 | 18.3 | |
Credentials: Look at the bright side, guys. If you get cut by the Ravens during the offseason, several backup career offers are sure to pop up. For example, we can completely see a new TNT drama called "Evans and Cundiff," where you play a pair of miss-matched Baltimore city detectives whose incompetence always sets the bad guys free at the end of each episode. The highlight of every show will be seeing you savagely chewed out by your commanding officer -- played by Ray Lewis.
3. Patriots luck vs. genius
| | | | |
| --- | --- | --- | --- |
| Human Poll | Computer Poll | Power Points | Trending |
| 8.8 | 8.2 | 17.0 | |
Credentials: Here's a softball question we'd love to lob during Super Bowl Media Day: "Coach Belichick, for an NFL quarterback-coach combination to reach a record five Super Bowls, you've got to be either lucky or good. Probably, a little of both. Maybe 92 percent good to 8 percent lucky. Given Tom Brady's sweatshirt-ugly performance against the Ravens combined with Lee Evans not hauling in that catch, do you think to win that game you had to surpass the 8 percent luck threshold, which would then put you in the neighborhood of 15 percent lucky? Maybe 33 percent lucky? I apologize in advance for this question that you're either going to deem too stupid to answer, or it will melt your brain tonight when you go to sleep trying to break down the percentages. Or do you think Billy Cundiff missed on purpose? Your thoughts?"
| | | | |
| --- | --- | --- | --- |
| Human Poll | Computer Poll | Power Points | Trending |
| 7.6 | 7.1 | 14.7 | |
Credentials: The mark of a great National League MVP Award acceptance speech is to make a passing reference to the fact that you're staring down the barrel of a 50-game suspension for the upcoming season. Hey, what did you expect the Brewers left fielder to say? There was a better chance he was going to break down his favorite episodes of "Basketball Wives" before he even hinted at why he's in trouble for a failed performance-enhancing drug test. The best we could have suggested was resort to a lame "Google my name these days" gag. Like, "Good evening, folks! Sorry I'm late, but I was busy Googling the phrase 'Ryan Braun appeal.' Time was, the top 15 results would talk about how much I was admired in Milwaukee. But these days! Ho, ho, ho ... hey, is this thing on?"
T4. That's Tebow-tainment
| | | | |
| --- | --- | --- | --- |
| Human Poll | Computer Poll | Power Points | Trending |
| 7.3 | 7.4 | 14.7 | |
Credentials: Anyone else going through Tebow withdrawal? It didn't help that he turned down CBS' offer to be a talking head for the AFC title game. Maybe he can be a last-minute replacement for the Oscars if Billy Crystal can't show up! Oh wait, we just remembered: Tebow's mom doesn't let him watch R-rated movies.
| | | | |
| --- | --- | --- | --- |
| Human Poll | Computer Poll | Power Points | Trending |
| 6.4 | 6.3 | 12.7 | |
Credentials: Every so often, it's good to take a step back from the hype and take stock of what's going on. For example, NBC has sold out its allotment of Super Bowl XLVI advertising at an average of $3.5 million for a 30-second spot. All for the privilege of being able to see talking, computer-generated animals crack wise. Well, what if all these soda and beer and snacks and movie companies had for the past 46 years been investing that money into training and/or genetically engineering animals so that they really could talk? Would we have reached that plateau by now? Also, every so often, it's good to take a step back from the laptop and take stock of how much time we spend in our apartments talking to our cats.
| | | | |
| --- | --- | --- | --- |
| Human Poll | Computer Poll | Power Points | Trending |
| 5.4 | 5.4 | 10.8 | |
Credentials: At 2-14, the Wizards are so hopeless that Michael Jordan, owner of the 3-14 Charlotte Bobcats, must be looking at the standings and saying to himself, "Man, I'm glad I escaped that sinking ship."
| | | | |
| --- | --- | --- | --- |
| Human Poll | Computer Poll | Power Points | Trending |
| 5.2 | 4.8 | 10.0 | |
Credentials: We're not saying the NFL is upset by the Aerosmith star's rendition of the national anthem before the Ravens-Patriots game. But sources close to the league office indicate that Roger Goodell is prepared to punish him with a $50,000 fine and forcing Tyler to dress up as Madonna and perform the Super Bowl halftime show in her place.
9. Roberto Hernandez Heredia
| | | | |
| --- | --- | --- | --- |
| Human Poll | Computer Poll | Power Points | Trending |
| 5.1 | 4.2 | 9.3 | |
Credentials: Who's he? Well, if you remember Cleveland Indians right-hander Fausto Carmona, it suddenly explains why all his towels in the clubhouse were monogrammed with "RHH." He was arrested in the Dominican Republic last week on charges of using fake ID to get a visa to return to the U.S. It also turns out he's 31, and not 28 as it says in the Cleveland media guide. And the Nobel Prize in physics that tops his resume? Uh, someone find a phone number in Oslo to double-check that one, too.
| | | | |
| --- | --- | --- | --- |
| Human Poll | Computer Poll | Power Points | Trending |
| 5.3 | 4.2 | 9.1 | |
Credentials: This is a joke, right? The disgraced Ohio State coach could be the leading candidate to become the new Indianapolis Colts coach? Hopefully, the only reason the Colts were reaching out to him was for leads on which tattoo parlors they should contact for group-discount bids on "Peyton Manning Era: 1998-2012" barbed wire armband tattoos.
| | | | |
| --- | --- | --- | --- |
| Human Poll | Computer Poll | Power Points | Trending |
| 4.1 | 4.2 | 8.3 | |
Credentials: Darrell Waltrip and Cale Yarborough topped this year's five-man class of racing greats in lovely Charlotte, N.C. (Well, we hope you weren't thinking it was in Provo, Utah.) And even though this is only the third year they've done this, we're still discovering new facts about the ceremonies. For example, did you know that inductees are presented with rings? Of course, old-school purists will cite this as another example that NASCAR has become elitist and out of touch. Why, if they had a NASCAR Hall of Fame back in moonshine smuggling days, they wouldn't get fancy, shiny rings, they'd just have discarded lug nuts slipped onto their fingers.
| | | | |
| --- | --- | --- | --- |
| Human Poll | Computer Poll | Power Points | Trending |
| 4.6 | 3.3 | 7.9 | |
Credentials: Maybe Denzel Washington and Ryan Reynolds are just pulling off a ring-and-run for a quick action picture payday, but the "Safe House" ad campaign is so amped up it's already got us pitching ideas for sequels. The no-brainer for the next installment would be "Safe House 2: Home Alone." Which would of course lead to "Safe House 3D: Hallway to Hell." But someone call the agents for Kid 'n Play, because it's never too soon to open the door to greenlight "Safe House IV: House Party IV."
| | | | |
| --- | --- | --- | --- |
| Human Poll | Computer Poll | Power Points | Trending |
| 3.1 | 2.5 | 5.6 | |
Credentials: Here's a nice scheduling quirk: While the sporting world's eyes are on Indianapolis for Super Bowl Sunday, the Saturday night prior will feature the Pacers locking horns with the Orlando Magic in a game that could be important in the Eastern Conference pecking order. The only thing that might derail the game is if Dwight Howard becomes so obnoxious with his trade demands that he insists Colts owner Jim Irsay select him No. 1 in the NFL draft.
Also receiving votes

• All-Star Sunday: This is what pro sports are all about, right? Seeing the best of the best in action? So when the NFL Pro Bowl and NHL All-Star Game take place on the same day, we should be doing cartwheels, right? Yeah, right. We recommend that this Sunday you declare yourself an all-star cartwheel first-teamer and hold a cartwheel contest in your front yard. You'd definitely see more defense played, at least.
Never receiving votes

• Oakland Raiders coaching search: Dear Oakland Raiders brain trust: Yes, Oregon coach Chip Kelly turned down a chance to move across the country for the Tampa Bay Buccaneers job. Please avoid the temptation of offering to move him down the West Coast to take your job. We're hearing reports out of Eugene, Ore., that the main reason he turned down the Bucs job was so that in case you offered one to him he could specifically take delight in turning you down.
Greg Hardy is a Page 2 contributor. It's all pop culture all the time at Twitter.com/HardyVision.