Commentary
Pro Bowl tweets make game even better!
Originally Published:
January 27, 2012
By
DJ Gallo
| Page 2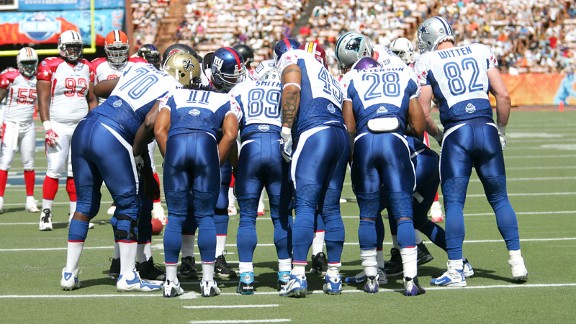 Paul Jasienski/Getty ImagesIf the NFL really wants to spice up the Pro Bowl, it should allow players to tweet from the huddle.
It's Pro Bowl weekend! WOOOOOOO! As though the Pro Bowl isn't exciting enough as it is, the NFL has actually found a way to improve upon its annual all-star game. This year, the league will allow players to tweet before and DURING the game. Yes. Really. There will be computer access on the sidelines. It will be amazing.
What might NFL players say during the game? Here are some tweets you will probably see:
---
• Who you all got in this game? AFC or NFC?
• Someone tried to tackle me. It's the Pro Bowl!! Cut that out. SMDH.
• Some celebrities here. Seeing lots of guys from those "discount double check" State Farm commercials. Pretty cool.
• Wait. So it's a different time in Hawaii right now than it is in the rest of the country? Crazy.
• What day is it in America? (It's Sunday here.)

• McCoy says I only got him with one hand, but I touched him with two. Should be a tackle. Throw the red flag!

• Good news: hearing it's open bar again at halftime.

• There's a Redskin here. LOL.

• Roethlisberger fractured his ankle playing golf at Wailea yesterday, but he's still on the field today. Have to respect his toughness.

• NFC CONFERENCE TIL I DIE.

• Not even halftime and that Bengals QB got like a 3rd degree sunburn already.

• Much more relaxed vibe this year without Peyton Manning changing plays at the line and trying to win and stuff.

• Does the Pro Bowl trophy kind of look like ... you know. Yeah. Nice.

• Polamalu won't tell me if there are any good clubs near here. Says he's not Hawaiian. I doubt it.

• No disrespect to Coach McCarthy, but Andy Reid is the greatest Pro Bowl coach of all time!

• @ochocinco Hey man. Miss you here. What are you up to?

• @ochocinco Ha! Getting ready to play in the Super Bowl. Good one. No really. You retired or what?

• I'm still a little drunk, but I think Ray Lewis just said that this fourth quarter "will define us as men." SMH.
• Brian Dawkins wants me to ask you all to hit him up on MySpace.
• Saw some people eating a cooked pig out of the ground last night. What is going on there?
• Anyone know the twitter of that girl in Section 126, about 18 rows back in the halter top? Brown hair.
• RT @nflcommish Fans: Who should I fine today? First 15 names you tweet back I'll dock 100 grand each. Thanks, fans!
• Playing really hard out there. Giving my best.
• Sorry about that last tweet. Someone hacked my account.
• Can someone hit me up with the score of the Pro Bowl?
DJ Gallo is the founder of SportsPickle.com. He has written a book and written for Comedy Central, The Onion and ESPN The Magazine. He co-hosts the Page 2 Podcast and has appeared on ESPNews. You can follow him on Twitter at @DJGalloESPN.