Commentary
Tossing sports fans through windows?
Updated:
January 29, 2012, 4:04 PM ET
By
Jerry Greene
| Page 2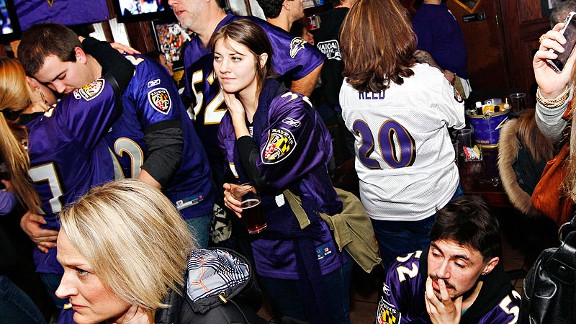 AP Photo/Patrick SemanskyBaltimore Ravens fans watch last Sunday's game against the New England Patriots.
The problem with destiny is that it's too subtle. Destiny tends to tap us on the shoulders when we need it to kick us in the shins and scream at us before it passes us by. Some fans of the New England Patriots and Baltimore Ravens ignored their destined chance at fame and fortune earlier in the week in a Fredericksburg, Va., bar.
According to newspaper reports, the two opposing fan groups objected to each other's cherished point of view at around 2 in the morning after the Patriots had earlier punched their ticket to the Super Bowl by punching the Ravens. Objections escalated until someone from Group A threw someone from Group B through a bar window.
The argument ended in a tie, however, when someone from Group B evened the score by throwing someone from Group A through another window. At least one arrest was made, but other than that, both groups may foolishly go on with their unchanged lives.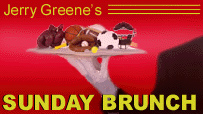 You know what we're thinking -- reality show! You start the season with a dozen groups of fans representing a dozen teams. You pair them off for the window-tossing competition. Rules will be created that award points both for tossing style and for how the tossed fan sticks the landing after crashing through the window.
Three judges: Paula Abdul, because why not? Chad Ochocinco, 'cause he really needs the work. And, of course, Charles Barkley, who was arrested in 1997 for throwing a man through a bar window in Orlando, Fla., at, yes, 2 a.m.
Don't thank me -- just send me my cut.
And while we're waiting for the TV money to begin flowing in, let's touch on this and that from the week that was before our literary superstar chefs present the real goodies from this post-Pro Bowl Brunch.
• This from Tom Brady after the AFC title game: "I sucked pretty bad today." Imagine if he had lost?
• And this from Dwight Howard about his Orlando teammates: "I look at guys and they don't look like they want to play. I told them at halftime, 'If you don't want to play, just stay in the locker room, because it don't make sense for a team who we should beat to just demolish us.'" -- Uh, Dwight, is this a bad time to talk about if you want to be traded?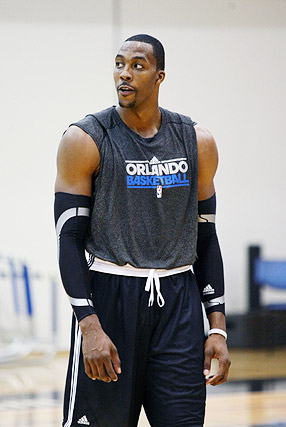 Douglas Jones/US PresswireDwight Howard, who wants to be traded badly, is upset with his teammates.
• The WTA wants to reduce the grunting going on during women's play. All we can say to Maria Sharapova is that we've got your back, girl.
• Today's Super Bowl prop bet: Will Bill Belichick wear a fishnet hoodie?
• Tweet of the Week from "Late Show" writer Eric Stangel: "Tim Thomas refuses to go to International House of Pancakes because he doesn't like their dependence on foreign syrups."
• Hey, Pat and Vanna -- last call.
Ding ding. Actually, instead of last call, it's first call for the main courses in today's Brunch. So pour yourself another coffee and dig in:
• Joe Paterno has been laid to his final rest and, as is always the case, life goes on. But Bill Lyon of the Philadelphia Inquirer gives us one last reflection of what Paterno meant to so many and how, in a sad way, his passing reminded us just how big his "family" truly is. Give it consideration here before you make your final judgment.
• John Mara, co-owner of the New York Giants, has much to live for, including a return trip to the Super Bowl. Sam Bordon of The New York Times shows us what a wild and often exasperating ride it has been for Mara to reach this thrilling moment. Find out more here.
• Giving equal time to the Patriots, Ron Borges of The Boston Herald tells us about the guy who has tweeted that he will bet anyone that his Patriots will beat the Giants. One more thing, he says he wants to make the bet $5 million. Even Dr. Evil would choke about that. Get out your check book and check it out here.
• We're not giving the NBA equal time to the NFL one week before the Super Bowl, but the hoopsters cannot be ignored. Dallas Maverick fans cannot ignore the visual evidence that something is wrong with Dirk Nowitzki. A deeper examination is made by Randy Galloway of the Fort Worth Star-Telegram, and what he sees is somewhat alarming. Take your own look here.
• We like to take you places you may not normally go. This week it's the Duke Chronicle, where Chris Cusack delivers the somewhat shocking news that the Crazies may still be a little nuts but that their number is steadily shrinking. Find out the details here.
What's not shrinking is our growing anticipation for the Super Bowl, so let the big week begin. See you for our Super Sunday Brunch in seven days.
Jerry Greene is a regular contributor to ESPN.com and can be reached at osogreene@aol.com.